Though Abu Dhabi did have a few highlights, overall it wasn't terribly exciting.  As far as I could tell, the beach was the most inspiring reason most people find to be in the city.
Fronting the downtown area, I must admit that seeing the beach gave me a twinge of regret for not having a swimsuit.


The beach, though, was quite nice for being in the middle of a capital city.  Abu Dhabi calls itself the "Cultural Capital of the UAE" but from what I could tell, Dubai is a far more exciting city to be in.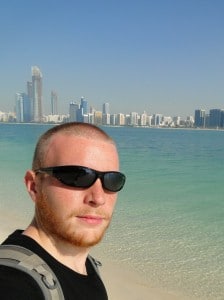 ——
I've been to Abu Dhabi several times, both as an independent traveler and while working as a photographer for GetYourGuide. Though most of the tourist sites are pretty accessible on public transit, those on a tight schedule might want to check out the Abu Dhabi Hop On/Off Bus which (while expensive) can simplify things significantly.