The other memorable daytrip I made from Kandy was to an Elephant Orphanage outside of town.  Having read and heard about two separate orphanages in the area, I ended up at the one I hadn't meant to go to originally.  As I talked about a few days ago, a big part of traveling on a budget is managing which of the tourist "sites" you're going to shell out large admission fees for.  The larger and more popular orphanage (in the town of Pinnewalla) has a prettier setting and more elephants, but costs over twice as much as the Millennium Foundation.  With the weather starting to turn bad as I got to the area, then, I decided to check out the less popular of the two.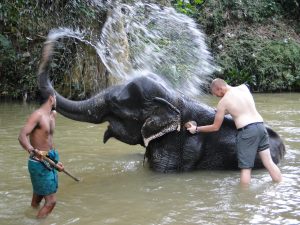 The orphanage starts with a bit of a museum and displays on the elephants currently in residence, and then all at once I was standing in a river bathing an elephant.  Each elephant has one accompanying Mahout who works with it from birth, and he joined me in the river to talk the elephant into turning over and standing up as necessary.  Even with this guy by your side, though, there's still something really 'neat' about interacting that closely with an animal so much bigger and stronger.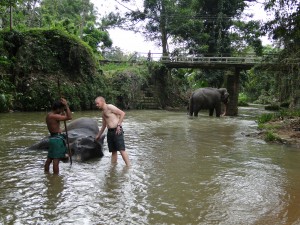 After the bath the English-speaking guide introduced me to the rest of the elephants and their Mahout handlers, and one of them took me on a short ride/tour through the Foundation's grounds on the back of a resident.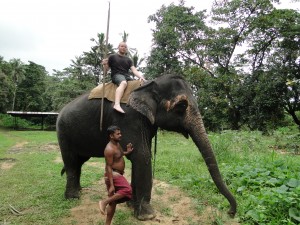 The Millennium Foundation not only cares for sick or orphaned elephants, but also funds a mobile veterinary clinic that travels around Sri Lanka caring for wounded elephants throughout the country.