Kyrgyzstan Ski Resorts – ZiL Ski Base
There are a number of ski bases within just a few hours drive of Kyrgyzstan's capital, Bishkek. For some skiers in Bishkek, ZiL seems to be one of the favorites of local skiers for both the quality of facilities and the number of runs available. For others the place is anathema, the place where 'the masses' head each weekend in winter to clog up lift lines and zip perilously quickly down crowded pistes. Which meant, of course, that I had to check it out for myself!
I've been here several times (on day trips with the Trekking Union on Kyrgyzstan, who visit regularly during the winter), and of the bases I've seen in the Chuy Valley that surrounds Bishkek I would have to agree that this is the most accessible I've seen. The lines for the single chairlift can get quite long, and occasionally the T-bars as well. Despite that, once you get up to the top and out on the slopes it usually doesn't feel too crowded.
Currently the combined length of all the runs is about 1.1 miles, but there are supposedly plans in place for two new lifts that will extend that number considerably. There are also signs at the ski base advertising night skiing here as well, though it wasn't clear whether the entire course was lit or just the main run served by the chairlift.
One thing to note is that there are quite a few beginners. At the lowest T-bar, especially, the relatively gentle slopes are full of learners (myself included) that don't necessarily know how to stop or turn well. Add to this a handful of people walking around (again, me included… I haven't yet trying skiing with cam in hand) and one needs to remain aware of both other skiers and the occasional obstacle in human form.
The upside of this, and likely the explanation behind it as well, is that of the Kyrgyzstan ski resorts I've been to this is by far the easiest terrain to learn on. There's one small rope lift catering to absolute beginners, which tops out at a small hill this is a great spot to practice turning and stopping. The T-Bar, as well, passes over a number of good spots where you can bail on a pretty gentle slope for a shorter run back down. Only the very far reach of the T-Bar is what I would describe as 'scary steep' for beginners… not speaking from experience of course.
For non-skiers there are also a couple of things to do that are out of the way. The most popular is sledding, and down by the beginner rope lift it can actually feel packed with people tromping up a nearby hill to pack onto old school snow tubes and slide back down. This being Kyrgyzstan, occasionally a horseman will ride past up here as well – presumably a local shepherd riding over to check out the day's crowds? From the snow hill on a clear day you can see far across the Chuy Valley, often to the mountains on the north side that form the border between Kyrgyzstan and Kazakhstan.
In terms of facilities on-property, there's a small cafe and a couple of rooms for rent and a ski rental booth… and not much else. Generally, you'll do better to stay in town and look for little more than lunch (if that) at ZiL than to plan on staying here.
ZiL Ski Base
Daily Lift Pass: 1000 Som (Adults) / 600 Som (Children).

Ski Rental: 600 Som (Adults) / 400 Som (Children)

Accommodation: 1000 Som / person
---
'Kyrgyzstan Ski Resorts – ZiL Ski Base' is part of an ongoing series providing information on options for skiing in Kyrgyzstan. Subscribe via RSS or social media for updates on other ski options in Central Asia. If you're in Bishkek and want to visit ZiL, the Trekking Union of Kyrgyzstan runs regular trips out there during winter. The combined cost of transportation and ski rental from the TUK was around 850 Som ($16.50), with discounts for TUK members. If you don't have your own equipment, I would recommend renting from TUK rather than directly from ZiL.
If you're in Bishkek exploring the various Kyrgyzstan ski resorts the very budget-friendly Apple Hostel Bishkek gets great reviews, as does the slightly more central and also slightly more expensive Interhouse (both of which offer private rooms as well as dorms). If you're looking upmarket, the Hyatt is on Sovietskaya and still easily accessible to the city center. 
As an aside, we've also published a quick and dirty guidebook to show tourists around for their first few days in Bishkek. This includes information, including a map, of where to get the minibus to Ala Archa. If you're headed towards Kyrgyzstan and expect to need some help getting around, consider our Unanchor: Bishkek guide!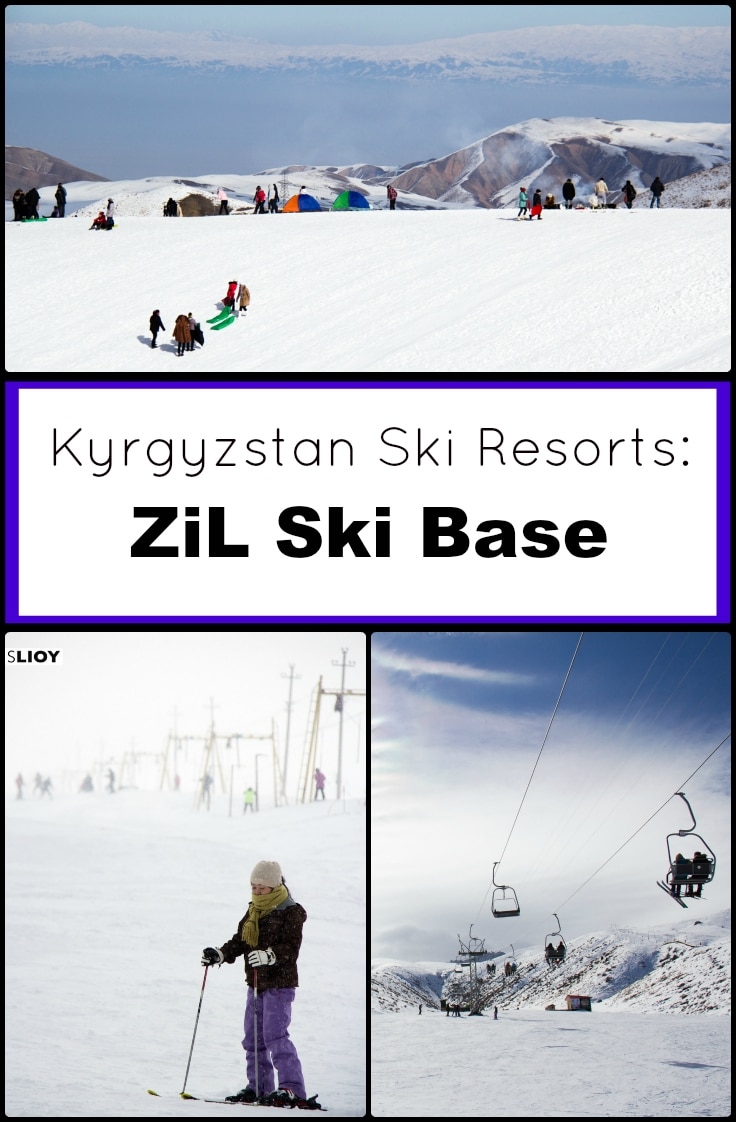 Like what you see?
Share on social media or leave a comment below and let me know what you think!