Life in a Medieval City: A Day in Provins, France
Sometimes you just don't get it till you get there. No matter how much you hear about a place, how many adjectives are used to describe its appeal and beauty, you just can't picture it without actually having seen it.
Some things, like the idea that a certain city has kept shape and smell and sound since medieval times, just seem like too much to accept. Perhaps this is just my American-ness showing through, with its inherent divorce from the idea of living antiquity. Perhaps just the side of me that enjoys photography ,thinking the whole ride "Surely it can't be THAT special!" But then I get there, and it is.  
  The medieval city of Provins, about an hour and a half by train from Paris, somehow shockingly manages to deliver. Despite overcast skies and overdone tourist traps and even the temporary misplacement of a certain important travel document, we still walked through the cobblestone streets of the little 1200 year old town saying "Wow this is… this is actually really pretty."
Generally I like to think of myself as adventurous, you know? Trekking in Kyrgyzstan and Horseback Riding in Mongolia and all that. So the idea of playing the tourist in a quaint city in the French countryside feels like it ought to be anathema somehow. And yet, I spent a whole day of Paris making the trip to Provins in back. Climbing old stone walls and wandering down out of focus alleyways and, dear me, even taking a tour through dimly lit cellars. Trying to understand a French historian's description of the graffitied underground tunnels that wander beneath the streets of the town, connecting vaulted chambers that once housed the merchant's wares that made Provins so prosperous in the first place.
Believe me, I was as shocked to find myself on a guided tour of my own accord as you are to see me there. But I mean… at least it wasn't the "Eagles of the Ramparts" stage show? The low point of the day was, without a doubt, the visit to the 'Grange Aux Dimes'. Not only was it full of mannequins costumed in the style of medieval Provins, but also there was an audio tour with a recreation of the sounds of the era! To add insult to injury, they also demand a passport as a deposit for the audio guides. Don't forget that when you leave, eh?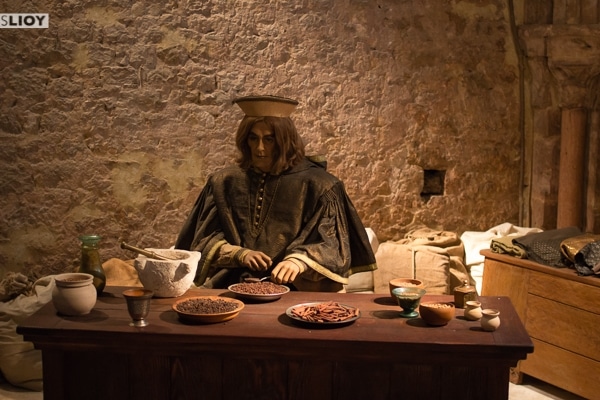 On the positive side, the Grange Aux Dimes was enough of a kick in the pants to say "Wait a minute! This is ridiculous! Let's explore!" Much more than the managed experiences or underground chambers, a quiet walk through the streets of Provins and the small art galleries/bookstores/city walls is what makes the city and the day truly special.
  Life has changed dramatically since the days of the Fair of Provins, of course. Rather than the important center of the European economy it was in medieval days, the town is now squarely on the tourist trail (if not the busiest of the medieval towns near Paris thanks to the extra distance from the city). In a way this just makes it an even nicer place to visit, with a thousand beautiful details left over from the time when this was one of the most prosperous cities in the region.
---
Essential Information Visiting Provins, France is very possible as a daytrip from Paris. Trains leave once every hour or two from Paris' Gare de L'Est directly to Provins (which is the terminus for these trains – just get off once the train stops). If you plan to spend a night in Provins, a one-way Zone 5 ticket is the way to go. If you're just going for a day, however, the Mobilis Pass for Zones 1-6 is actually cheaper (~ €16) is actually cheaper than buying tickets individually ( € 11.25 each way) and will cover your Metro/Bus fares in the morning and evening as well. Once you arrive in Provins there is a tourist shuttle that stops at the train station and most of the tourist attractions (€ 4 day pass), but generally I would suggest seeing the city on foot instead. Walking from the train station to the historic center is about a 15 minute exercise, and from there you'll be free to wander at will. If you intend to visit the medieval shows and tourist sites (the Grange Aux Dimes, Ceaser's Tower, Underground Galleries, and Provins Museum), they offer a pass for € 11.40. However, consider skipping some of these and just exploring on your own. [A special thanks to director of the Office of Tourism in Provins is due, for leaving home just before dinner to rescue an orphaned passport on the night before it was meant to be boarding an international flight!] If you have time to spare, consider spending a night in Provins. At the end of the day it suddenly becomes a lot quieter, and I would imagine that at night the atmosphere is even more intimate. There are a number of hotels nearby, including at least one inside the old city. Especially if you want to try to plan a romantic weekend away from Paris, Provins would be a good choice. If you'd prefer to simplify your experience, ParisCityVision offers a daytrip to Provins for €56 which includes transportation, the Provins Pass, and a visit to the Eagles of the Ramparts show. See their site for more details on booking.