Shymbulak – Skiing in Kazakhstan
The Shymbulak Ski Resort, high above the city of Almaty and tucked deep into the mountains that stretch beyond the Medeo Ice-Skating Rink, is an area seemingly unknown to outsiders but may well be one of the best spots for snow-sports in all of Central Asia.
Starting from the cable car station just before the Medeo complex, one could be excused for supposing that Shymbulak is another second-rate mountain resort that will do for local skiers but probably isn't attracting too much interest from abroad. One would be right on the latter half of that statement, of course, but only on account of general lack of knowledge rather than anything lacking in the facilities themselves. In fact, if not for the signage in Russian and strong predilection for Kazakh pop songs one might almost imagine they'd just stepped off the bus from Denver. Almost.
Spanning over 3000 ft of vertical drop (920m) and nearly 7.5 miles (12km) of ski runs, there is definitely enough to keep you entertained – and even on a Sunday on the tail end of ski season it didn't seem too terribly crowded. Importantly, Shymbulak seemed to have all the modern conveniences that a top-quality ski resort should. Lifts to several different points on the mountain, first aid stations scattered all around, several restaurants and places to stay, and lessons available in English. Compared to the ski bases in Kyrgyzstan (with the exception of Karakol, about which I've written a bit as well), Shymbulak Ski Resort seemed fairly well developed and equipped to handle lots of skiers and snowboarders of various levels. They even had a little terrain park for adventurous boarders.
I didn't ski this time, and honestly had only intended to snap a few photos and then head back down the mountain. Once I'm a bit more confident on the snow, though, a weekend here is definitely in the works. If my ski partner isn't quite ready to hit the heady slopes of Shymbulak? Not to fear! They've got a snow-tubing course and a kiddie's corner as well.
So, would I recommend a trip to Almaty just to visit Shymbulak? For the serious ski enthusiast looking for an offbeat experience, I think that between skiing in Kyrgyzstan and here in Kazakhstan there are enough options to justify a long trip to try them all. Ideally plan a couple of weeks to hop between different ski resorts and backcountry options, maybe even throw in some heliskiing to make it a proper adventure. Given enough time spent in the region, and especially at the resorts in Kyrgyzstan, the cost savings compared to the US or Europe can more than cover the price of flights to Central Asia and it will certainly make a more interesting story for next year's Aspen apres-ski.
---
Practical Details
The easiest way to get to Shymbulak is to take Bus 6 or 12 from Almaty (just north of the intersections of Dostyk and Abay) to Medeo, and then take the Shymbulak Cable Car. The cable car is 2,500T (~$14 USD) round-trip, or 1500T one-way. 
A map of the resort is online here. 
Equipment rental is available at Shymbulak, with a complete ski set 5,000T per day or a premium set for 7000T. (Of course, you can also rent individual pieces if you need.) Additionally, lockers are available for rent by the day (1000T), week (5000T), or month (15000T) and a Hotel starting at 20000T per night.
Alternatively, in Almaty's city center (a quick ride or 15 minute walk away from the stop to pick up the Medeo bus) is a hostel called the (pretty aptly named) Almaty Central Hostel. Slight less central but also a few dollars cheaper is the Almaty Backpackers hostel. (Either way, it's fantastic to see proper hostels starting to pop up in Central Asia!) If price isn't an issue but you want to be in town rather than at the resort, you could also just stay at the Dostyk Hotel and take a cab straight up Dostyk Ave. each morning to get to Shymbulak and Medeo.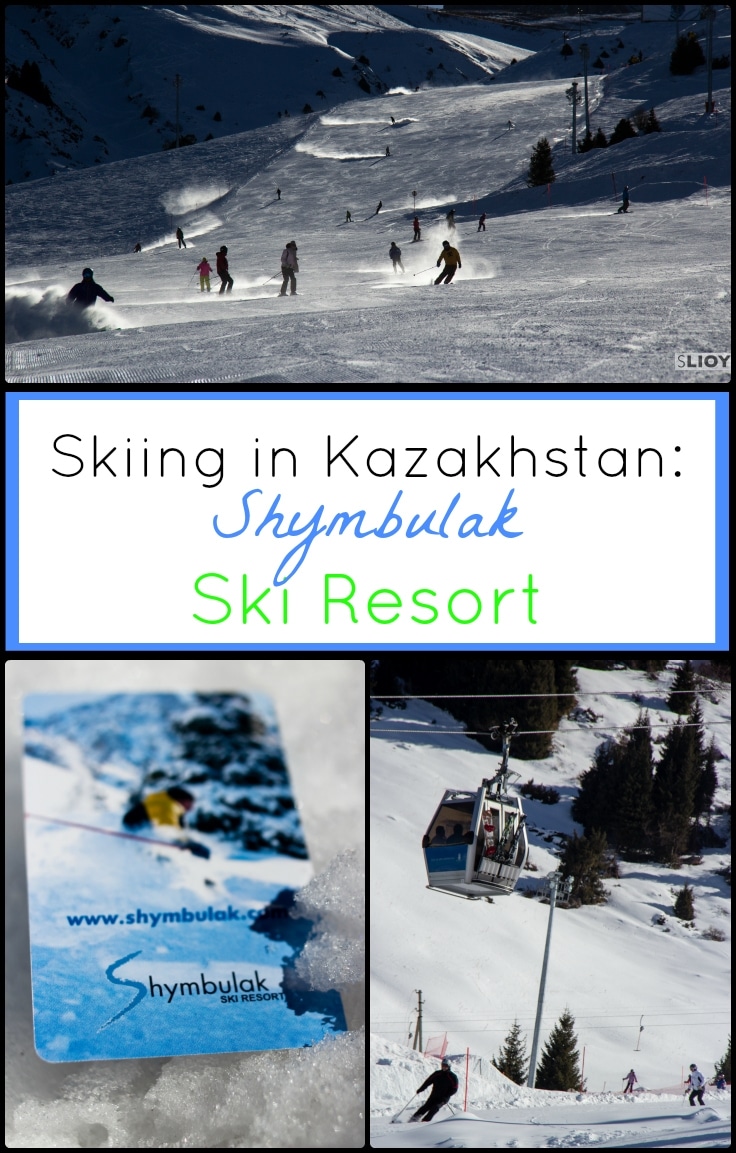 Like what you see?
Share on social media or leave a comment below and let me know what you think!