Inspired (both in life and in this specific instance) by Anthony Bourdain and his bevy of foodastravel shows, I quickly realized that a recent 10-hour layover in Singapore was going to end up being all about one thing:
Eating. Profusely.
Watching the premier episode of his new show The Layover the night before I set off for Singapore, I picked up a few ideas and a very definite craving for a little bit of all the food options the city had to offer. Even on my flight from HK on Singapore Air, I  had an almost restaurant quality Rosemary Chicken. On an airplane, in coach! It was like a sign from the universe: today would be tasty.
First off, having had only one good South Asian meal since leaving Nepal, Little India was the obvious choice. The Tekka Food Center, like all of the best open-air eating joints called hawker center  in this city built for foodies, offered a delicious array of dishes and cuisines. Being in Singapore's Indian neighborhood, though, I cruised until I came to the longest line and ended up mind-drooling opposite a Mutton Biryani stand.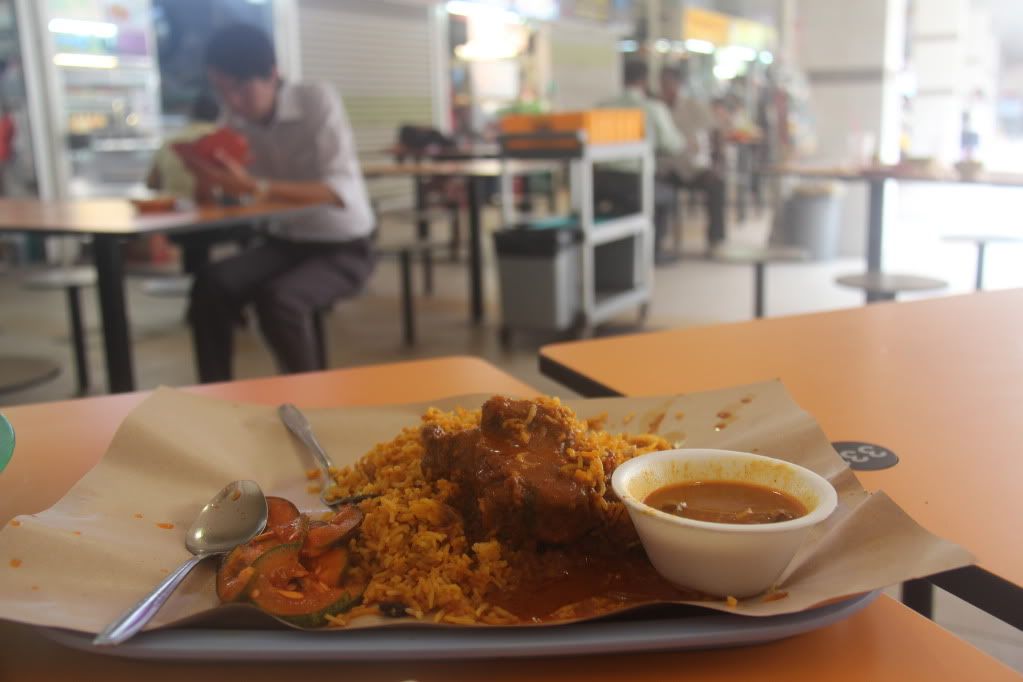 Think fork-tender lamb (best meat ever.) dripping with a curry-infused stock, yellow rice aromatic with saffron and anise, and pickled veggies mixed in for an occasional piquant reminder that vegetarianism can't be all bad.
Just AFTER I finished this though I walked right past Bismallah Biryani, which Bourdain profiles as THE best Biryani in Singapore. Duly marked for next time, on the corner of Dalhousie street pretty close to the Tikka Center.
I only changed $20 USD for the day, and intended to spend it all on food. A coffee shop featuring Malayan Kopi Susu, though, sidetracked me early into the day's culinary adventures.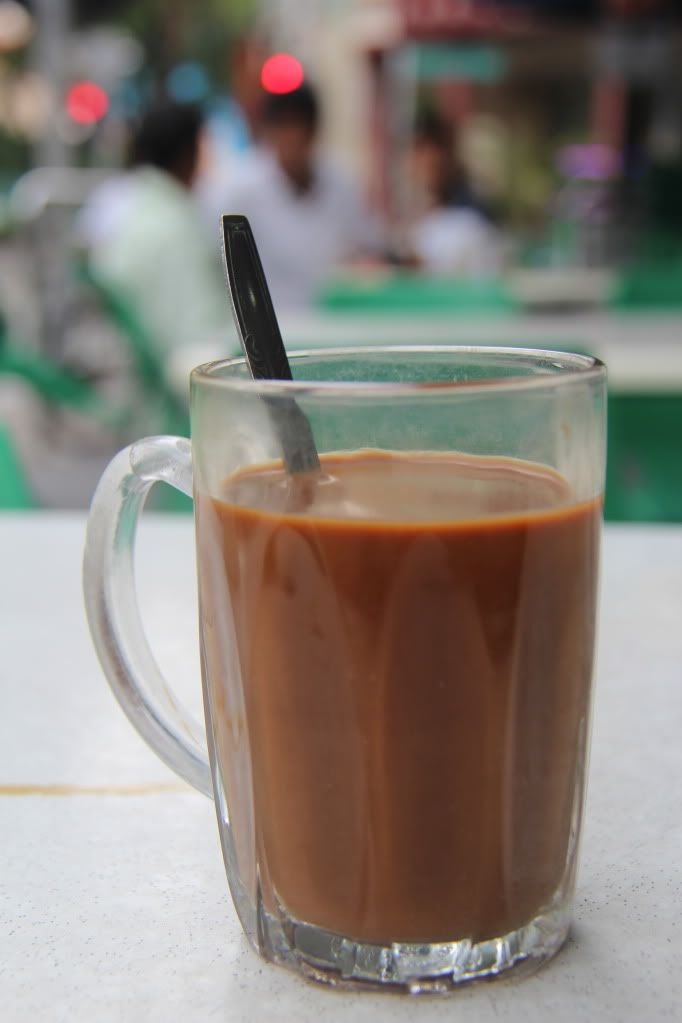 Strong black coffee and two or three teaspoons of condensed milk, finished with a scalding jet of water Americano-style. So sweet that when I was drinking them all the time in Indonesia they sometimes made my teeth hurt, but such a pick-me-up even on a hot and humid day in Singapore.
Back to the streets, and back to the food. I'd intended not to eat the same culture twice with such limited time in town, but rain caught me out in the Kampong Glam neighborhood standing down Jalan Sultan from its eponymous mosque and just across the road from the Bokhara restaurant. Named after my favorite city in Uzbekistan, with pictures of naan and kebabs all over the walls.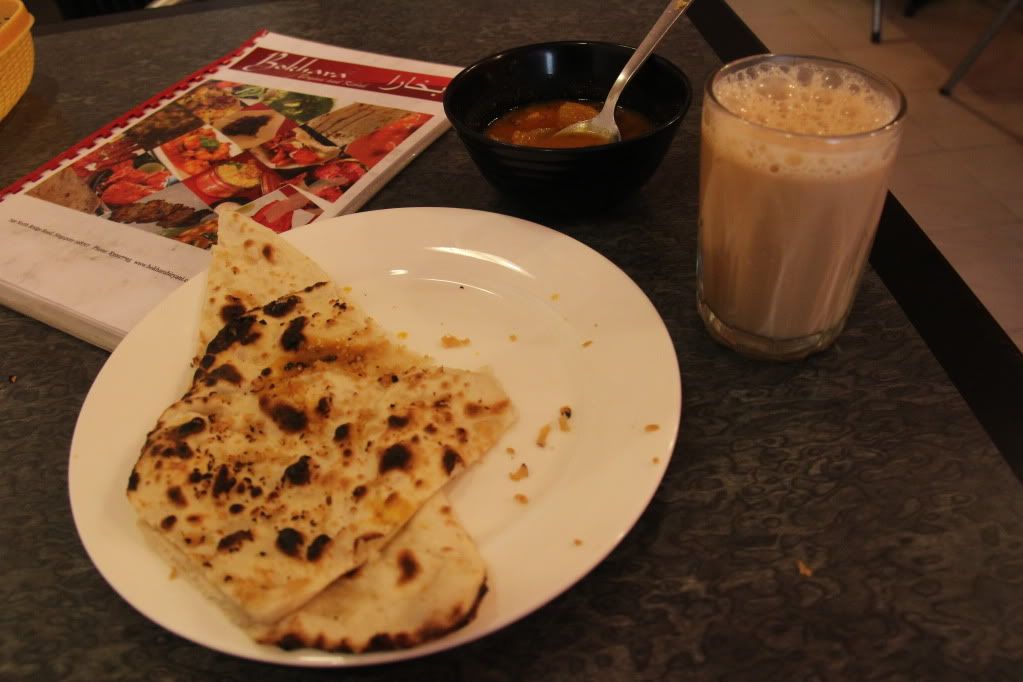 A plate of garlic naan bread and a cup of masala tea were, to be honest, entirely mediocre. (Which, come to think of it… so was much of the food I had in Uzbekistan!) Still, naan never makes me unhappy. At $4.50 this was actually my most expensive meal of the day, but if I could have paid that for any kind of Indian food where I grew up I would have gone two or three times a week!
And then it hit me. (No, not the curry, that'll come later.) I'm leaving East Asia for at least 5 or 6 months, and I haven't had Chinese food in almost a week! At the end of The Layover a brief mention of a "legendary" food court on the top floor of the airport parking garage, so this seemed like the ideal spot to rest up for on the way back out of downtown so I'd be ready for one more meal before my flight!
After wandering through 4 floors of two different parking garages, I managed to order and finish eating just before the airport Canteen (on Level 3M of Car Park 2A) closed at 8pm.  I'd intended an iconic Hainan Chicken Rice to cap off my day of gluttony, but a Beef Kway Tiao noodle soup running as a daily special called me home instead.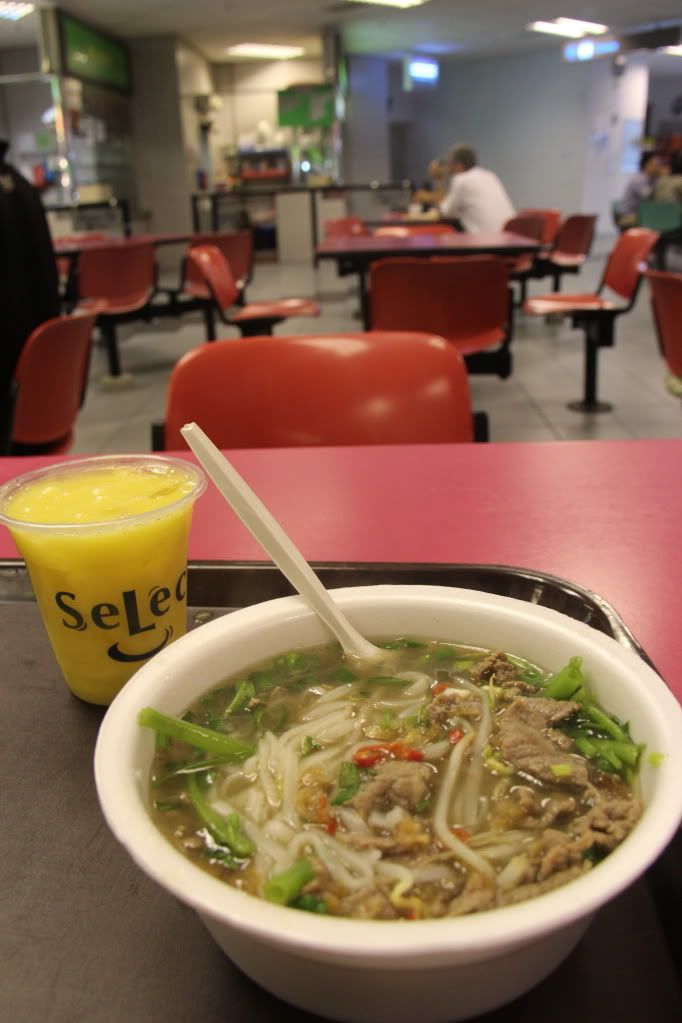 The little bit of spice in the soup made the fresh-squeezed mango juice all the more soothing, but the combination of juice and broth topped my stomach off so that it couldn't hold anymore without a bit of unpleasantness. So I spent my last $3.50 on a box of Chamomile Tea to take for the road, and took a mini food-coma in the luxuriously comfortable airport until my flight came up.
Successful day of gluttony in Singapore!