Terezin Concentration Camp:
Visiting the "Model Ghetto"
History isn't always pretty and so, by extension, with travel. There are so many dark parts to our collective pasts, whether you happen to be in Prague or America or Cambodia or… anywhere really. Learning about these things in a book, at school, tends to leave one with a logical understanding of the horrors of history. Being there in person, however, just makes the places and people involved a lot more real.
Which is exactly why I think its important to visit places like Terezin Concentration Camp. Because to walk the halls of a place where unthinkable systematic cruelty happened makes for an understanding so much more visceral than to read about the same. To know that THIS is where 140,000 were imprisoned and worked as slave labor for the Nazi state. The point from which over 70,000 of those people were sent on to their deaths at Auschwitz and Treblinka.
Terezin Concentration Camp was arguably one of the major reasons that the Nazi party was allowed to get away with the concentration camp system for so long. Amid growing concerns and rumors as to the treatment of prisoners in the camps, the International Red Cross were allowed to send a delegation to have a look around and see what life was really like in these camps.
Rather, these observers were treated to a production of sorts. To clear up some of the overcrowding in Terezin before the Red Cross visit, camp authorities deported over 7,500 prisoners to Auschwitz death camp. Leading up to the visit, prisoners were forced to clean and beautify and plant gardens and prepare the perfect little world – the "model ghetto" if you will. The trick worked so well with the Red Cross that camp authorities even decided to make a film afterwards. Directed by  famed German Jewish actor and director Kurt Gerron, it shows smiling happy children and a boisterous game of soccer and even a children's opera show put on in the camp. The director and most of the actors were sent to Auschwitz immediately upon completion of the film.
Though much of the footage was lost after World War II, a small portion can be viewed at the Terezin Ghetto Museum inside the town itself. Sitting in the building that was once a dormitory for young boys, surrounded by artifacts of the people who were forced to occupy the town for a short time before being deported to other and deadlier camps, the effect is chilling.
As a matter of fact, most of the displays in Terezin do a good job of portraying the loss of live and culture and potential that Terezin represents. At the Magdeburg Barracks, another former childrens' dormitory turned into museum space, there are exhibitions portraying what conditions might have been like in the prisoners' residential rooms as well as some of the art and music that was created within the camp. Some of this was within the aegis of the 'Jewish Committee' who were ostensibly responsible for self-government within Terezin, while others portray life as it really was: with cramped conditions and malnutrition and little hope for any of it to change for the better.
While the entire town of Terezin was used as a concentration and internment camp, the biggest visual impact still comes from the "Small Fortress" of Terezin. While all of Terezin was a prison, the Fortress area feels much more like the traditional sense of the word. Barred cells, execution grounds, and a cemetery at the entrance where bodies from the mass grave were exhumed and individually interred.
Walking under the "Work Will Set You Free" banner and into the detention cells, the on-site guides lead you to a room that feels crowded even with a group of 8 or 10 tourists. This was, he explains, where 30 – 40 Jewish prisoners would be held. No windows, no bathroom, no room to even sit down to sleep. Prisoners who died at night would be held up by the press of bodies in the room, and only removed the next morning. Though this was not a 'death camp' per se, prisoners were executed as a sign of authority and many were simply worked to death by the Nazis at hard manual labor with very few rations. As a parting gift of sorts, when the Nazi authorities handed over Terezin to the Red Cross in the final days of World War II there was a typhus epidemic raging through the camp that would claim the lives of many who actually survived the war itself.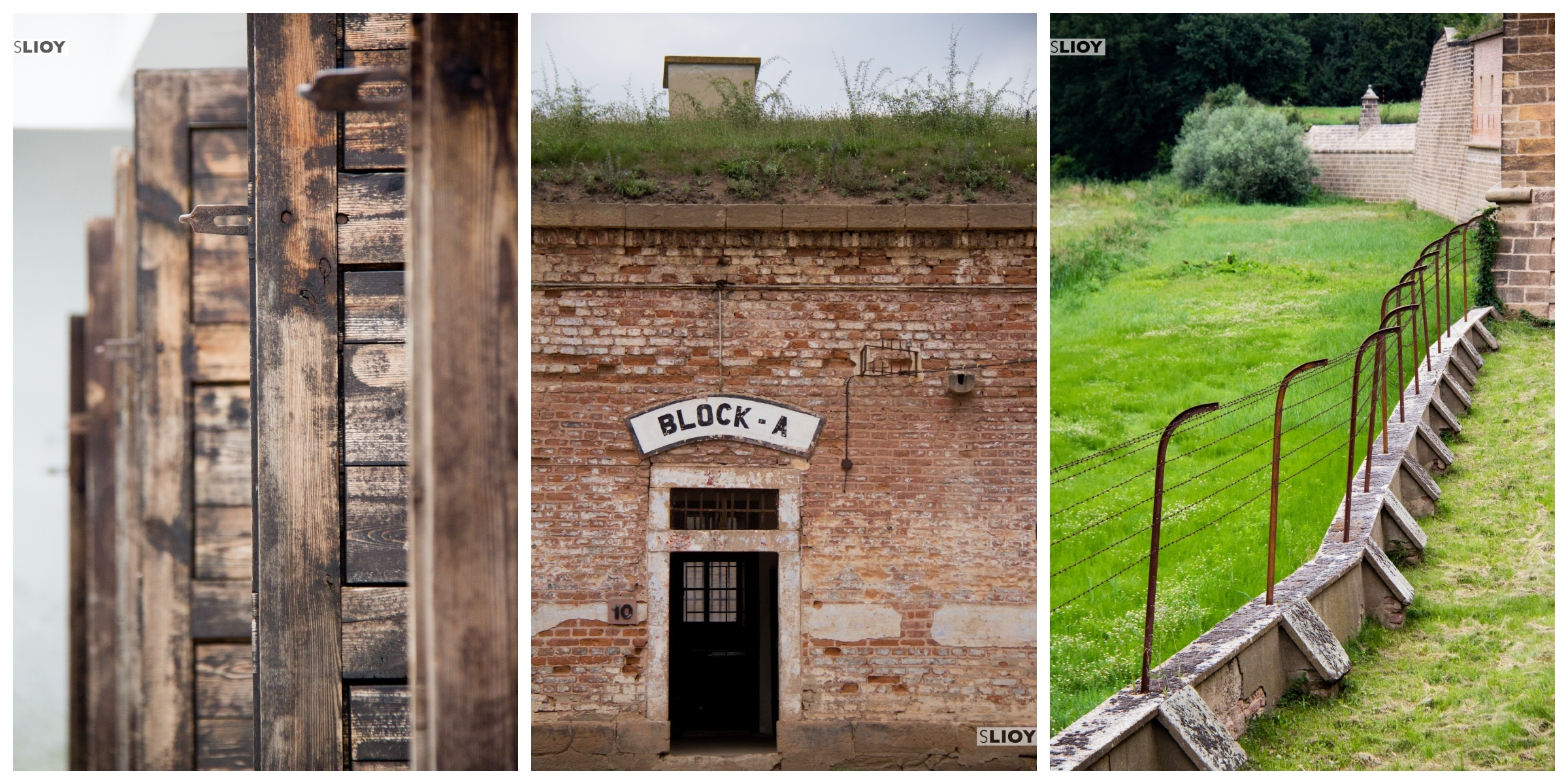 I don't think I'll ever truly understand the Holocaust, the Concentration Camps, or something of the scope of World War Two. Logically, of course, I know these things happened. Emotionally, the impact of that is hard to grasp. Being somewhere like Terezin, though, and seeing something like this makes it that little bit more accessible.
Essential Information

Admission:
Combined Ticket (Terezin Fortress, Museum, and Magdeburg Barracks)
Adults: 210 CZK
Students, Children (8-18), Seniors (60+): 160 CZK
Family Ticket (2 Adults, 3 Children): 420 CZK

Single Ticket (Either the Fortress or the Museum/Magdeburg Barracks)
Adults: 170 CZK
Reduced: 140 CZK

A Guided Tour is included in the price of the Terezin Fortress ticket.
Photography permits for Terezin Concentration Camp cost an extra 50 CZK.

Hours:
 Terezin Concentration Camp/Fortress: 8:00 – 16:30 (18:00 April – October)
Ghetto Museum and Magdeburg Barracks: 9:00 – 17:30 (18:00 April – October)

Transportation:
Busses (80 CZK each way) leave from stand #7 at Prague's 'Nádrazí Holesovice' train station about once each hour from 6:00 – 20:00, and take roughly an hour to get between the two. The final bus from Terezin back to Prague departs just after 18:00.
---
I was in Prague primarily to work as a photographer with GetYourGuide, including on their Terezin Tour. If you're looking for a quick visit, their tour is a pretty good choice since it means you won't be tied to public transit schedules. If you want to linger for a while, though, use the information above to get to Terezin on your own.
 If you're in Prague for more than just a few nights, I stayed with AirBnB at Anton's place while in Prague, and it was definitely worth looking at if you'll be in town for more than just a few days and want to stay outside the more touristy areas.  If you're not already on AirBnB, you can sign up here for $25 credit after your first stay.
If you're in on a shorter trip, the Prague Square Hostel is about as central as it gets. It's about halfway between Charles Bridge and the Mustek Metro station, so convenient to just about anywhere in Prague that you want to go.