Trekking Everest Base Camp
My experience with trekking up to Everest Base Camp actually started outside of Nepal, in the common room of the Khongor Guesthouse in Ulan Baatar, Mongolia.  In the course of a conversation with another American (Heather, from Arkansas) who was also headed next as a solo traveler to Nepal we discussed the possibility of meeting up in Kathmandu and doing some trekking.
And so it was.  Heather got to Kathmandu a few days before I took the GRE and two days after that we boarded a flight to Tumlingtar to start what would ultimately be 35 days of trekking in the Himalayas.  On the tarmac at the airport on arrival, waiting for our bags, we picked up another companion (Francisco, from Holland). Both would accompany me about half of the trip, and then go different ways for different reasons once we reached Gokyo.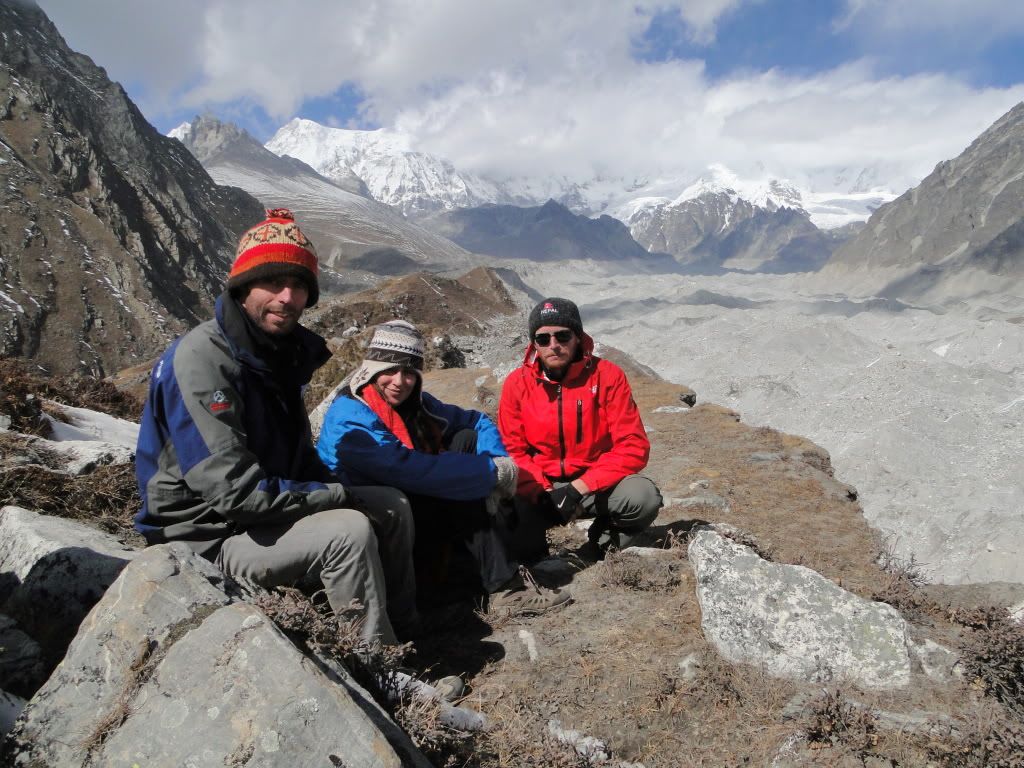 We decided to start at Tumlingtar as an interesting and less-common access point to the general Everest region, and while I honestly expected the highlight of trekking around Everest to be the day that I made it up to Base Camp I think the 7 days from Tumlingtar to Lukla (the more common starting point) stand in my recollection as far better memories.  From Lukla onwards almost every 'village' is in actuality just a collection of teahouses and lodges to service the appetites of trekkers.  For our first seven days, though, we shared paths with porters and villagers for whom the trails are often the only access to the nearest city or road.
Arriving in Lukla, then, was a shock to the senses.  After the barely trodden (and occasionally barely navigable) paths on the way, the trail from Lukla up was comparatively a highway in both size and crowds from all that we had seen in the week before we got there.  Having had a weeks' training, though, we seemed to be sprinting past most of the other hikers that had flown into Lukla and started their trek there.  Being me, this made me happy deep inside.
The three of us managed to ditch much of the crowding by ascending first to the village of Gokyo, at a respectable 4790 meters right in the middle of six lakes in the valley just west of the main trail to Everest Base Camp.  By far my hardest but also most rewarding two days of the entire thirty-five were at Gokyo, the first on a walk to the farthest (6th) Lake and the second on an impromptu climb of the 5767m mountain just to the north of Gokyo Ri.  Even if both of these were terrible destinations, I'd probably tell you they were brilliant if only to justify how long it took me to walk to them.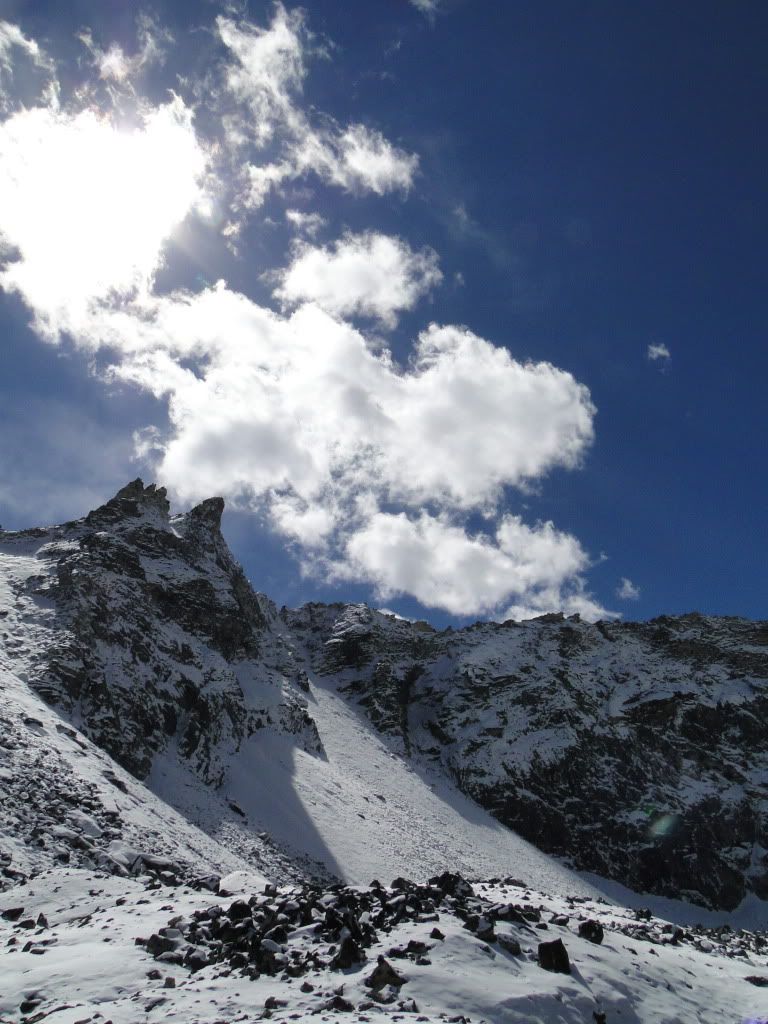 In perhaps the most rewarding viewpoint ever, my 5767m climb took me up to probably the most incredible view of Everest available anywhere on the planet except for the very top.  Though the other famous viewpoint at Kala Pattar has a nice view of Everest peaking out from behind other summits, my mountain saw a stunning full-on side view down a small glacier and then straight up the whole of the mountain.
From Gokyo the three of us split ways.  Francisco headed west over the Renjo pass, I headed east over the Cho La Pass towards Base Camp,  and Heather elected to take the longer but less demanding route to Base Camp via Phortse in time to meet me near the top of Everest's glacier at Lobuche.  It wasn't to be, however, as she started developing altitude sickness on her first night in Lobuche and decided to head down from the ridiculous frozen heights near Everest.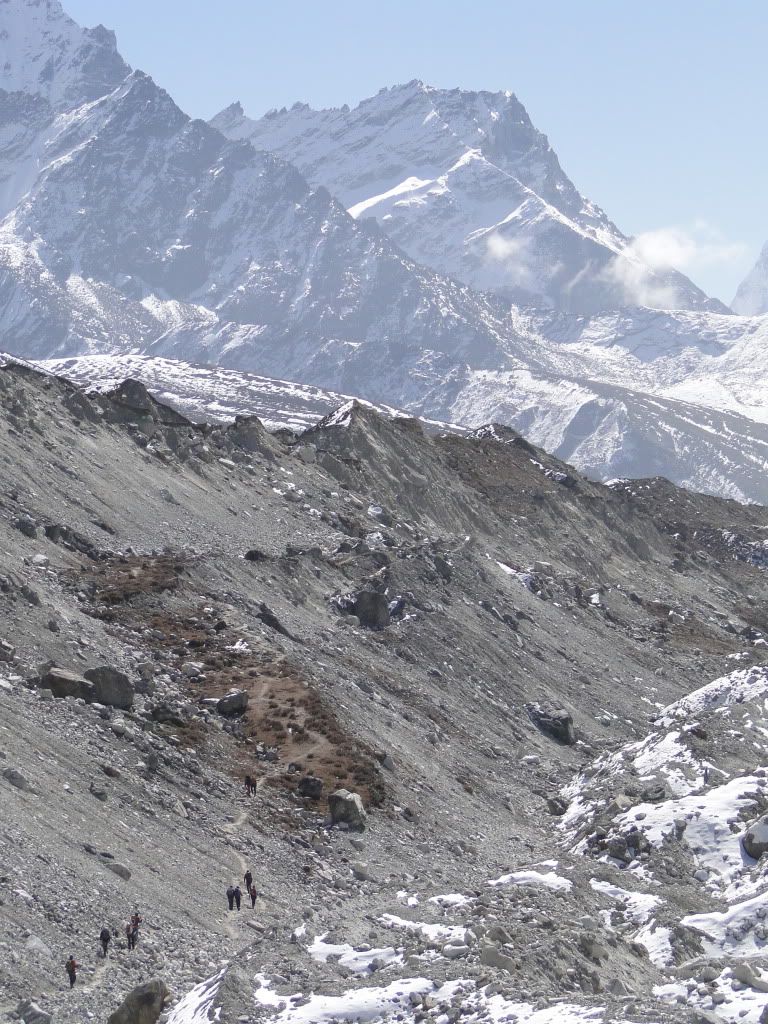 Perhaps my third favorite (and, coincidentally, second or third most demanding) day was the Cho La Pass.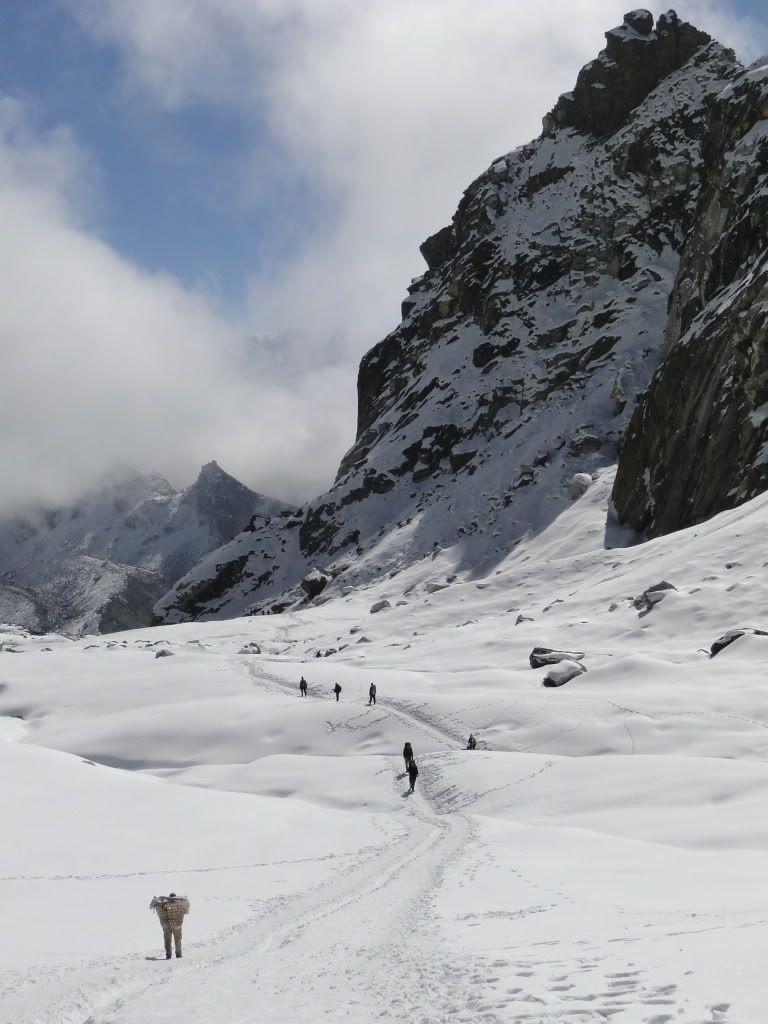 I made it in one ridiculously easy day from Gokyo over the glacier to Dragnag, and one absurdly long day from Dragnag up over the Cho La and then down and around (unnecessarily, as it turns out) and back up to Lobuche.
Even after a snowy walk across the Cho La and a frustrating walk up to Lobuche, though, I couldn't be bothered to rest for a day before continuing up to Base Camp.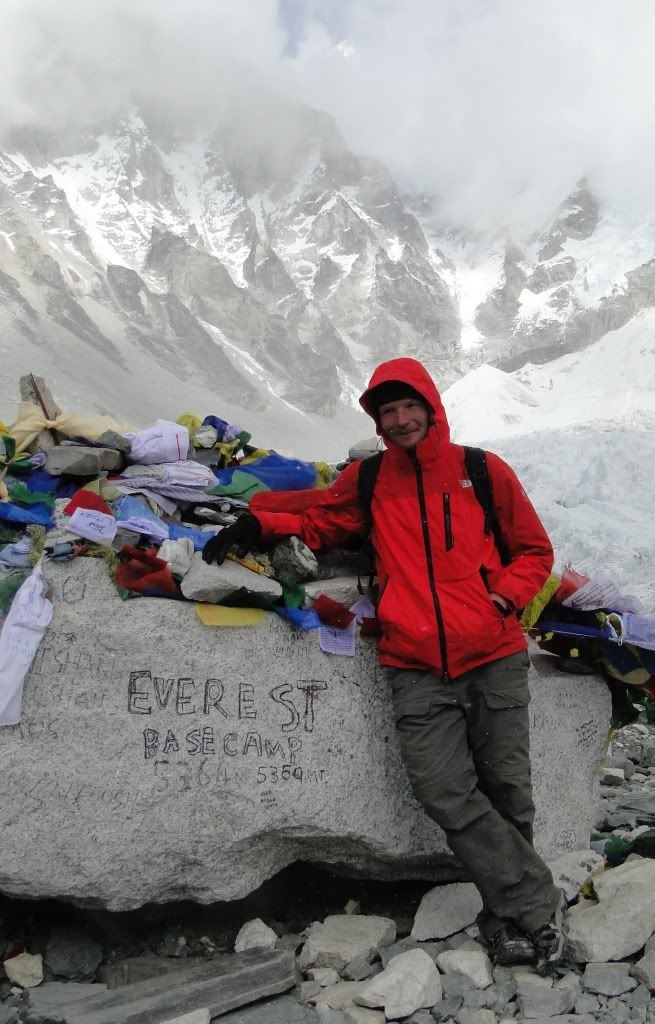 I spent a night at the closest village to Base Camp, Gorak Shep, fully intending to get up before dawn the next morning to climb Kala Pattar for the so-famous views of Everest.  One blanket on top of a 65 degree sleeping bag, though, does not promote comfortable sleep on a snowy night at 5164m.  I got up after shivering through the night and declared that I was done with it, all of it, and decided to leave the region as soon as possible.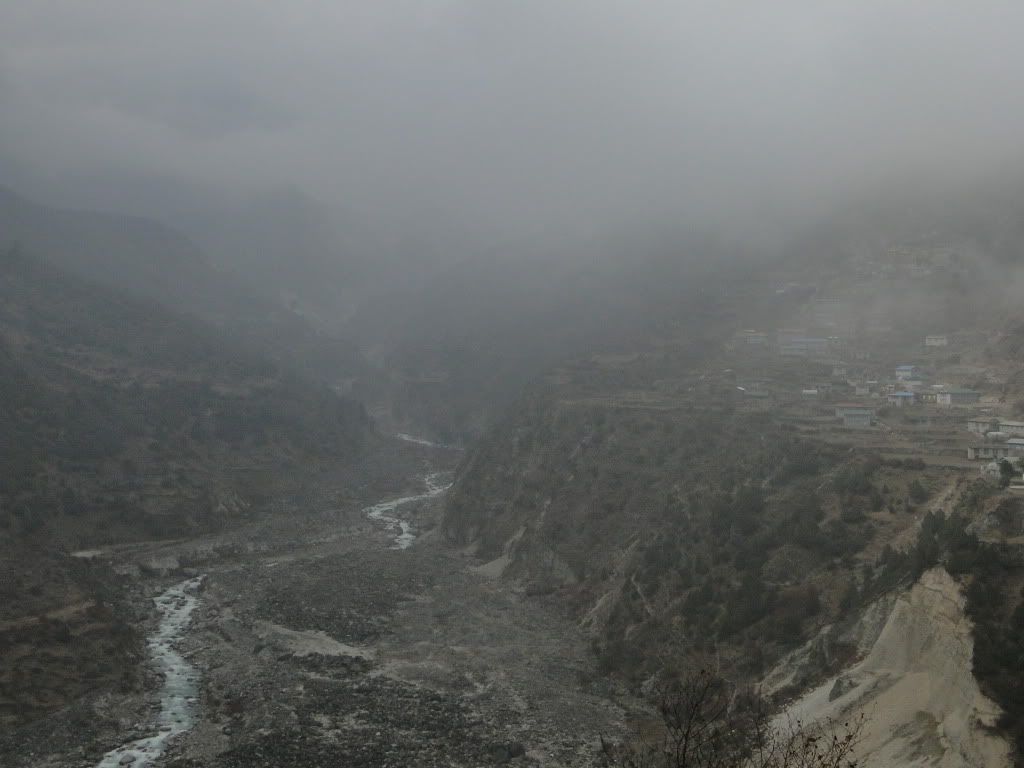 Mind, this was day 21 of a 35 day hike.  It didn't exactly work out.  About halfway down, as I got to the village of Debouche, it started to snow again.  It snowed, fogged, and generally just sucked (weather-wise) for over a week, so bad that it made international news.   Lukla, high in the mountains, has such a short runway that only small planes that in Nepal aren't equipped with radar (why???) can land there.  Someone pointed out to me in their guidebook a quote from a pilot who formerly worked in Nepal: "In Nepal we don't fly in the clouds, because the clouds have rocks in them."  Fair enough, but it isn't much consolation to read when the only options are to wait out the weather or walk six days to the nearest bus station.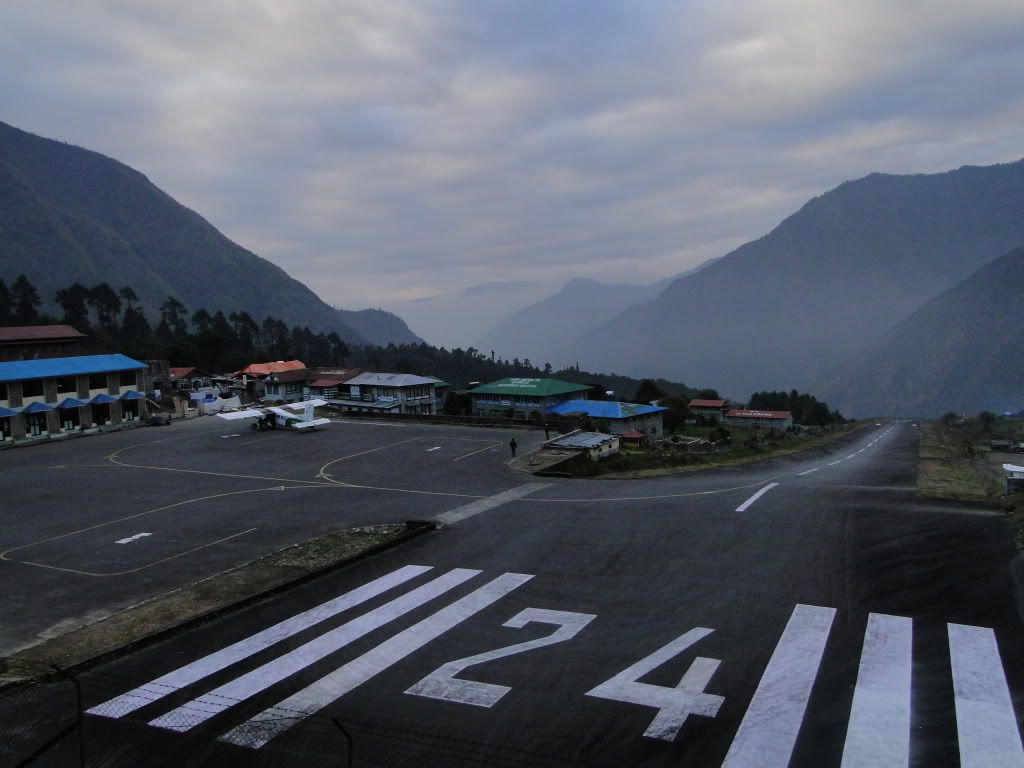 So, I decided to go back up to the cold.  I read in Kathmandu about a festival on my birthday called Mani Rimdu, and since the universe was conspiring to keep me hiking I figured it was as good a diversion as any.  I spent a week wandering between villages (of the lived-in variety, rather than the tourist-servicing), hiking and climbing bonus mountains and taking photos when the sky condescended to allow me to do so.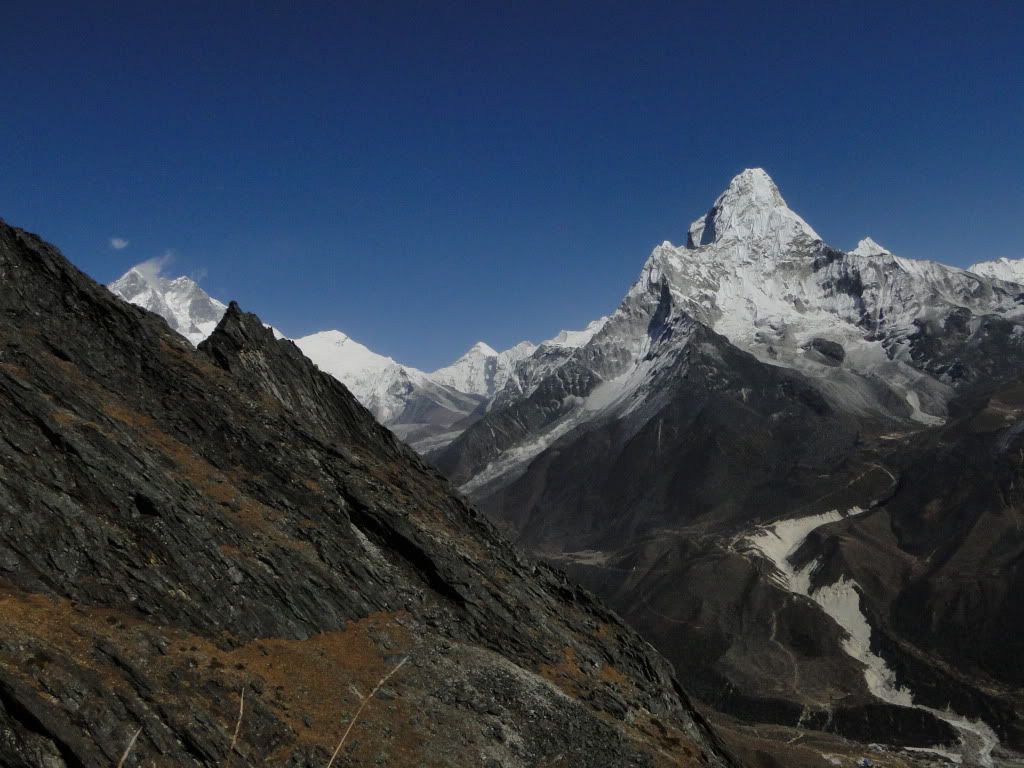 The festival was totally worth it, too.  Think of a big Tibetan monastery in the mountains.  Now add a carnival atmosphere with tents set up selling tea and food and souvenirs, both to the foreign tourists and to the crowds of local Sherpas that have come for the celebration.  Then take all the monks, and put them in crazy costumes with devil masks and weapons and an occasional comic interlude.  As a finale, a blessing for the well-being of all of creation.
It was one of the weirdest birthdays I've ever had, but quite a good one for that.
The weather, at this point, had been foggy (again!) for two days; but at the end of the day I was determined to catch my newly-booked flight out of Lukla at 8:30am on the 13th.  I walked into the night from Tengboche to Namche Bazar, sat around in a warm restaurant until 1am, and then made it to Lukla just as the sun came up over the mountains.  All night the sky was clear and full of light, and I was convinced I was going to get on a plane back to Kathmandu.  As it turned out there was one flight that morning, too, but I didn't manage to talk my way onto it.  Never ever buy an air ticket in Namche.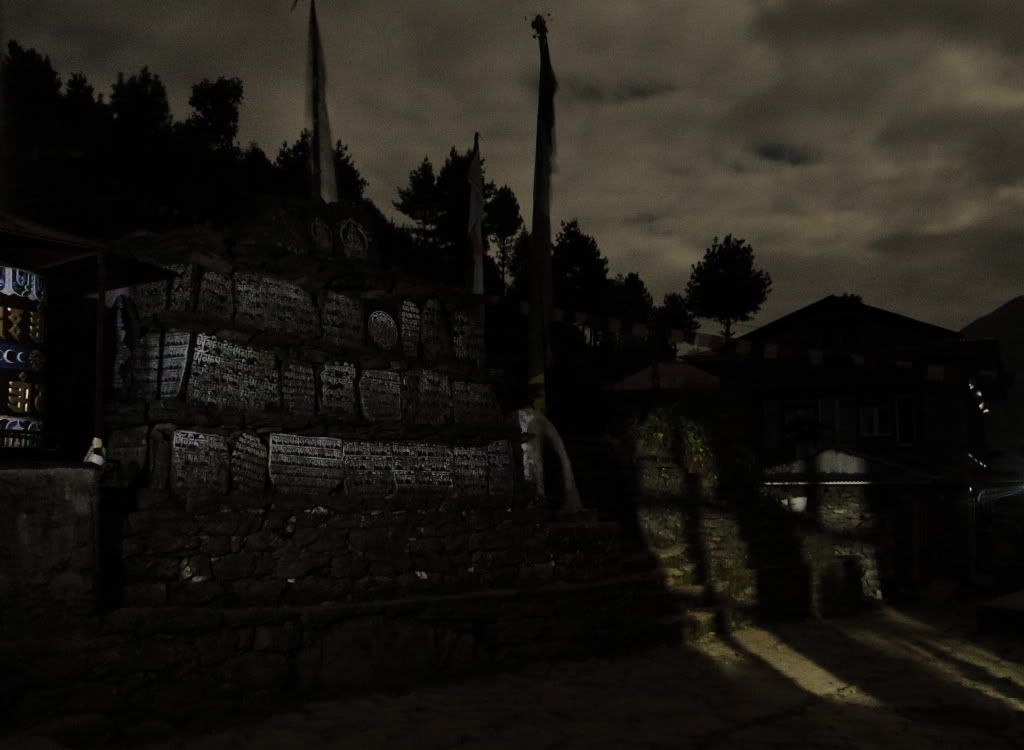 I stayed around town for a day hoping the weather would clear up, but the morning of the 14th was again cloudy and the sky was predicted to remain that way for at least four more days.  After 33 days of hiking I was pretty mentally through with it but a couple of friends from college were passing through Kathmandu and leaving the evening of the 19 th, so to be sure I didn't miss them I decided to walk it out.  (This turned out to be a bad call, by the by, as flights resumed the 17th anyways.  I would have gotten back faster if I'd sat around drinking coffee in Lukla!)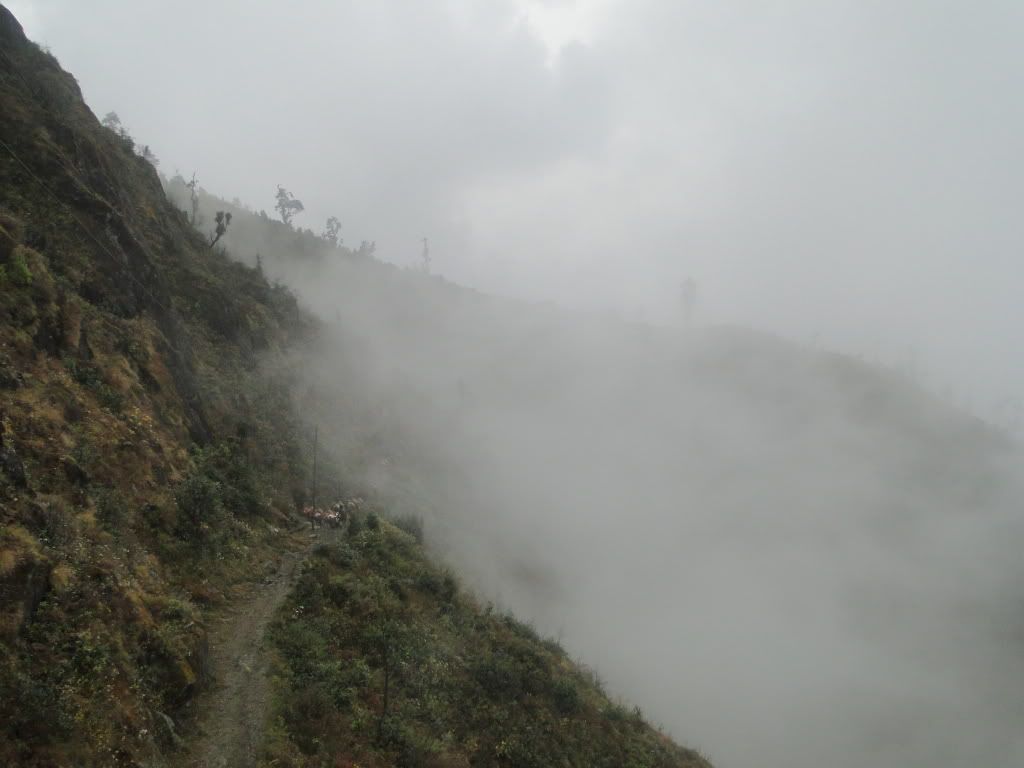 Determined to get back to Kathmandu as quickly as possible I started on the path for Shivalaya, which is normally considered about 6 days of hiking.  The weather stayed bad for much of the walk, highlighted by a two-hour hailstorm on the way up the Lamjura Pass outside of Junbesi.  The night of the 16th, an hour after dark, I walked into town swearing that after 35 continuous days I was done trekking for at least the rest of 2011.
Around 7am the next morning, after nearly missing the bus, I was finally in a seat and on the way back to Kathmandu.  Such a chaotic, loud, and often dirty city.  I can't imagine being any happier to be there than I was when we pulled in around 7pm.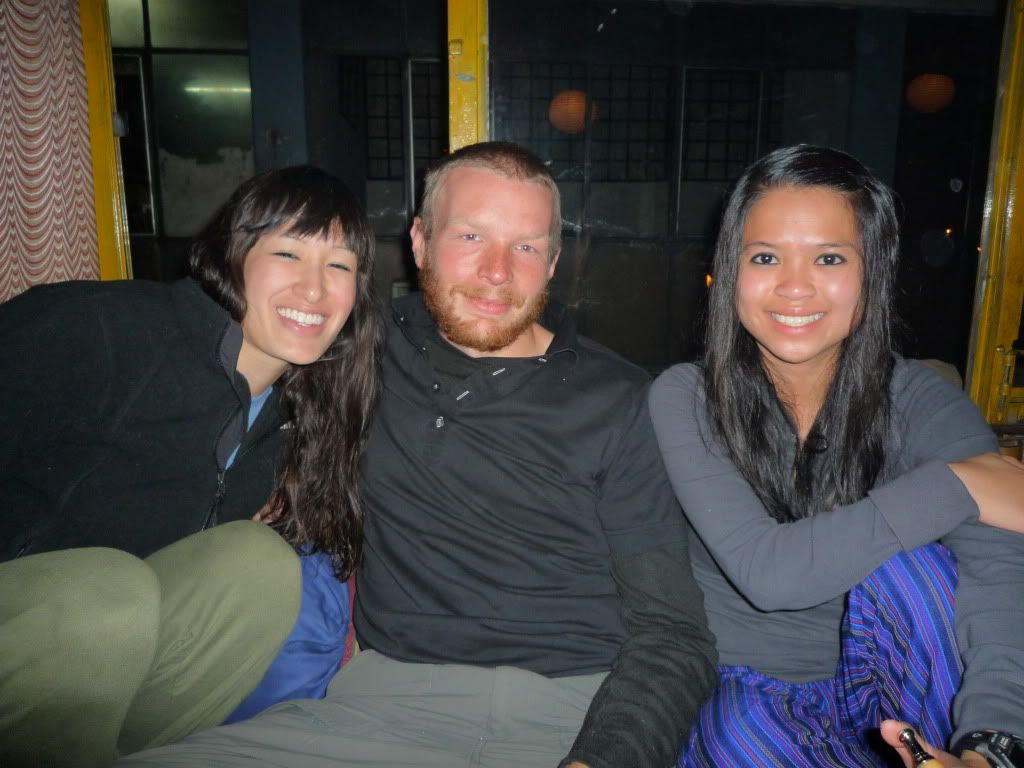 The next few days in Kathmandu were all delicious food and meet-ups with friends and winning money at the Casino Royale, in a vacation from any sort of photo-taking or exploring or touristic responsibilities in any way.  Because some days, you know, you really just have to take a vacation from it all.
——
This is a description of my personal experience trekking Everest Base Camp and the surrounding area. For a more details-oriented perspective, check out this mount everest base camp trekking site.