Winter in Kyrgyzstan:
Snow Camping at Ala-Archa
The long frozen Bishkek winter takes it toll on my traditional pastimes. Growing up in Louisiana, deep in the US south, my love for the outdoors has always extended to camping and hiking and multi-day backpacking but given the locale usually only the warm-weather versions of those. The very idea of camping on top of snow, from a Louisianian perspective, is ridiculousness bordering on absurdity.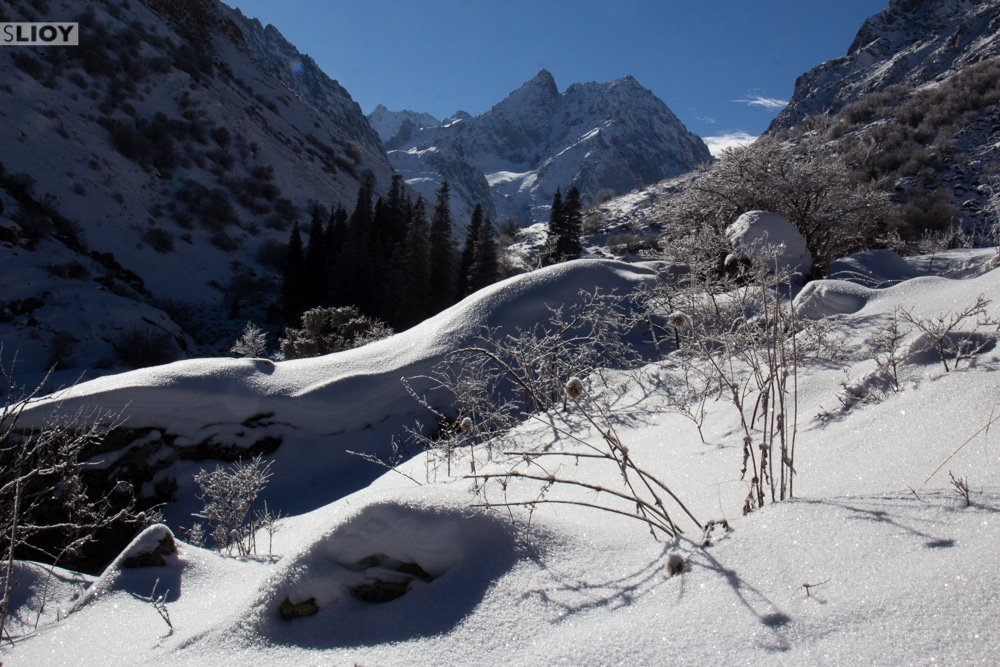 I could think of no better way to challenge this notion and, frankly speaking, to overcome this fear of the unknown than by just going for it. Kyrgyzstan's mountains stay frozen for a good half the year or so, after all, so at some point I either need to learn to love it or learn to leave town for the season. On a long mid-winter weekend, I packed my three warmest jackets and two warmest sleeping bags all into a bag and strapped a pair of snowshoes onto the outside – off to Ala-Archa!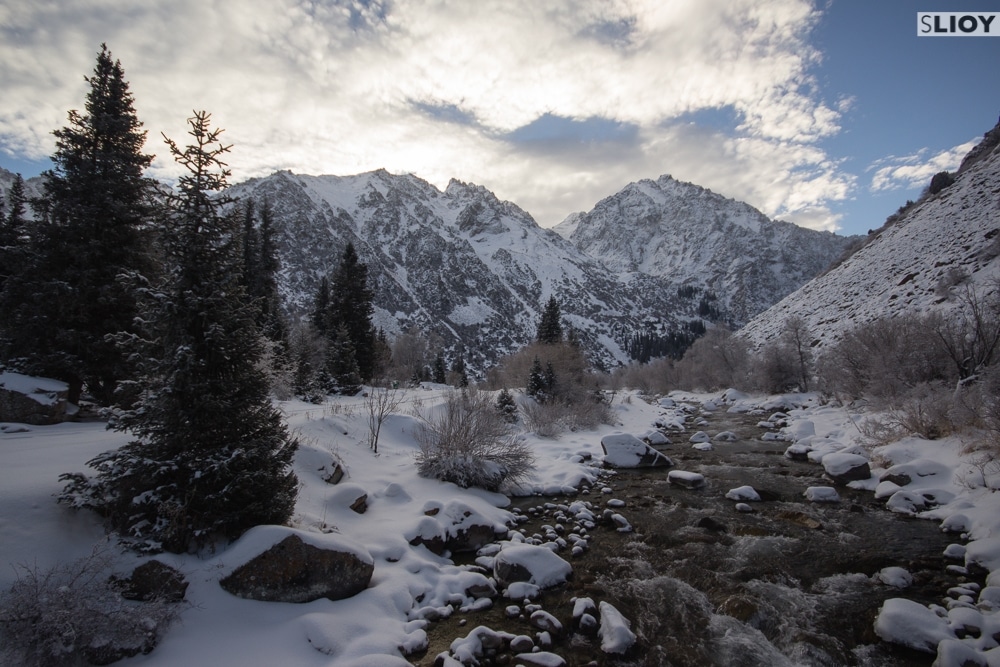 I've visited Ala-Archa before in the winter, at the tail end when snow still covered the higher elevations but left the lower reaches of the valley free from frost (if not from cold). This was my first time to knowingly head out for camping during winter in Kyrgyzstan, however, and my first real adventure in snow camping aside from one abortive trip to Issyk-Ata last year.
I looked at it as a bit of a learning experience, committed enough to be able to really get a feel but also short enough that even if it was entirely uncomfortable it wouldn't be the end of the world. Through the weekend, which actually wasn't all that rough, I came back with four major lessons.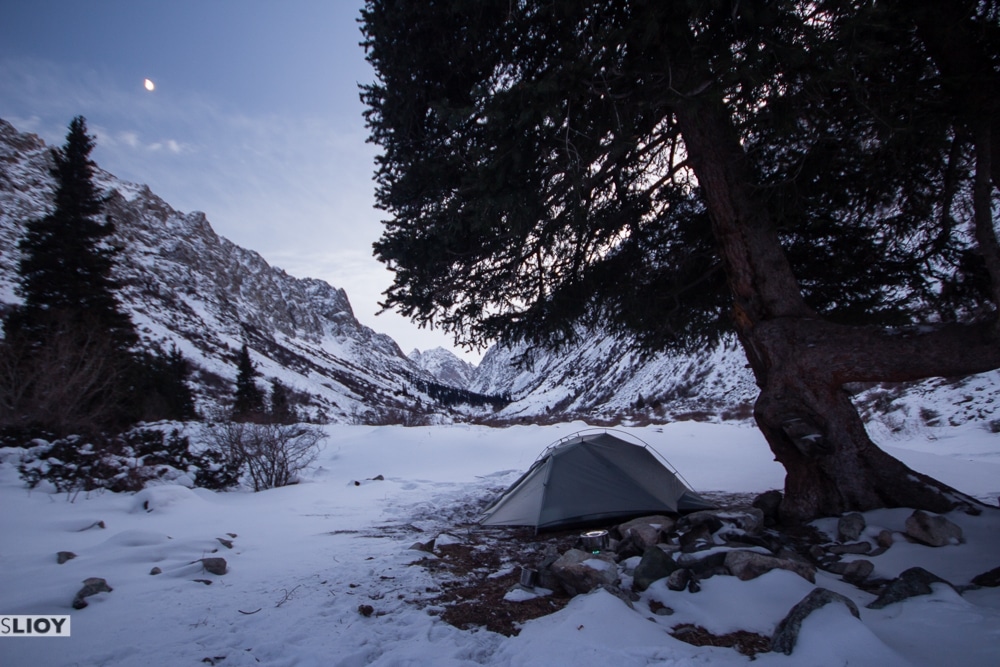 Take Care of Your Feet: Hot Water Bottles Are Amazing. Frozen Boots Are Not.
My first night on the trail I made two rookie mistakes. The first was to not boil water and pour it into a Nalgene to keep the foot of my sleeping bag warm. The second was that I left my boots sitting outside in the vestibule of the tent. This meant that not only did my feet get super cold after a few hours, but once I got up the next day it took hours to warm my boots up enough that the solid chunk of ice melted off the toes. Both easily avoided, but neither easy to remedy once they've happened.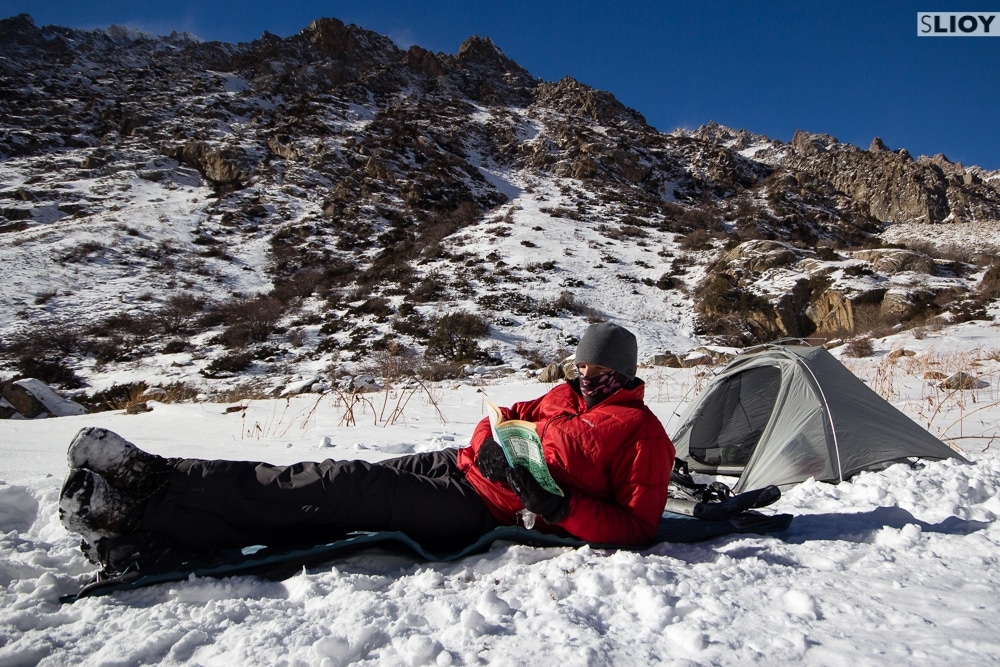 SO much time for selfies.  
Despite the fact that I take an enormous number of photos every time I go hiking in Kyrgyzstan, very few of those actually include me. As it turns out, EVERYTHING takes longer while snow camping. Hiking in snowshoes takes longer, and (at least for me…) requires way more rest breaks. Water takes ages to boil, even if you're lucky enough to pull it out of a running stream instead of having to melt snow. The upside of all that downtime? Plenty of opportunities to pose for ridiculous photos! Above is my favorite from the 'Reading at Snow Camp' series but I'm also a big fan of my 'Hiking On The Snow Trail' set as well.  An unexpected benefit, to be sure, but one I enjoyed.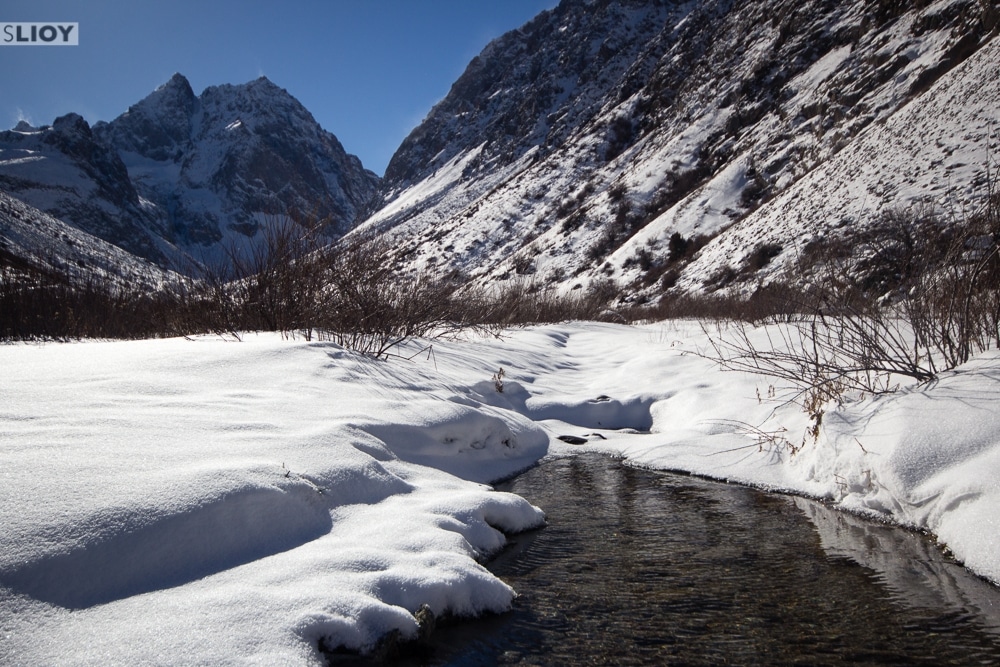 Distances come more slowly. 
I actually started this hike with the idea that I would somehow reach the old Ala-Archa ski base which, if you're not familiar, is precisely too far. As far as you can go into the Ala Archa Gorge without crossing a pass and entering a different gorge. While it *maybe* would be reasonable mid-summer with an early enough start, I was kidding myself in winter on snowshoes with a heavy pack. I actually mentioned this to a hunter I passed on the way, the only person I saw after the Alplager, and he laughed at me and said it was impossible before asking me to be quiet and not to scare away the regulated ungulates he was trying to kill.
The lesson here, of course, is to be a lot more conservative in estimating daily distance. I hired a car from Bishkek so that I could get to Ala-Archa as early as possible, and still only made it about halfway to the ski base. Top Karagai is a nice campsite, though, and also requires significantly less walking with heavy stuff on your back!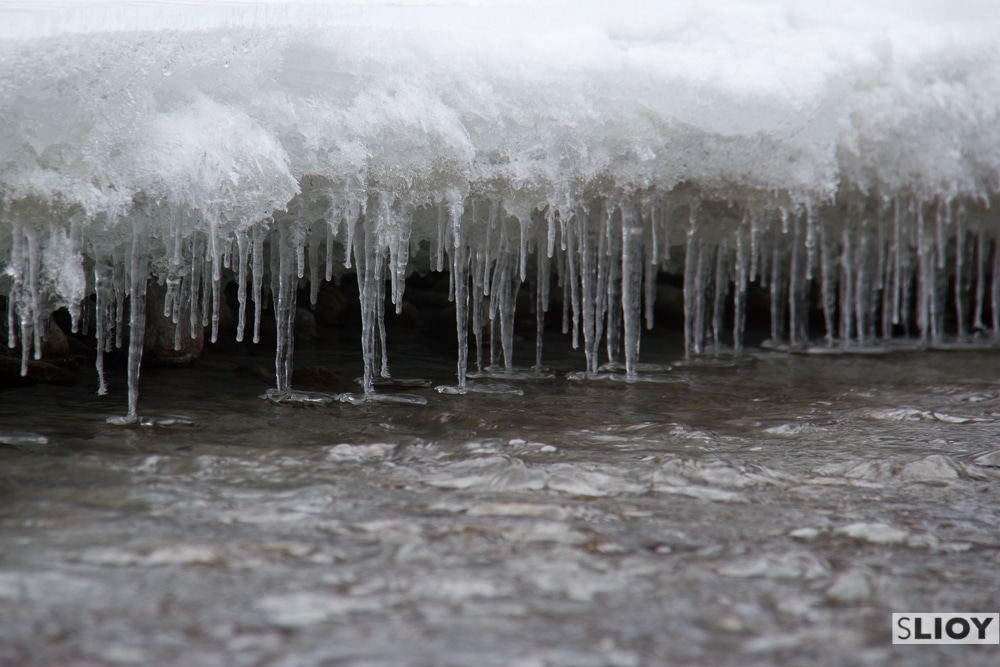 I mean yea, it's cold, but put on a jacket and a beanie and gloves and another jacket and then constantly boil coffee and tea and soup! More importantly, it's fantastic. Not only is the place nearly empty, a rarity in my visits to Ala-Archa, but the quiet is almost absolute. It's not silence, but it's that amazingly peaceful sort of quiet where you can hear the gurgle of every rock in a stream or listen to a bird chirping half a mile away. Part of the reason I spent so much time reading in the sun is because it was one of the most peaceful scenes I'd encountered for months. As a photographer, the cold and snow also present both challenges and potential rewards – neither of which can be explored as well on daytrips back and forth from the city.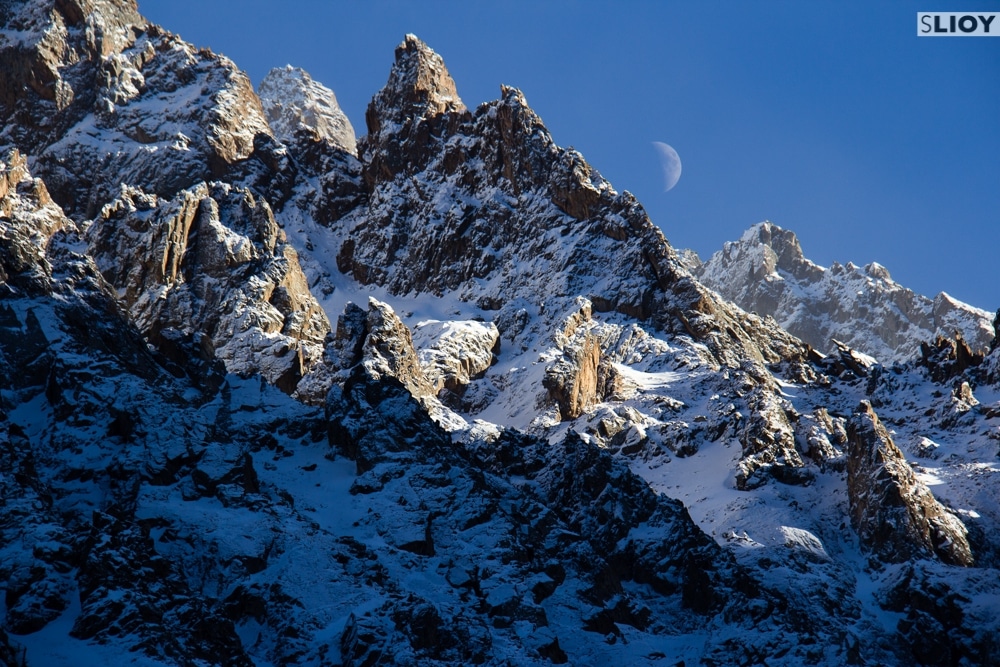 The final take away? I may as well learn to embrace it. After all, there's still several months to go until the Alpinad Festival in May and the start of the main hiking season!
---
Still not convinced you're ready to spend a night on the snow? The Trekking Union of Kyrgyzstan arranges weekend trips to ski bases and light hiking even in winter, or Iron Horse Nomads can design a trip for you if you want to go solo. Conveniently, their offices are nearly next door to each other on Turusbekov between Kiev and Toktogul. 
If you're in Bishkek as a tourist, the Hostel Inn on Chuy is probably the closest cheap accommodation to the TUK office. Check them out – they're also one of the cheapest city center accommodation options I know of. If you're looking more upmarket, the Hyatt is a bit further on Sovietskaya. Also be sure to check out my Bishkek Travel Guide for thoughts on other things to do in town while you're not hiking!