World Nomad Games in Kyrgyzstan:
An Olympics for Nomadic Cultures
If you were following my Facebook Page or Instagram in 2014, you'll have undoubtedly seen a flood of images from old-school portraits to crazy sporting events, all from one very specific and amazing event: The World Nomad Games 2014.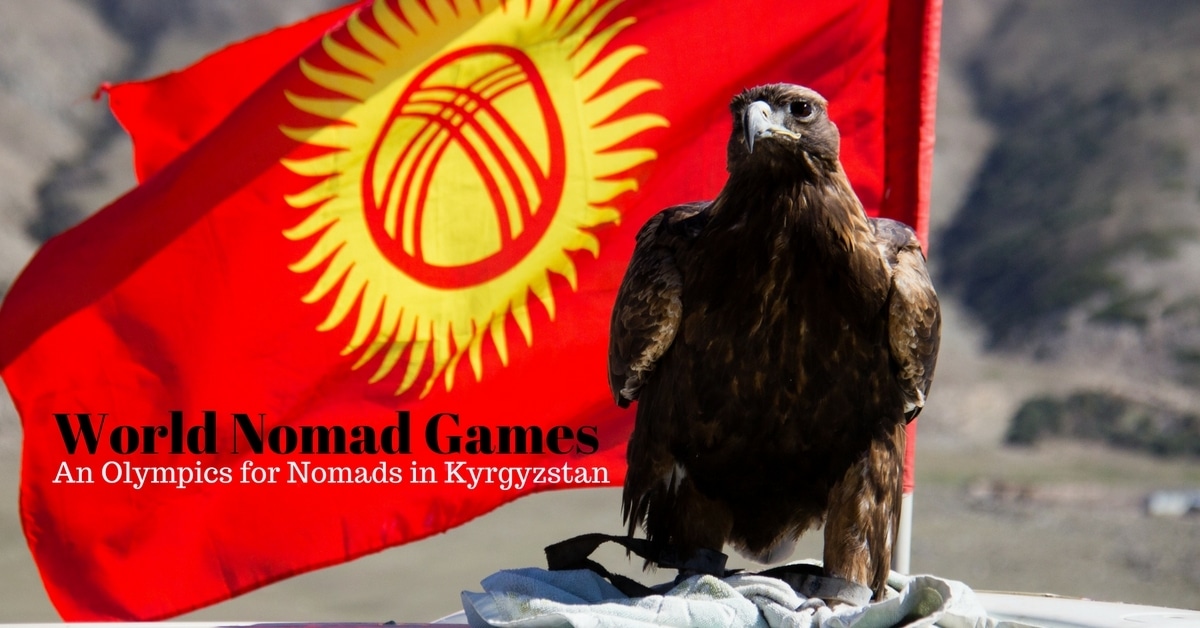 Hosted by Kyrgyzstan and featuring teams from across the Pan-Turkic world and beyond, the World Nomad Games has been touted as equal parts celebration of traditional nomadic culture and competition in the many sports that come out of that nomadic tradition. No matter whether watching a close match of Horse Wrestling or just walking around the town of Cholpon-Ata looking for lagman noodles, the entire event has had an incredibly festive atmosphere.
Even before the official opening ceremony, there was a feeling of excitement and fun in the air. Many of the dancers involved in the ceremony spent the hours before playing in the field – tossing bottles and playing 'red rover' and sitting and laughing in brilliant costumes. Once the ceremony actually kicked off, though, it was immediately clear just how much planning and preparation had gone into the World Nomad Games.
The World Nomad Games were created in partnership with Kazakhstan, Turkey, and a number of other governments but the hosting duties fell to Kyrgyzstan. Not to be put off by all the extra work, they did manage to write a clause into the rules of the tournament saying that the host team got to put in two teams for every sports compared to the one team for each other country. As you might expect, then, the Kyrgyz were well represented!
A big part of the cultural element of the games has been the Ethno Village at Jailoo Kyrchyn. Essentially an exhibition of all things Kyrgyz and Nomad, turning that last corner for the first time on the road up into the mountains was a legitimately breathtaking experience. Yurts stretching as far as the eye can see, horses all around, and brilliant peaks far off in the background. The most immediately obvious part of the Kyrchyn Experience is of course the games and songs and traditional clothing. Walking through the different encampments (set up by each of the districts of Kyrgyzstan) was like stepping back into time… except for the occasional cell phone and camera.
Only after a few hours at Kyrchyn does the whole experience become clear. Many of these traditionally dressed Nomads are actually traditionally dressed Performers, here to put on a show. If you understand Kyrgyz there was, I'm sure, a very compelling historical narrative. If you don't understand quite so well, the event is an experience in Crazy Horse Tricks.
Of all the exhibitions to be seen at Kyrchyn, the most unusual may well have been the Eagle Hunting (not coincidentally, perhaps, this is something I've actually wanted to see for quite a long time). First a dove fell to the eagle's talons, then a (very captive) wolf that looks a little worse for the wear. This is not the place to debate the ethics of the thing, to be sure, but I will say that it was extremely photogenic.
As exciting as these exhibitions are, however, the spiritual heart of the World Nomad Games is of course the Games themselves. Many of these will look entirely familiar to non-Central Asian audiences. There are three different types of wrestling, for example, and even after having seen them I'm still not entirely sure what makes them different from each. To the best of my knowledge the only difference between Kazakh Wrestling and Kyrgyz Wrestling is that only one includes shirts.
With the horse racing, similarly, I know that there are differences in weight and ages of horses and riders… but good luck trying to get me to tell you what those differences are. Even hanging out with a Kiwi horse trainer for much of the Horse Games, I didn't manage to pick up a whole lot of Knowledge.
Other sports are a touch more unusual or exotic, at least to Western perspective. Ordo can be found on the streets of Bishkek on any major holiday (and a lot of non-holidays as well) so that hasn't seemed so spectacular despite being on a brilliant location just above the shores of Issyk Kol at the Rukh Ordo complex.
A game I had never seen before this week was Toguz Korgool. I am, it seems, not alone: several of the Peace Corps Volunteers who were enrolled in the tournament mentioned that they had literally NEVER met a Kyrgyz person who played the game before the week of the World Nomad Games. It isn't Brandi Dog, to be sure, but might be worth some research back in Bishkek!
Things did get a *bit* more exciting, of course! The popular Kyrgyz 'Bride Chasing' is always good fun, regardless of whether the man wins (and kisses the girl) or the lady wins (and whips ol' boy). This time: kisses were kissed.
Less sport and more games, the Turkish team put on a couple of good shows with some of their 'Nomadic Traditions' as well. While the 'throw blunt sticks at each other for an hour' games wasn't so awesome, Horse Archery definitely is. I mean, could YOU shoot backwards from a running horse and hit a three foot wide target?
As great as horse archery is, there is one better: Horse Wrestling. Two dudes on horseback beating each other with horses and hands – the first one to fall to the ground is the loser. I had heard of this before, but never seen it. Hearing about it, I can promise you, a significantly different experience from seeing it about ten feet away. The sound riders yelling and screaming and out of breath is only surpassed by the exhilaration of two angry horses stumbling into a crowd of journalist. An experience not to be missed, if you ever have the opportunity.
The only thing that at this point could even come close to challenging Horse Wrestling as 'Craziest Sport Ever' is of course Kok Boru. Two teams, one goat, and three periods of twenty minutes. The only point, the only goal, is to throw the goat into the concrete bowls at either end of the field.
I consider it the most recklessly dangerous sport I've ever been privy to, both for players and spectators. I can't recall having ever seen a game where there weren't at least a couple of instances of players falling underhorse or teams charging straight into the crowds. I legitimately love it, and of course watching Kyrgyzstan play Kyrgyzstan in the final game (two teams per sport, remember) was the only truly appropriate way to wrap up the World Nomad Games.
After all the sports were finished, awards presented (several million Som to the first place Kok Boru team!), and yurt camp packed there was only one bit left of the World Nomad Games: A Gala Concert. (Predictably; if my time in Central Asia has taught me anything it is that there will *always* be a gala concert at the end.)
In many ways, what has made the World Nomad Games so much fun is the fact that it represents what makes Central Asia so interesting to travel and live in and read about and occasionally take photos of. The peoples and cultures and costumes and traditions that makes this region so interesting and photogenic are all part of what attracted me in the first place and what eventually convinced me to settle down here in Kyrgyzstan and stay around for the long haul. If you want to stick around for the long haul, at least virtually, make sure to follow my Instagram, Twitter, and Facebook Page for more.
---
The 2016 World Nomad Games will be held in Cholpon-Ata from September 3rd-8th. If you're planning on attending, book a room soon as the larger hotels have mostly sold out. Last I spoke with them, Apple Hostel (Cholpon-Ata) still had space available. Booking.com's Cholpon Ata page also still seems to show availability at a number of places.
As an aside, we've also published a quick and dirty guidebook to show tourists around for their first few days in Bishkek. This includes information, including a map, of where to get the minibus to Ala Archa. If you're headed towards Kyrgyzstan and expect to need some help getting around, consider our Unanchor: Bishkek guide!
Like what you see? Share it on social media!