MonkBoughtLunch's
Year in Photos: 2015
The past year in photos: 2015. What a year it was. Funerals on the ghats of Varanasi, a bit of a long chat with the tourist police in Jordan, getting just a touch stranded in the mountains of Kyrgyzstan, taking my first helicopter ride over the skyscrapers of Dubai, and of course a death in the family that prompted an emergency turnaround after having just left the US a day before.
I've chosen below not necessarily my favorite photo from a given month, but the one that most captures at a glance the tone or activity of that moment in time. Some positive, some reflective, one sort of embarrassing story. (If you're just looking for pretty pictures I took this year, you can also see those on my Instagram or Facebook Page as I put together my Top 10 for the year.)
Before the photos, however, a few stats from 2015. Travels in 11 countries (2 of those new to me – Jordan and the UK), 151 nights in my own bed (which must actually be a record for the past few years?), 54,000 miles flown on 12 airlines  (with more than 30,000 already on the books between now and mid-April of 2016), 27,536 photos taken (of which only 4,469 made it into the archive and an even smaller sliver of that have seen the light of the web), and 7 trips to Karakoy Gulluoglu for that sweet sweet baklava goodness over 4 visits to Istanbul.
Oh right, and one more thing. Most of these photos are linked to a blog post, photo gallery, or other goodies that are worth have a look at if you want to know more about the photo or the trip that brought it to life. This was my year in photos. Give 'em a click, see if you find something you like.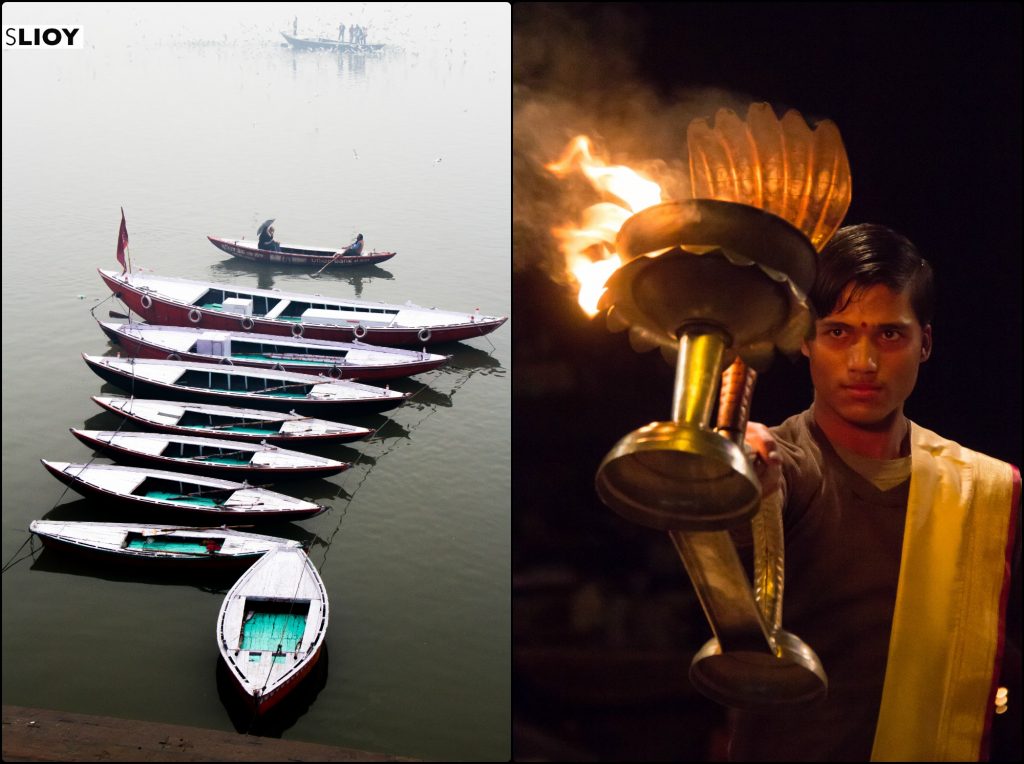 January – A New Year in India
India is tough, chaotic, and hell on the stomach. Yet walking along the Varanasi Ganges ghats at sunrise on a cloudy New Years morning is one of the calmest, most peaceful feelings I recall from all of 2015. That's the photo on the left. On the right, some fire dancing on the same ghats during the 'Ganga Aarti' puja ceremony just a few days later. Crowds, fire, tourist photographers, pushing and shoving, and actual genuine devotion all wrapped together; this too is India. This would set the tone not only for January but really for much of 2015 – a constant transition from quiet tranquility to hardcore travel and working with very little in between.
February – Working In Kyrgyzstan
I literally took one photo in February, and actually it wasn't the snow leopard photo you see above. This was a month of bunkering down in Bishkek, writing and pitching and photo editing and finishing up some work for my (then-)employer and basically getting as much prepared as possible for a two-month trip where I would have very limited time online. Which leads me to:
March – A Month of Transit
Kyrgyzstan to Kazakhstan to the UAE to Indonesia to Malaysia to Nepal. March was filled with amazing moments, from a helicopter ride over Dubai's Palm Jumeirah to the parades and pandemonium of the Nyepi holiday in Bali, but the overwhelming feeling was of being constantly on the move. The photo above, from Denpasar Airport in Bali, was a brief exhale in the midst of it all; waiting on a client's flight to arrive and for another week of frenetic action to begin.
April – Nepal before the Quake
I slowed down a bit in April, if only in that I wasn't flying around quite as much, and got to spend a few quiet moments in Kathmandu, Nepal. I flew out a few days before the massive earthquake that devastated much of the country, but it's a strange thing to see something so terrible happening to a place you know and being left to wonder about the friends you just saw and how they've fared. Luckily everybody I know in Nepal seems to have made it out ok, but I'm curious to see what places like Patan Durbar (pictured above) look like a year later. I'm tentatively scheduled to be back in Nepal in mid-May of 2016, so with any luck I'll be able to report back on this after then.
May – On the Beach in Bali
This was from a work trip leading an adventure-seeking group on trips like river rafting, hiking up to the top of volcanoes, and of course a bit of surfing and hanging out on the beach. The whole time, of course, I kept thinking to myself "this is exactly what I would be doing in Bali even if I wasn't working!" Sadly I left the island about three hours after I saw them off, so not much personal exploring this trip. In fact the rest of May after I got home to Bishkek was computer time all the time. Like I said, feast or famine on the movement and adventure this year.
June – In the Mountains of Kyrgyzstan
… a bit longer than expected.
I've mentioned this one once or twice on social media, though not yet on here. I got a touch stranded while out on a hike in Kyrgyzstan, after going down a dodgy scree slope that we were uncertain we could safely get back up. I also made a much more successful hike to well-known Ala-Kol in June, of course, but all I seem to hear about when I talk to family these days is that Kegeti fiasco so it's sort of the tone for June. This photo is from a long day of sitting around looking for climbers to show up with ropes and 'biners. Nice view, even if the circumstances weren't exactly ideal.
July – New York, New York (and the USA)
New York, New York; it's a hell of a town.  July also saw my cousin's wedding in D.C. and some time spent with family down in Texas, but man, even now I'm still thinking about New York City. It doesn't happen very often these days that I walk around a city thinking "I could live here for a while." and even more rarely am I in the US when thinking it. My last day in New York, waiting on the tram back across from Roosevelt Island,  I started googling apartment rental websites to see what it would look like (spoiler: it's expensive). While I don't think it's a likely outcome anytime soon, I was amazed to even be entertaining the thought; it left that kind of impression.
August – Yikes.
I left the US expecting a joyous few days hanging out with my girlfriend and her mom in Istanbul, showing them one of my favorite cities and using them as an excuse to eat all my favorite foods. I landed instead to an email saying "your father just died" (though admittedly more tactfully phrased than that), and the next day booked a flight back to the US to deal with… all that. This photo, then, was on my last day in Istanbul before flying back. Having finally sorted out pretty much everything I could over Skype and email I went for a walk just to step out of everything for a while and stumbled across this Istanbul Photography Museum deep in the periphery of Sultanahmet, a welcome relief and a chance to be engrossed in something else for an hour or two. Also, the first of what would become many selfies via my new camera's wifi function that turns a smart phone into a shutter remote. We've come too far.
September – USA pt. 2
If the previous photo is the 'before' to that USA return, this is the 'after' shot. Having dealt with much of the worst of the practical stuff that comes with death and legacy, one my my wonderful aunts (she of the misguided side dishes, in fact) drove down with me to Galveston Island for a look around. Quiet, quant, and with a novelty chocolatier. I don't know why people hate on Galveston, as it was a nice step out of daily routine.
October – Exploring Jordan
Suffice to say that by the end of September I was *really* ready to get out of the States and go travel somewhere new, and Jordan delivered. A week roaming with a rental car back and forth over the north of the country, some time chilled out on the Dead Sea and in Wadi Rum, and far longer than I'd expected in the Petra Archeological Site. All of it a good refresher on what it's like to just travel somewhere without thinking about it from a work point of view, and Petra especially something far more engrossing and engaging than expected. This particular shot is one of my favorites, both for the photo itself and for the effort it takes to make an independent visit to the Monastery after-hours. Full story to come later in big honkin' write-up of exploring Petra, but suffice to say I got to know a couple of the Jordanian Tourist Police over the course of a couple hours' discussion once I got back down to the busier levels. That part was perhaps a miscalculation, but to be far one that I had reasonable evidence for thinking would be no problem.
November – The Kyrgyz Connection
Most of the time after a super trip (and that last one was just a hair under four months away), I get back home to Bishkek and don't want to leave for a week or three at least. Given the opportunity to tag along on a press trip to the Jyrgalan Tourism Fest at the country's newest ski area, though, I couldn't in good conscience say no. It's good that I went too, as the weekend and the Jyrgalan area were both great reminders of why I like Kyrgyzstan so much and why I always ache to get back here after too many months away. It should be no surprise that hiking and camping are much more my passions than skiing, which makes me even more excited to go back to Jyrgalan in July and see if it lives up to all the hype I've heard about spring and summer there.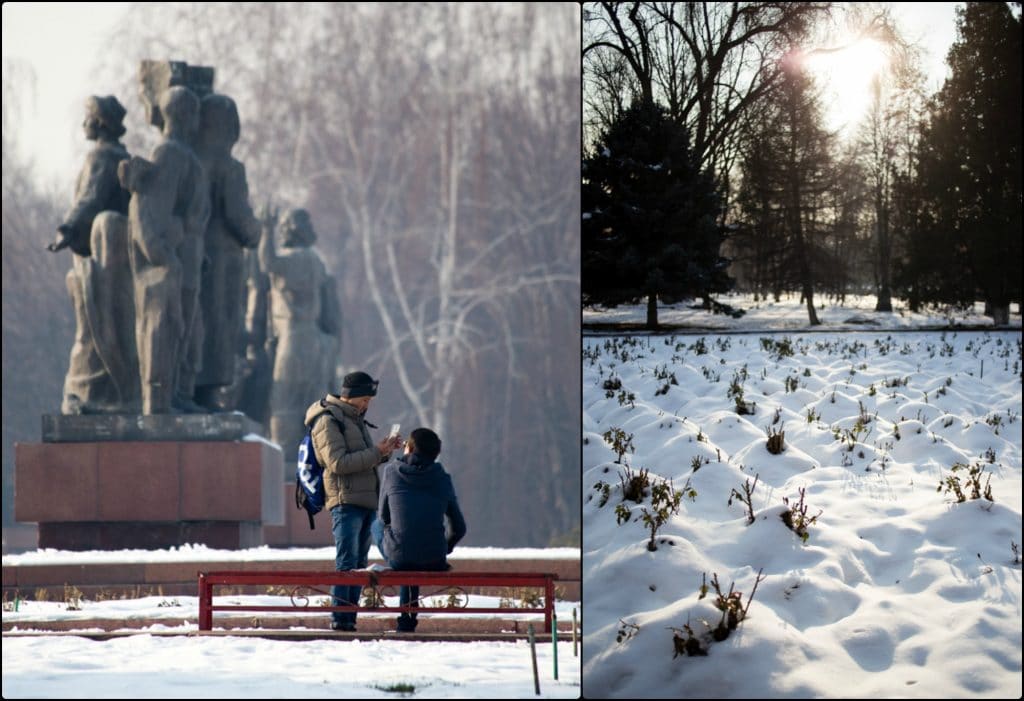 December – Based in Bishkek
By all rights this should be another shot of skiing, but a more accurate representation of the month would be a screenshot of the weather forecast showing that it would be cloudy and snowing *again* as I tried to head up to one of Kyrgyzstan's ski bases to take a few photos. In the end most of the month saw me in Bishkek, plugging merrily away online trying to wrap up as many writing commitments as I could before leaving on Jan 6th for another four or five months on the road. There were at a few in-town outings, an exhibition of photography at the State Museum of Fine Arts and of course the premiere of Star Wars. For the most part, though? Work work computer work. I did mange to publish one or two articles I thought were pretty cool, as well.
(All right already, enough with the clamoring, here's a ski shot to tide you over till I can publish more:)
Looking Forward: 2016
So, that was my year in photos for 2015. Already tentatively planned for 2016 are Chile/Argentina, some hiking in Texas, a possible surprise from China and Hong Kong, trips to Bali and Nepal, travel along the Silk Road  to one or two old favorites, and of course a bit of camping and hiking in Kyrgyzstan over the summer to really round things out… and that's all just through August or so! As always, come with me on social media to follow along in real-time (or way-behind-time, as the state of internet may dictate).
Like what you see? Be sure to share on social media, or leave a comment below letting me know what you think!