Abu Dhabi Palace Hotel
If the beach is the natural highlight of Abu Dhabi and the Heritage Village the cultural highlight, then the Palace Hotel is some sort of ostentatious absurdity highlight. Walking up, of course, the presentation is grand as you approach the main entrance via an alleyway of palm trees reminiscent of Southern Plantation transported to the Middle East.
Exploring the outside, the Palace Hotel looks like its namesake, some absurd large palace sitting just off of the Abu Dhabi harbor. The gardens are actually quite nice, but keep the dress code in mind. Men, beware: short are absolutely not tolerated on Emirates Palace grounds.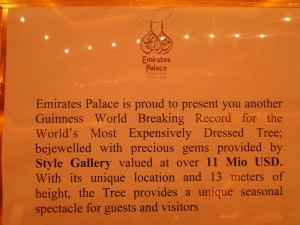 The inside, though, proves without doubt that the hotel is all about conspicuous spending of lots of money. When I visited, back in 2011, the lobby was ornamented with a rather large Christmas tree covered in jewelry valued at over 11 million USD. This is, as you might imagine, a Guiness World Record (though a sort of odd and not particularly competitive one, to my knowledge).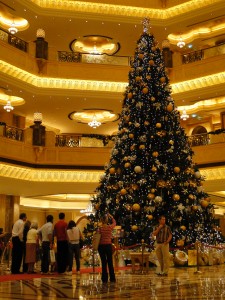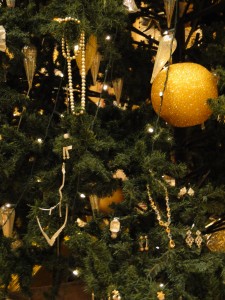 If you make it all the way into the back of the Emirates Palace building, one final surprise: a vending machine for gold nuggets and bars. Just in case, you know, you were on the way back up to your room and realized you'd left your gold bar in your other palace? It does make me wonder whether this is totally just a grab at attention over the sheer ostentatiousness of it all, or whether they actually see this as a value-added service for their clients?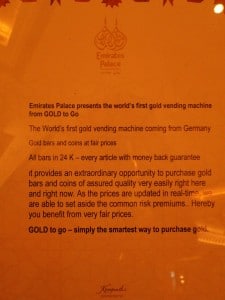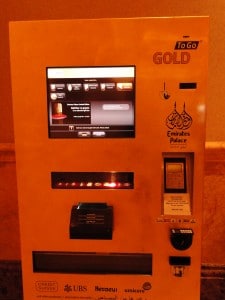 ——-
I've visited Abu Dhabi several times, both independently and as a photographer for GetYourGuide. The Palace Hotel is pretty easy to get to on foot or via public transit. If you're in a hurry, though, the Abu Dhabi Day Tour or  Abu Dhabi Hop On/Off Bus might make it a bit easier to get around the somewhat spread out sites in Abu Dhabi.