Bali's Uluwatu Temple:
The Kecak "Monkey Dance"
Bali's Uluwatu temple is beautiful, its clifftop location overlooking the Indian Ocean perfect for sunsets and engagement shoots and taunting indigenous macaques until they get fed up and rip your camera right out of your hand. While the temple itself is a beautiful backdrop, however, the temple is not the story.
The story, like all the best stories, is part of a thousands of years old epic incorporating love and loss, bravery and sacrifice, and anthropomorphized monkey men kicking great mounds of fire and breaking the king's nice things. (Well, ok, that last bit is kind of particular to *this* great story.) This story is the Ramayana epic, or a small piece at least of this legend of Rama, and in this island at this temple it's the Uluwatu Kecak Dance. (Or, if you're on the streets of Kuta talking to touts: the Monkey Dance or Fire Dance.)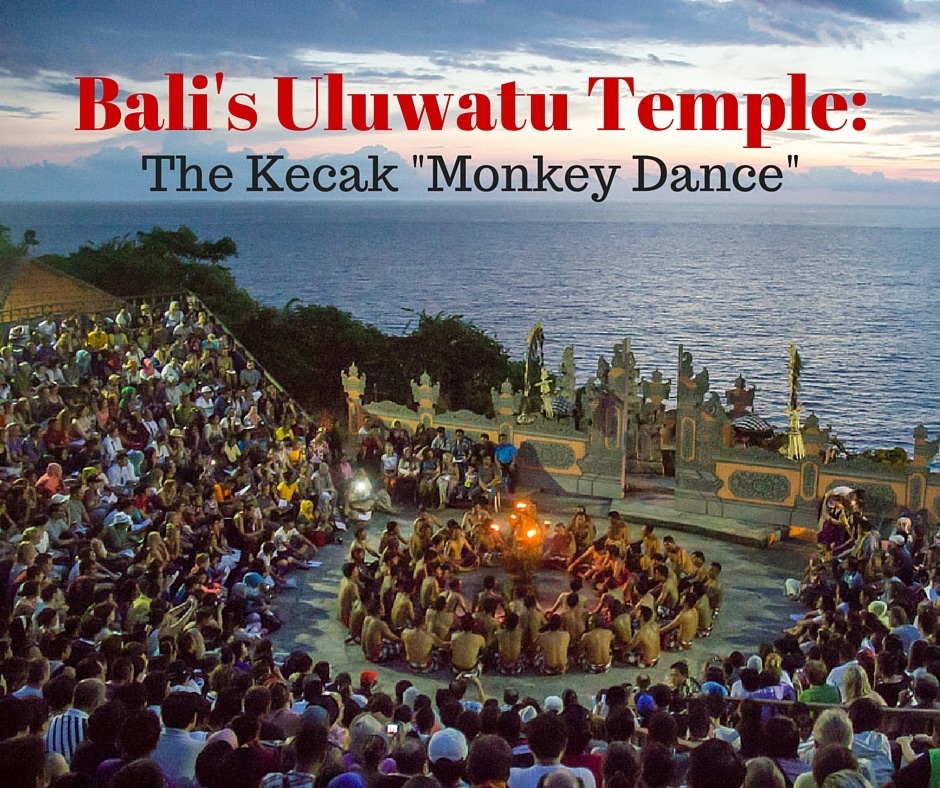 A Hindu outlier in the midst of otherwise Muslim/Christian/Animist Indonesia, Bali's rich cultural and religious heritage is one of the great appeals to the thousands of tourists that flock here each year. Much of it is very subtle, the small offerings outside every house or the traditional clothing every other Wayan wears out on the streets, but the Kecak dance is not subtle. The kecak dance is a 70-man choir singing the story of the imperiled princess Sita, her vengeful prince Rama, and the besotted demon king  Rahwana whose infatuation sets the whole narrative into motion.
Oh, right, and the monkey god Hanuman dancing down the house before dying in a fiery inferno. But don't let knowing the ending spoil the play for you.
It's all Sita's fault, you see, the same Sita who married Rama after testing his strength so many years before at the Janaki Mandir Temple. A magical golden deer, Sita's jealous need to possess it, and a princess left alone in the woods after Rama runs off to chase it down for her. She's captured by the demon king, of course, or there wouldn't be much of a story; and much of the rest of the narrative is the tale of bewildered Rama appealing to the monkey god Hanuman for help in rescuing her.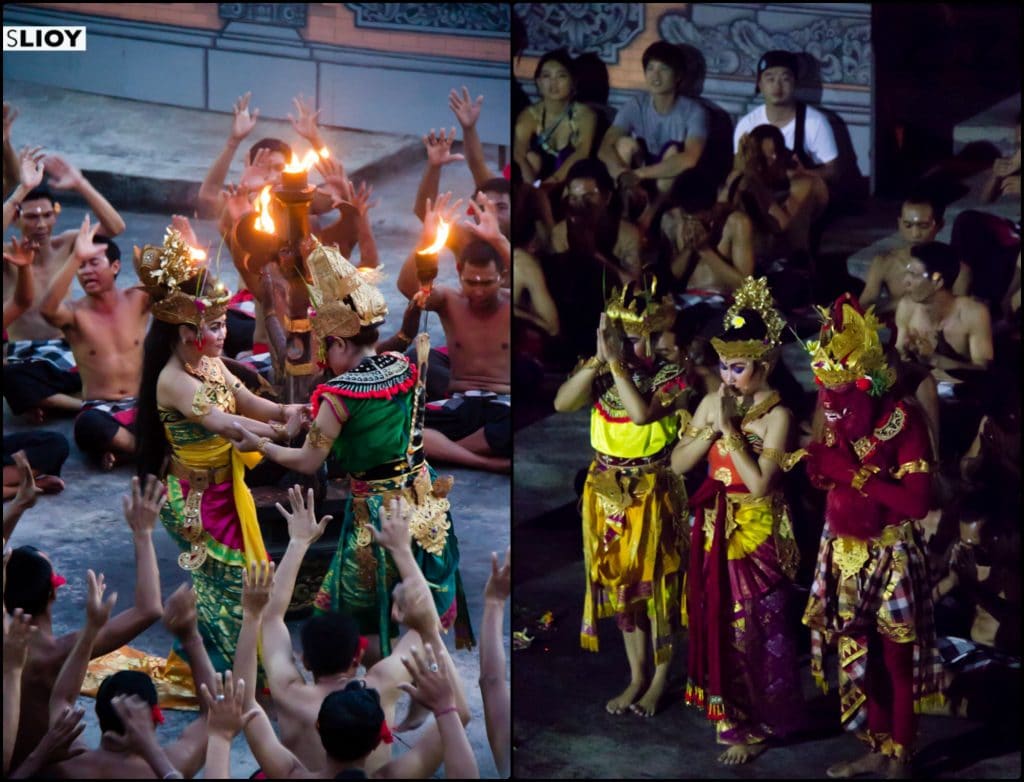 Hanuman agrees to help, of course, because that's just the kind of monkey god that Hanuman is. A ring from Rama, a hairpin from Sita, tokens exchanged via monkey god messenger to offer proof of life and devotion despite the machinations of wicked Rahwana and his mischievous minions. Hanuman comes, and Hanuman goes, and somewhere along the way Hanuman is captured and bound by the servants of the demon king – great winged giants that are too much for even the white monkey to overcome.
It wouldn't be much of a story without suspense, of course, and here the suspense slowly builds. Hanuman is captured. Hanuman is bound. As demonic-looking eagle spirits look on, Hanuman is slowly encircled by the mounds of what are clearly intended to be his funeral pyre. The fire is lit, the flames grow, and to all accounts Hanuman (and thus the rescue of Sita and reunion with Rama) seems lost.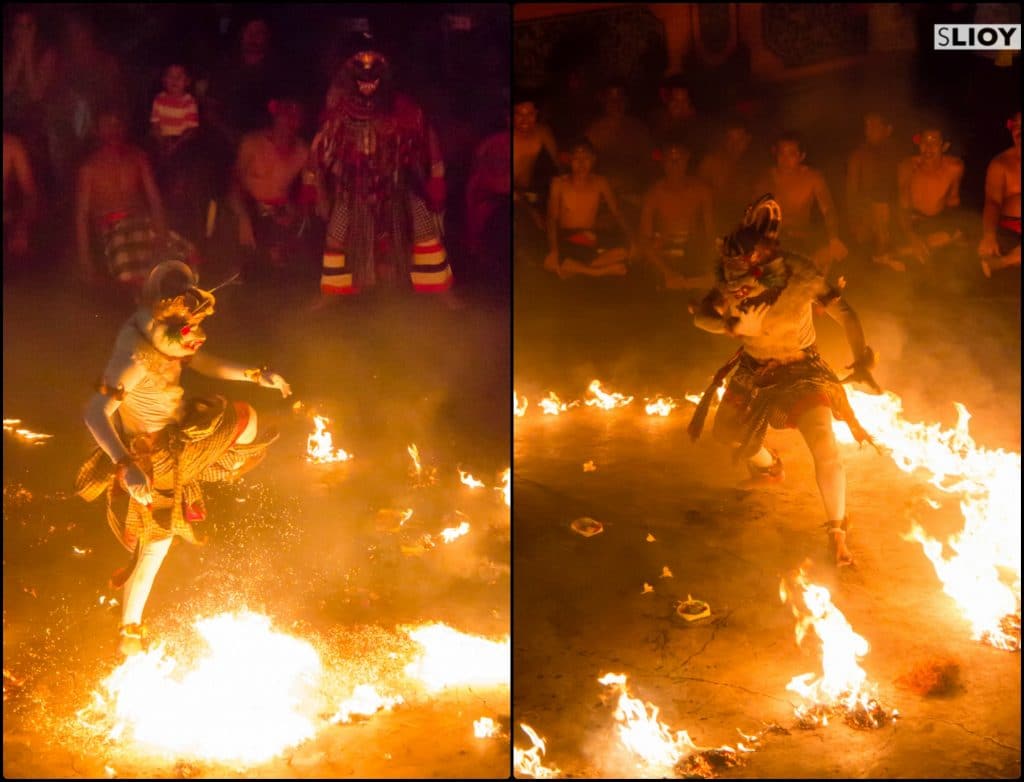 But that's silly, of course, because Hanuman is immortal. A great god of the Hindu pantheon and devotee of Rama (who, not incidentally, plays central roles throughout the Ramayana of which his rescue of Sita from Rahwana is but one small example). Hanuman lives, escapes, and saves the day; because again, that's just the sort of monkey god that Hanuman is. Take note though because, as the Ramayana epic has it, Hanuman is present here just as he is present at any other venue in which the story of Rama is told.
"Bow down to Hanumān, who is the slayer of demons, and who is present with head bowed and eyes full of flowing tears wherever the fame of Rāma is sung."
So, no monkeying around. Hanuman is watching.
---
Practical Details
Getting There:
The kecak dance or "monkey dance" at Uluwatu Temple is in the southwest of Bali, at the end of what is known as the Bukit Peninsula. Getting there on public transport is nigh impossible. Either rent a scooter for the day and make this one of your last stops, or hire a car from Kuta for around 150,000 Rupiah (~$12) for a round-trip ride plus a few hours' wait while you explore the temple and watch the kecak dance.
What Does It Cost?
Entrance to the Uluwatu temple is 20,000 Rupiah (~$1.50).
Tickets to the Kecak dance are an additional 100,000 Rupiah (~$7.50).
Additionally, if you don't have proper clothing (pants for guys, pants and sleeves for ladies) you'll need to rent a sarong for 5,000 Rupiah (~$negligible).
If you just really can't be bothered you can book the whole package as a tour including dinner from $45 US per group, which is actually a good deal if you're 4 or more.
Where To Stay?
Though there are plenty of hotels in the Uluwatu area, many of them quite inexpensive, it's far from most of the attractions in Bali and this hard to make work unless you're either renting a car or don't mind staying *very* local for the time you're there. Most people will visit as an afternoon trip from notorious Kuta, which does have plenty of hostels and backpacker places but is one of those parts of the world where you can spend just a bit more and actually end up in a pretty nice guesthouse. For cheap I'd recommend the Matahari Guesthouse, for points earning the Holiday Inn Express Kuta Square (~$40, great for IHG stay promotions), and if you don't mind spending a bit the Pullman Legian is a fantastic hotel with one of my favorite hotel breakfasts anywhere, ever.
When to go?
Good question. The kecak show is held at Uluwatu temple every day of the year that isn't a major island-closing holiday (I'm lookin' at you, Nyepi). More importantly, it starts at 18:00 and it gets really crowded. If you're hoping for a high seat in the back so you've got the full splendor of the sunset going down behind the temple and Indian Ocean, you need to get there early – 45 minutes or more is ideal. If you don't mind sitting any old where with some kid's knees in your back all night, though, feel free to show up just a few minutes before the show starts.
Saya tidak berbicara Bahasa Indonesia.
Me either, my friend, but luckily there's a sort of program handout when you buy your tickets that explains the central characters and the main thrust of the story. If you're read the above thoroughly you'll have gotten most of it, but read through it once more before the show starts and you'll be good to go. You've gotta do something while you're sitting around for 45 minutes to grab a good seat, right?
Monkeys are Evil!
No but seriously, there are macaques all over Uluwatu temple that can and will steal anything shiny or delicious or even just interesting that they can find on your body. Take off your sunglasses, leave all the food in your hotel before you come, don't wear earrings or necklaces, and for the love of everything do not intentionally taunt them because then you deserve to lose whatever they've stolen from you. (Bonus points if you were taking a selfie with one when it happened.)
(Note that many of the above are affiliate links, which means that booking through them will help support this site at no extra cost to you. Thanks!)
Like what you see? Share it on social media!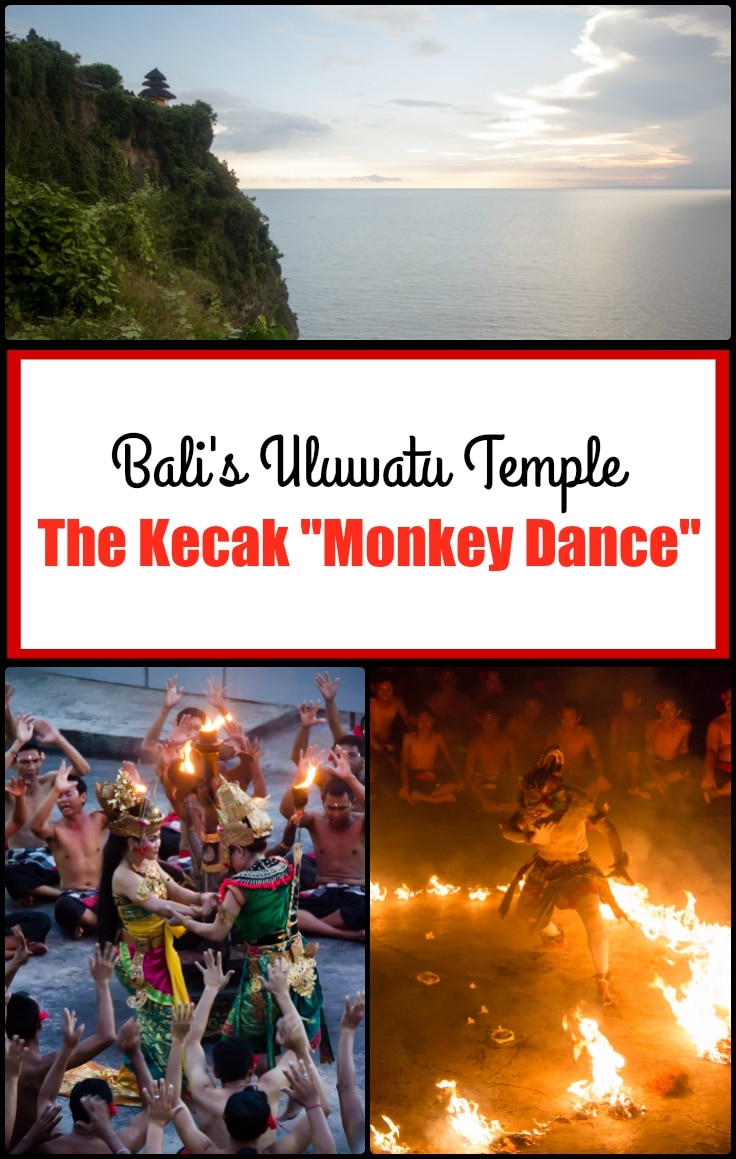 What do you think of Uluwatu temple's monkey dance? Will it make it on to your Bali itinerary? Let us know in the comments or on social media!