Aside from being a major stash of Palau's World War II heritage and a great spot for SCUBA diving, Peleliu Island is also a fairly good place to pack up a tent and a bag full of food and just sit around on beaches for a few days.
My days on Peleliu relied less on my watch and more on very fluid notions of what time meant. After "get up in the morning and snorkel" I generally transitioned pretty easily to "have breakfast and talk a walk in the jungle", though for the rest of the day it was often a tough choice between "naptime" and "snorkel again" and "read for a bit". On clear nights, though, "have a play at long-exposure photography" was the obvious choice.
Eventually, when one campsite grows boring, there are always more to be found. My favorite was on a little isthmus of land between two lagoons, with a strong breeze that usually kept the deservedly infamous sand-flies at bay.
The fact that the sun set just behind one of the lagoons didn't hurt, either. With pasty skin like mine, I need all the lingering last rays of light I can catch!
My last day on Peleliu I climbed the island's hill, hoping for a decent sunset before I headed back to the 'big city' of Koror.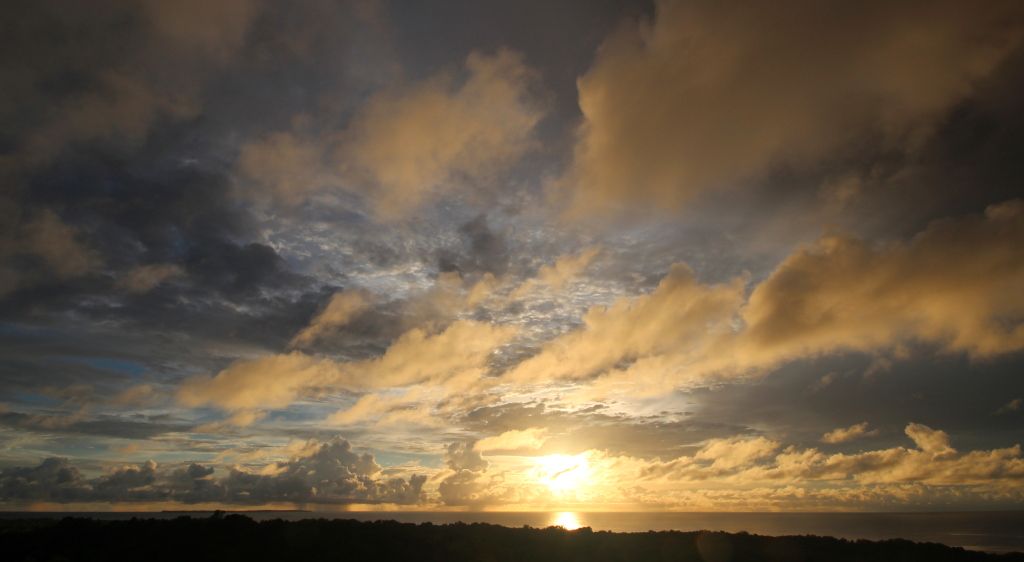 I got my sunset, but what I didn't expect was the island-spanning rainbow in the opposite direction. Which is, I can report, an excellent send-off from a tropical island.
So, Peleliu isn't exactly an adventurous destination, but its calmness and quiet makes it worthwhile for a few days of doing very little ay all.