To celebrate being in Copenhagen, and the 4th of July, and most importantly being in Copenhagen for the 4th of July I decided to go with a good friend to one of my fanciest restaurant experiences in ages at Mielcke & Hurtigkarl.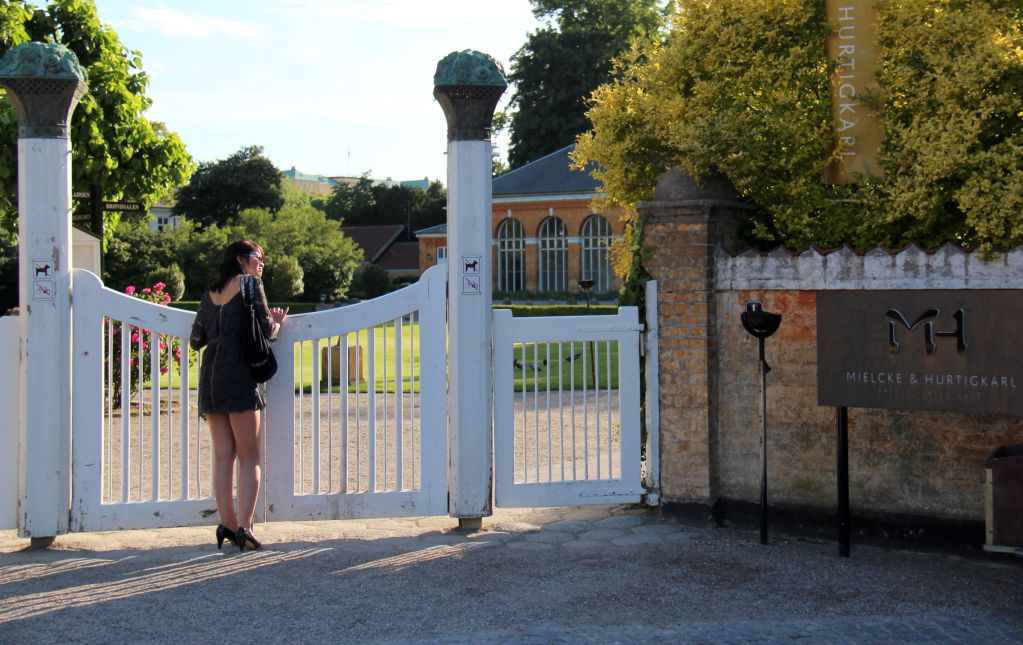 In an uncharacteristic bout of forward planning, we made reservations almost two months in advance for one of Copenhagen's more popular Modern Nordic gastronomic centers. By the time we sat down to eat, I was so excited about the meal that I decided to be That Guy and take pictures through the whole thing.
Before even heading into the main dining room, we were seated outdoors for an 8 dish appetizer course.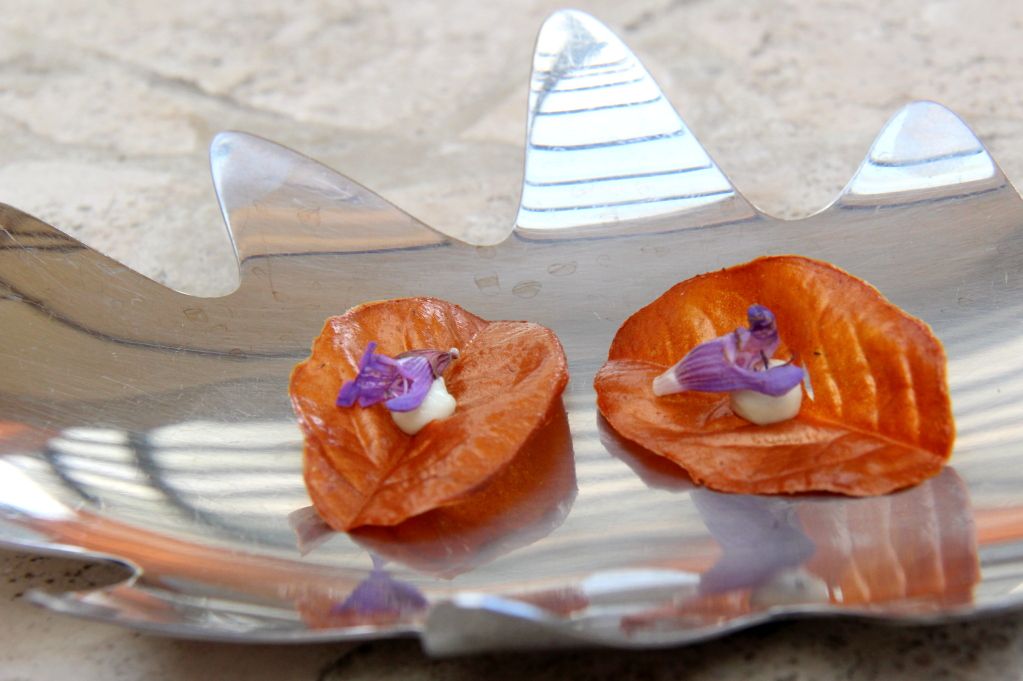 The very first, pine-infused mayonnaise and dragon flowers on a crisp seabuckthorn leaf, brought back memories of northern Mongolia and the seabuckthorn juice available everywhere there.
The next dish (a spring roll of puffer fish, pork rind, and crab) was gone before I remembered I need a picture (!); but the triple green pea topped with caviar was pretty enough to remind me.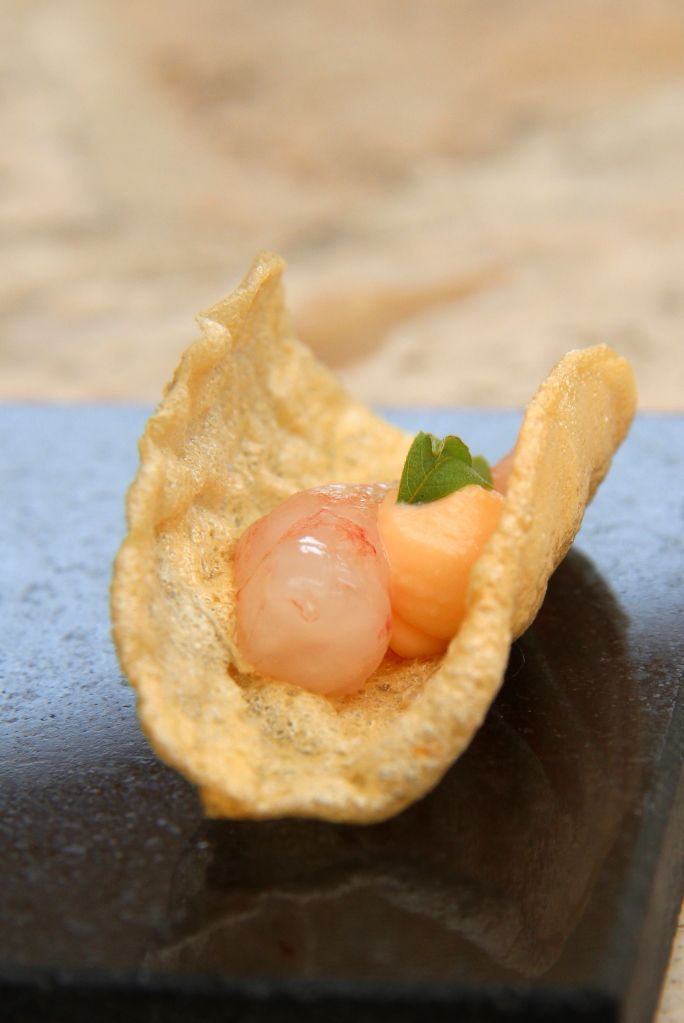 The fourth dish (and, I think, my date's favorite) reminded me a bit of South Louisiana. Shrimp on shrimp on shrimp: crackers, boiled, and shrimp's head mayonnaise.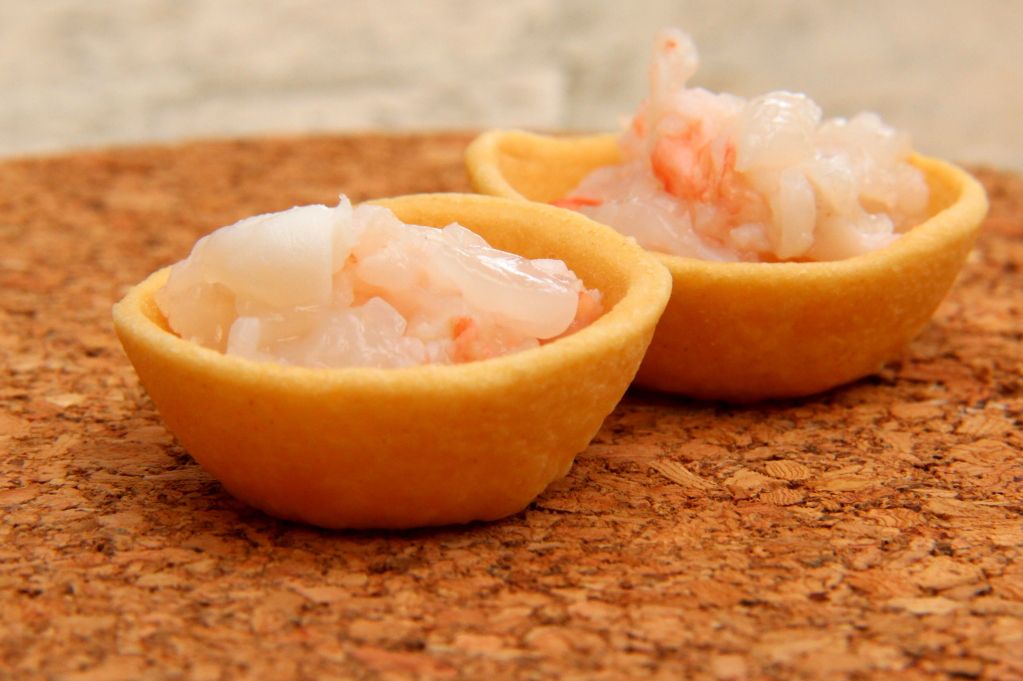 My favorite starter, by far: a Yuzu (Japanese citrus) tart with lobster filling. OMG. The rest of the starter dishes were, of course, good. After that lobster tart, though, none of the rest of this course was quite so amazing!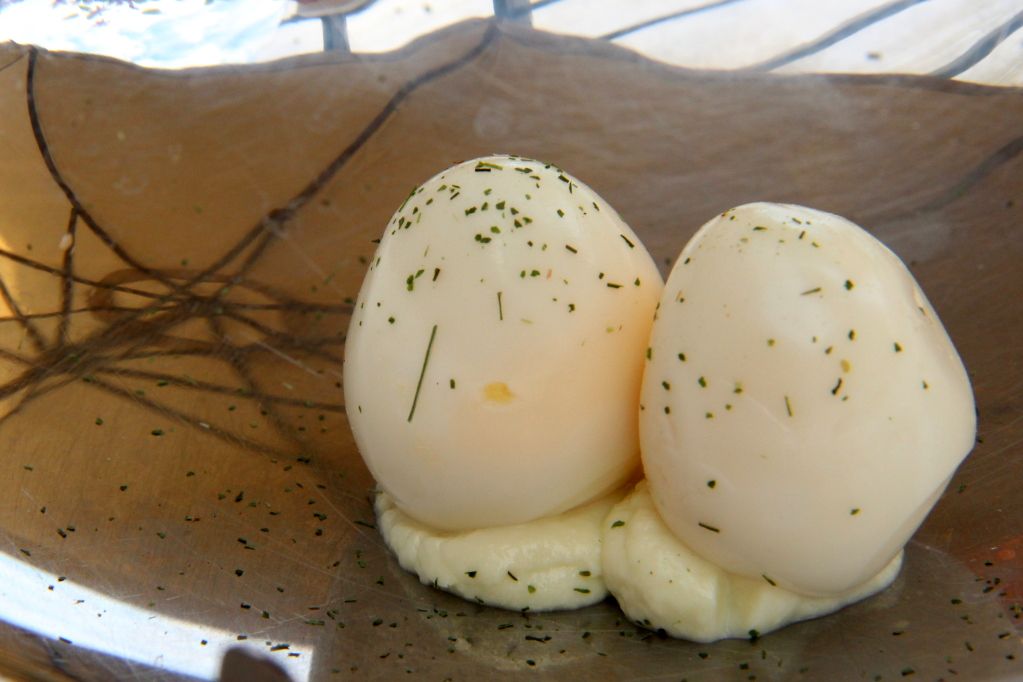 Quail's egg with pine mayonnaise and woodruff.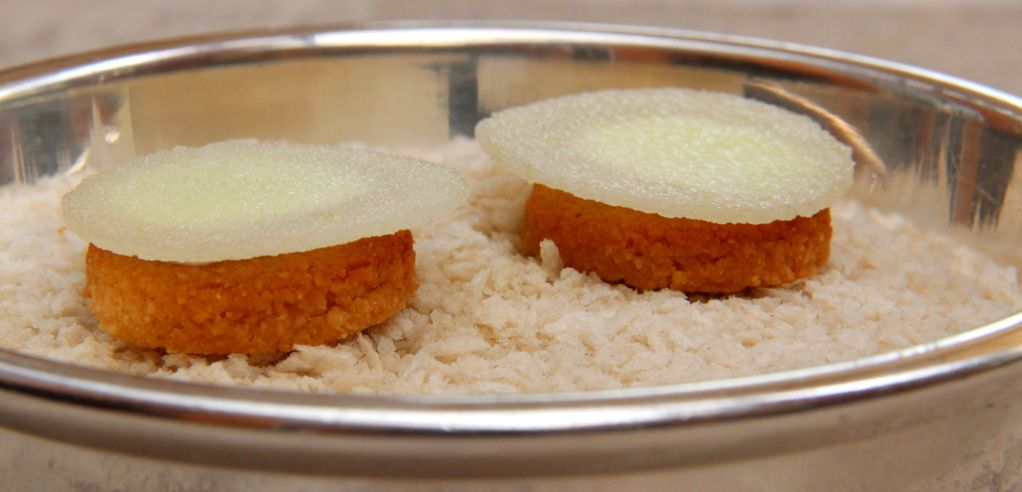 Apple Extravaganza! with a base of apple biscuit, apple paste, and a tiny apple slice to top it off. The crumb base for the serving platter proved, on further investigation, to be edible but undesirable.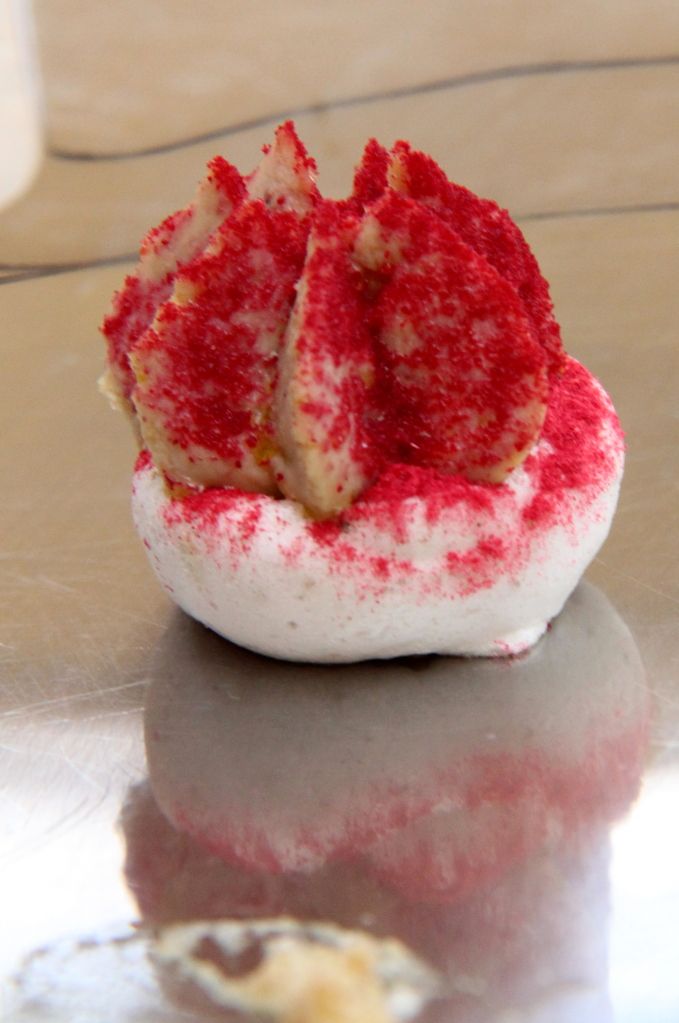 Finally, to round out the appetizers, potato crackers with foie gras and raspberry powder. Of course, those were just the starters.
After the first eight dishes, we moved into the restaurant itself for the meal proper.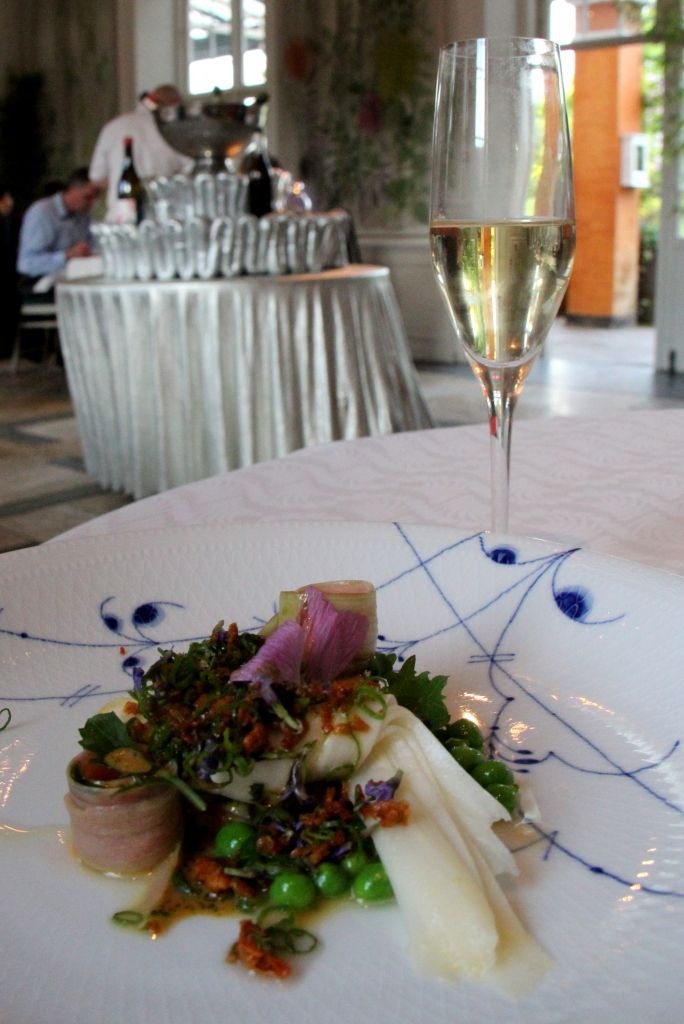 Of all the amazing food, the bio-dynamic chicken with rhubarb, peas, and chicken zest was the least exciting but by far my favorite picture.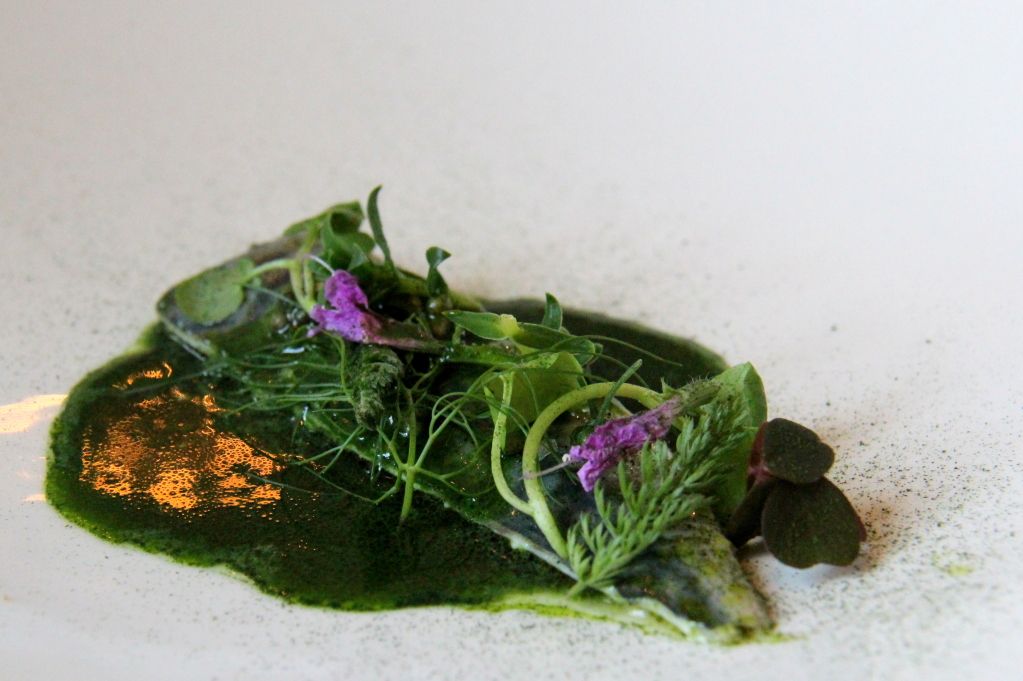 My absolute favorite dish of the meal, unfortunately, was the opposite! Poached mackerel with fresh herb and floral garnish, basted in a sauce composed of home-grown herbal goodness.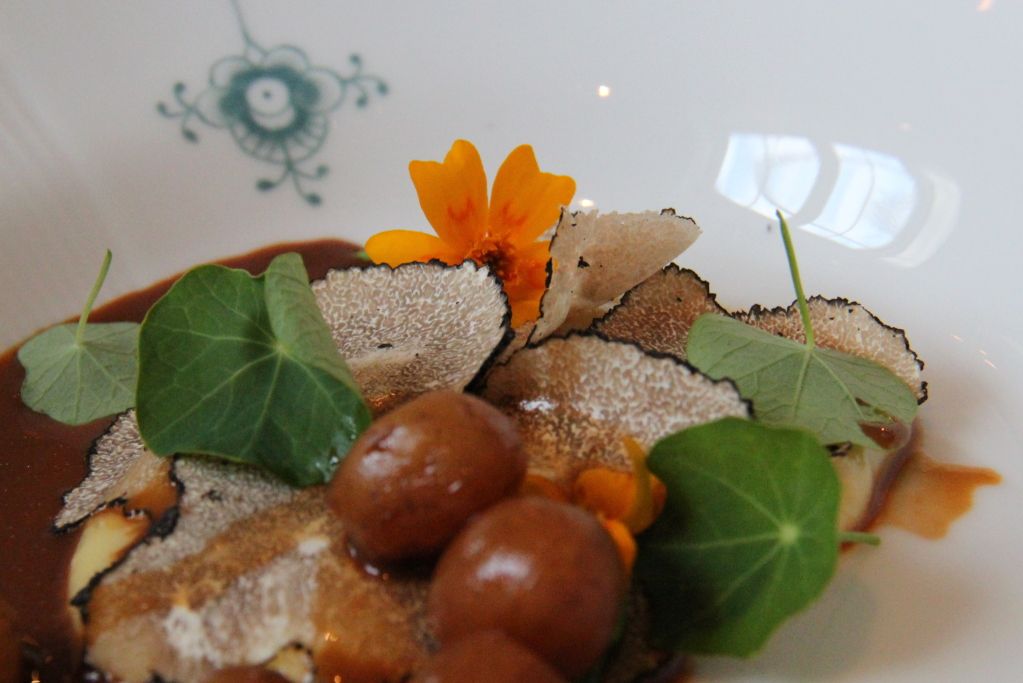 What is a fancy European meal, of course, without a couple truffles? The truffle mashed potatoes with a similar herbal/flower garnish were good on their own, but the lobster-based kidney-fat sauce with whole new Danish potatoes set it to mouth-watering mind-blowing Holy Crap that's goodness. If I could have gone into the kitchen to learn one dish from the meal, this is the one.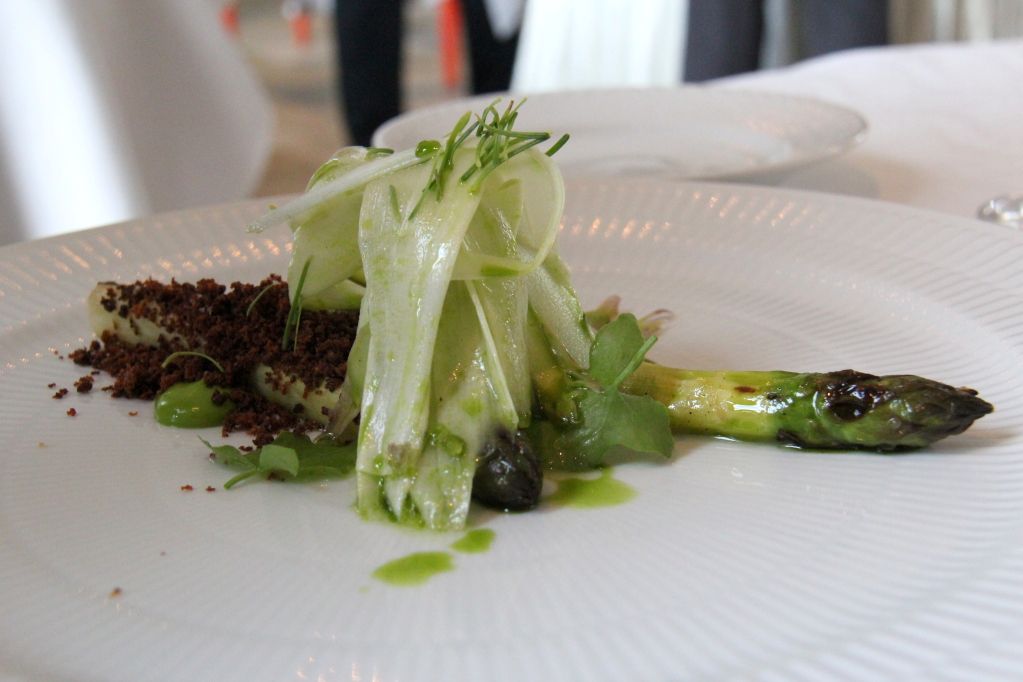 Finally, for main courses, grilled asparagus with a similar herb sauce topped with bread crumbs and pine ice cream. They made ice cream out of trees!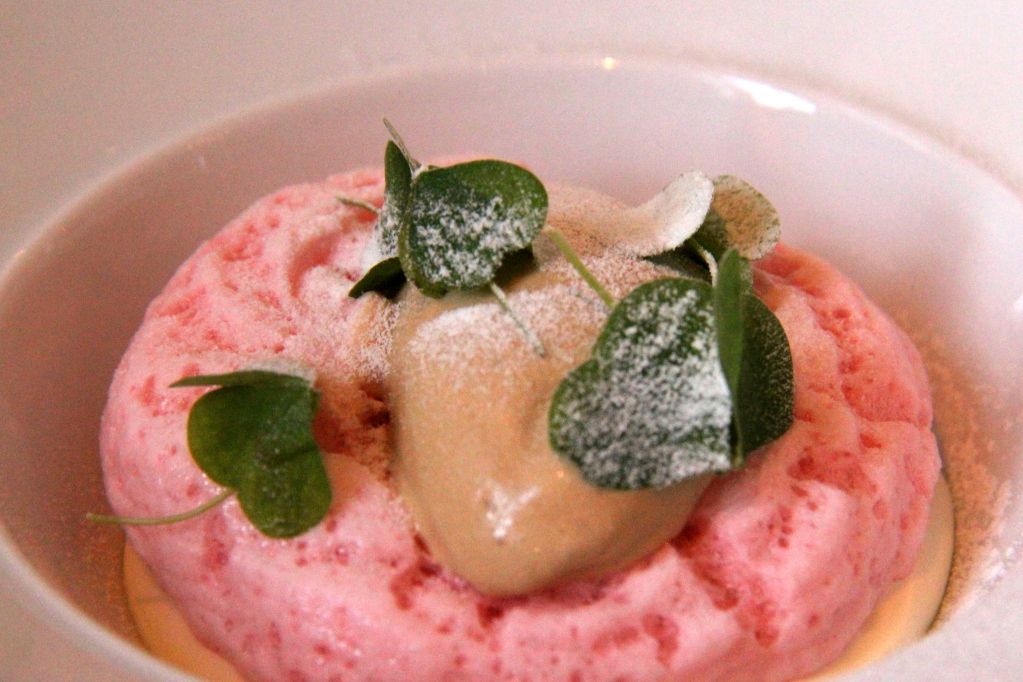 And speaking of ice cream, of course, what good is a gluttonous amazing dinner if it doesn't come with dessert?! Imagine this combination: chocolate mousse on rhubarb parfait on peach sorbet. Cue Louis CK-style taste explosion.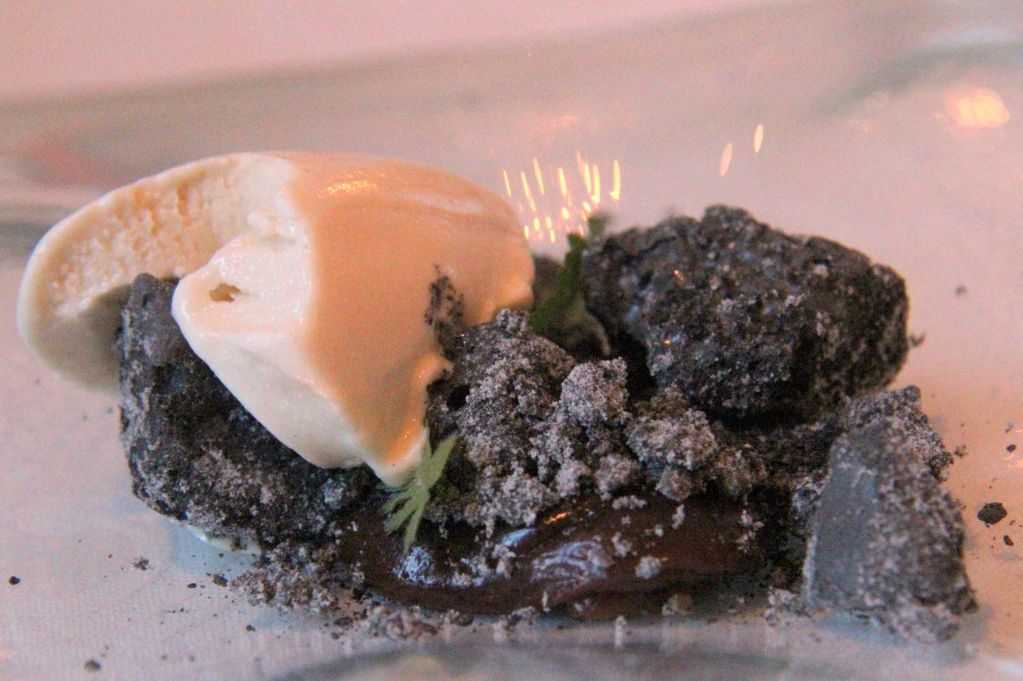 Finally, juniper ice cream with caramel and licorice fudge. Excellent taste, and an unusual texture that reminded both of us immediately of… NASA's astronaut ice cream. Clearly I'm not meant to be dining in these types of restaurants.
By the time coffee came I was already out of it. I'm assured that the green tea macaroons and ganache-filled chocolates were amazing. I tried the oolong-flavored Flodeboller (traditional Danish sweet) myself, but my taste buds were so tired at that point that I can barely even remember what the taste or texture were.
The next day, still full of food and a fantastic experience, we got a thank you poem from the restaurant:
Oh, to be fed like a sailor
viewing the world
and do not want more from life than just
one last night in Nyhavn, such
should always be satisfied, moving away
quite easily and sailing full.
-Lone Horslev (Danish poet)
Hope you had a happy 4th of July!