Defenders of the Fatherland Day:
Holidays in Bishkek, Soviet-style
(This article originally posted on Defenders of the Fatherland Day in 2014. To follow updates from 2015's holiday in Bishkek, follow my Facebook Page and Instagram feed.)
Once 'Red Army Day', then 'Soviet Army and Navy Day', and now finally 'Defenders of the Fatherland Day'. With piles of snow, high-stepping soldiers, and big furry hats it epitomizes a number of popular stereotypes that Westerners hold about Kyrgyzstan.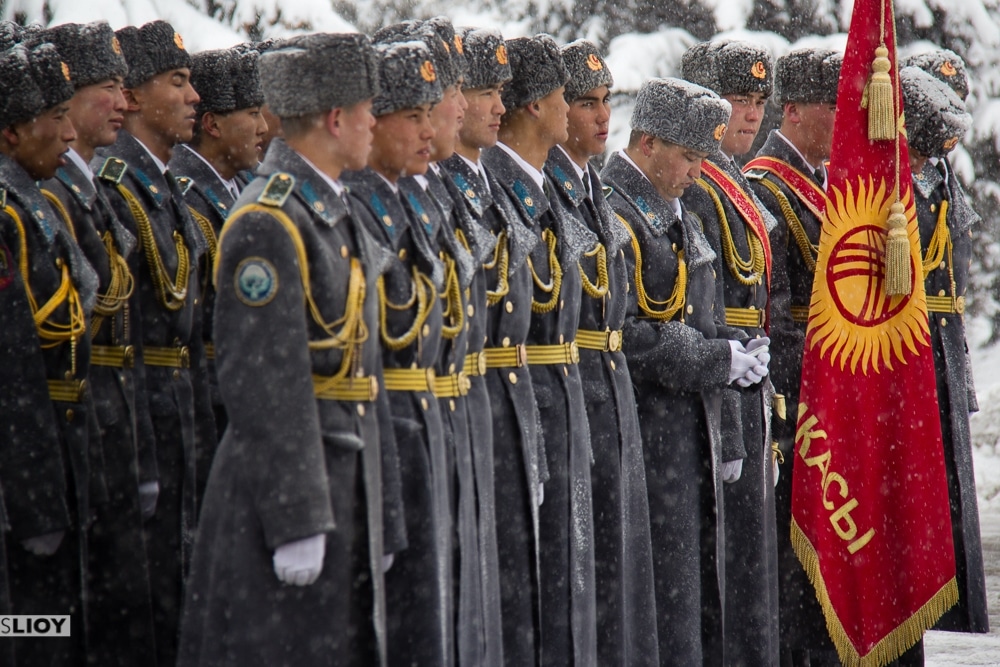 Though I know February 23rd is a holiday in Kyrgyzstan (as well as many of the other former states of the Soviet Union), I was under the impression celebrations happened mostly in the form of private gifts to males and especially to those who have served in the armed forces. What a surprise, then, to see a parade of soldiers and be-kalpakked youth headed down Chuy this morning!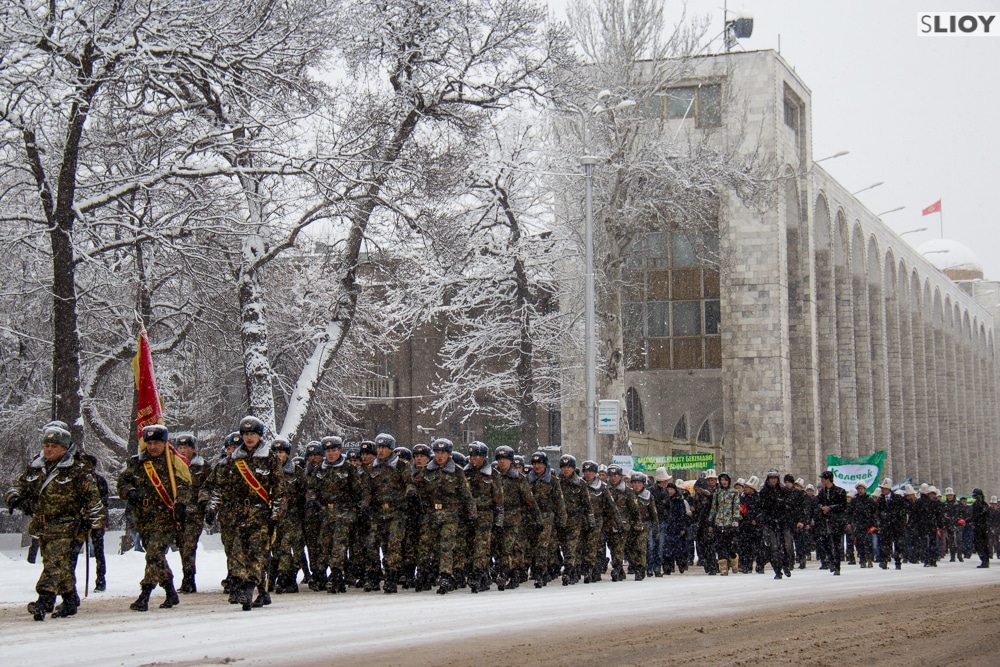 As seems only fitting, they finally gathered at Victory Square. Dedicated in 1985 to commemorate the 40th anniversary of Victory in World War II, this park does seem like the obvious place to celebrate a holiday dedicated to the country's defenders. An eternal flame burns underneath the stylized silhouette of a traditional yurt while, just behind, a weeping mother pines for the sons and husbands who will never return.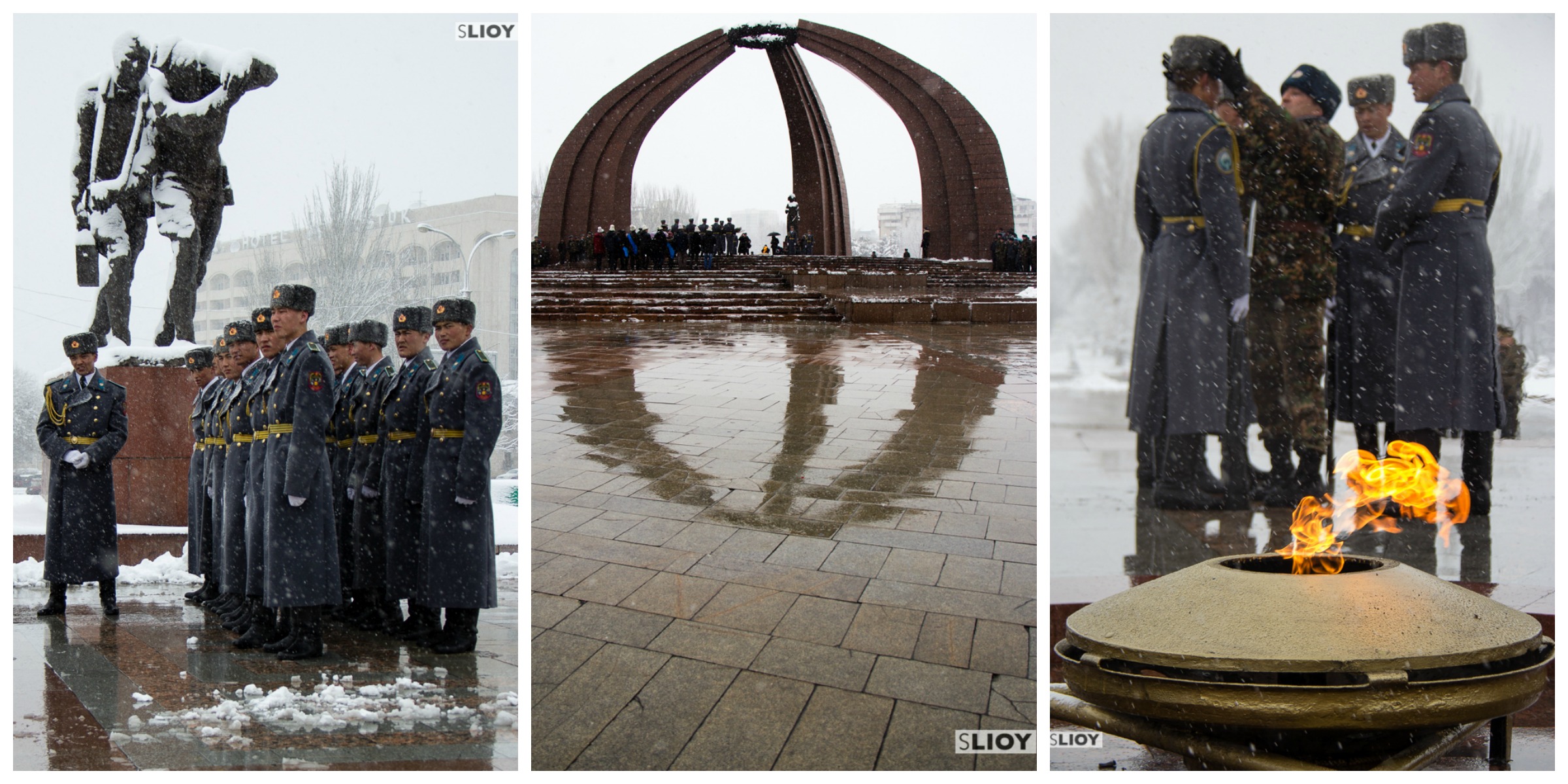 As most of the soldiers march through town, a select few prepare near the Kyrgyz monument to World War II while citizens (and not a few photographers) look on and wait for the ceremony to start. Finally, once the parade has arrived and the solders are arrayed in formation, and the military band is posted to keep the time for high-stepping soldiers and mournful celebrants, it begins.
Originally celebrating the first draft of soldiers in the Russian Civil War and the establishment of the Red Army, the day is now seen as a way of showing appreciation for soldiers in general. The ceremony itself actually feels fairly familiar to me as an American, a patriotic celebration of country and flag (though with a touch more high-stepping than I'm accustomed to). A military band plays, some guys make some speeches, and the soldiers all march past again. It's all very patriotic and solemn.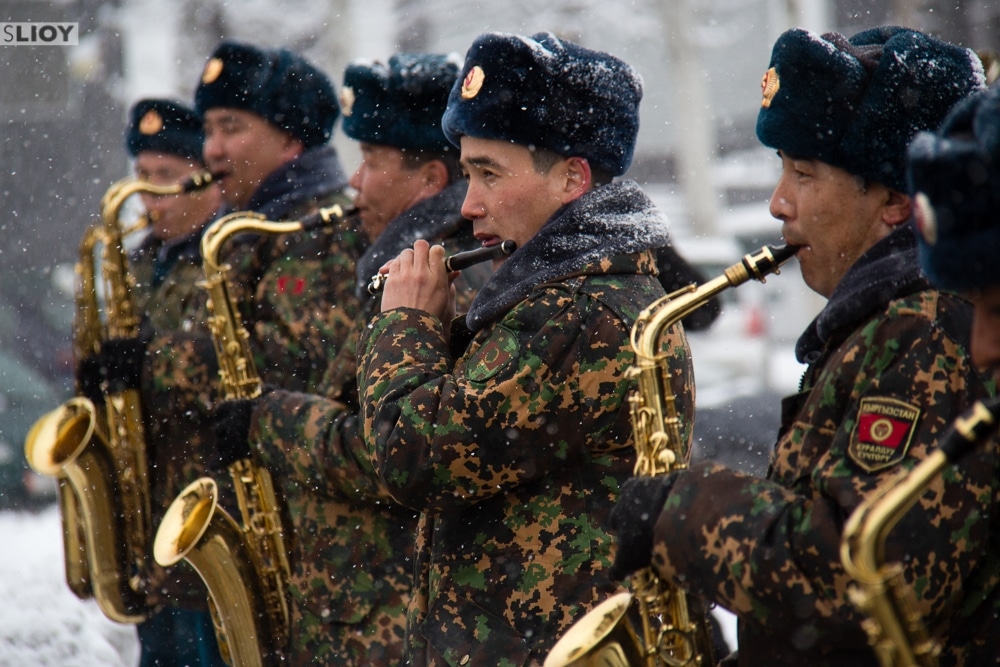 It feels somehow less like the Bishkek I live in, the one with a constantly growing list of American-style cafes and Turkish restaurants and Indian cooking demonstrations. Rather, the whole Defenders of the Fatherland Day celebration strikes me as an anachronistic look back to the Bishkek (then-Frunze) of the Soviet period – the Bishkek that I can still occasionally see out of the corners of my eyes in an old mosaic on the walls of an ancient apartment block or the odd statue of Lenin. The Bishkek that, though it may not be the one I live in on a day to day basis, is one I find endlessly fascinating and an unexpected source of delight when I do stumble across it.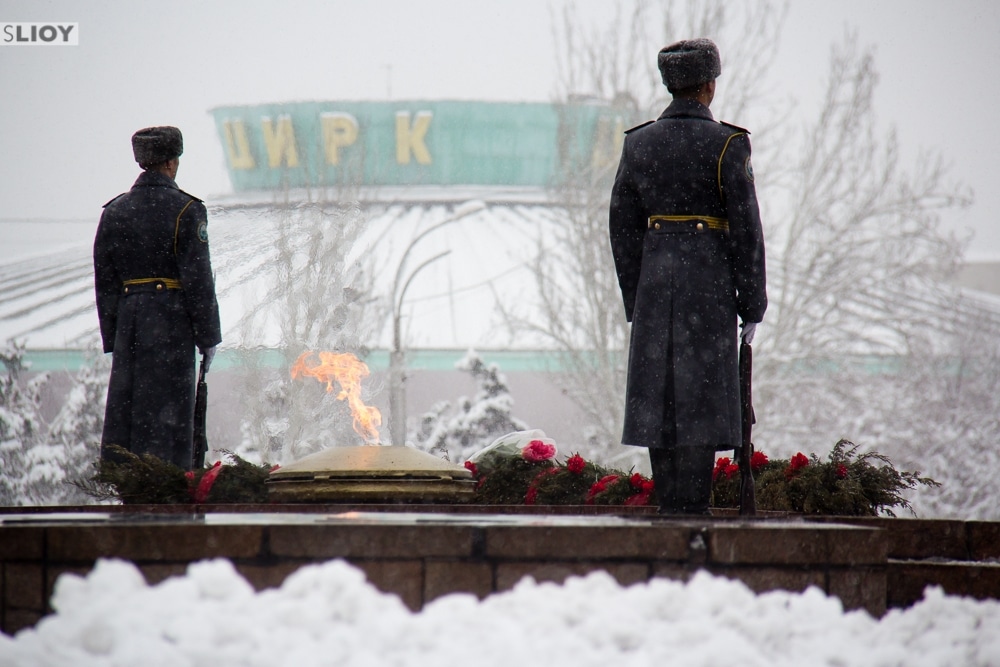 There are places you can visit in Bishkek where this feeling has been memorialized – the fantastic top floor of the Historical Museum, with a depiction of a skeletal US President wearing a cowboy hat and riding a nuclear missile being of particular note, but also the mural of Soviet peoples directly across from the Old Airport where would have once welcomed visitors to the Kirghiz S.S.R.
None of these places are alive, though. None of them march down the streets chanting in unison with the clacking of boots that could just as easily be at home in Red Square or Ala-Too. That, really, is why Defenders of the Fatherland Day appeals to me so much – because for one morning it suddenly transports me to an era of Central Asia that I'll never experience, and turns those half glimpsed specters into living memories.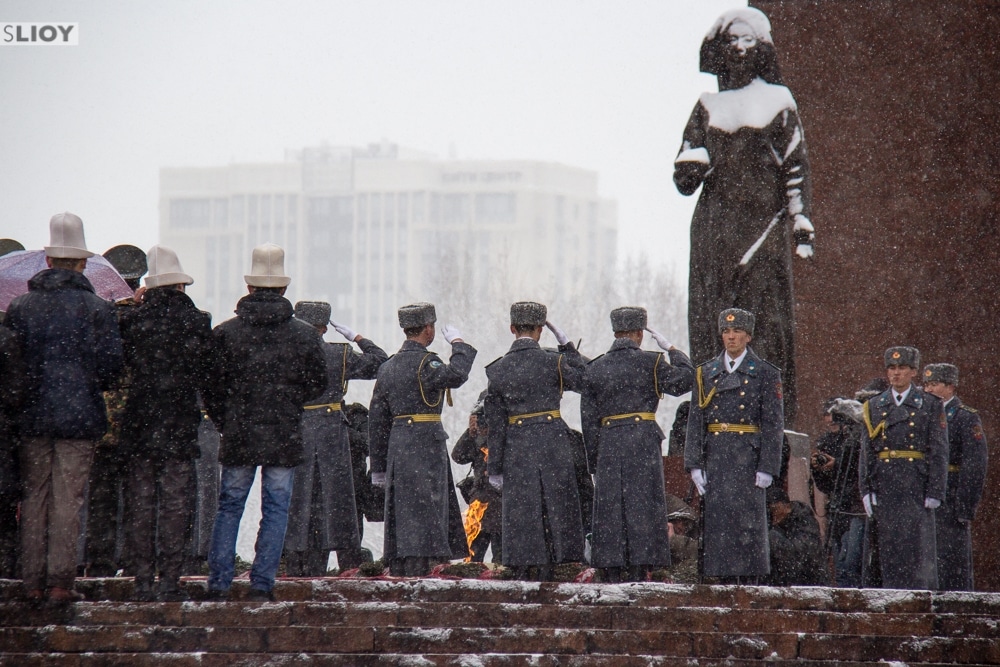 Want more? Here's a short video from the ceremony that'll really get your boots steppin!
---
If you're in Bishkek as a tourist, the Hostel Inn on Chuy is probably the most central cheap accommodation. If you're looking upmarket, the Hyatt is a bit further on Sovietskaya. Also be sure to check out my Bishkek Travel Guide for thoughts on other things to do in town while you're not chasing squads of marching soldiers through the streets!