Experienced Traveler's Guide: Skipping Half the Tourist Places in Jaipur
There are, quite frankly, far too many tourists sites in the world for me to have either the desire or ambition to see them all. Sometimes I make a half-hearted attempt but in a place like India where my stomach was in a constant state of flux I'm definitely willing to make a pared down list of places I either really care to see or really want to photograph; that way I can still reserve some time for random naps on top of city walls or serendipitous wandering through (and above) the Old Towns of the world.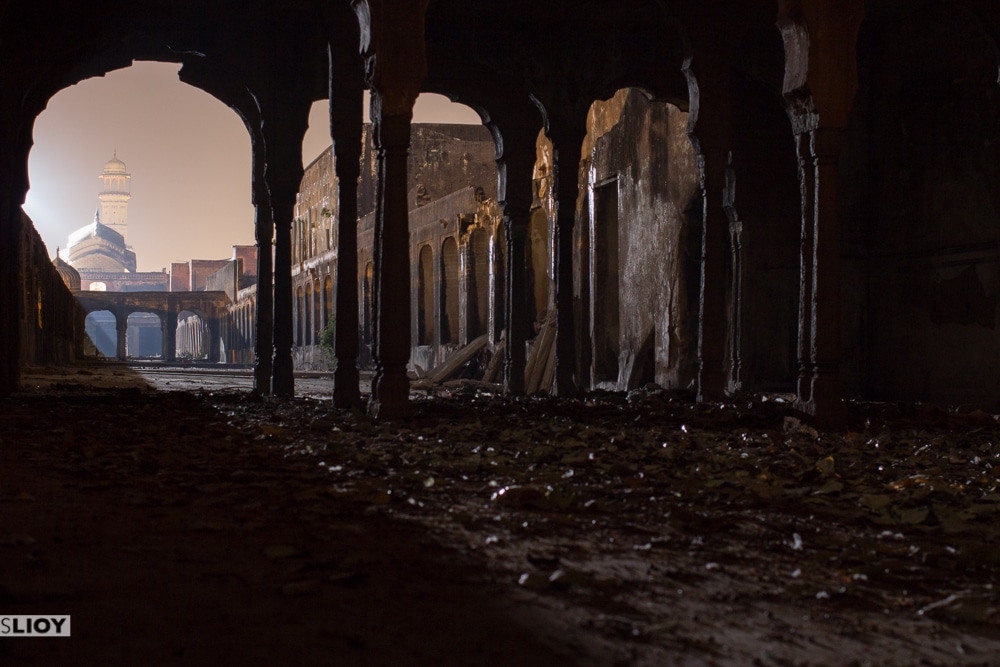 This is especially important in the Pink City, Jaipur, which has more palaces and temples than you can shake a lingam at. Especially if you're only passing through here on a short stop en route to elsewhere in Rajasthan or the Golden Triangle, you'll have to either rush around in a constant battle with the tourist crowds or choose the most appealing of options and focus your stay on those.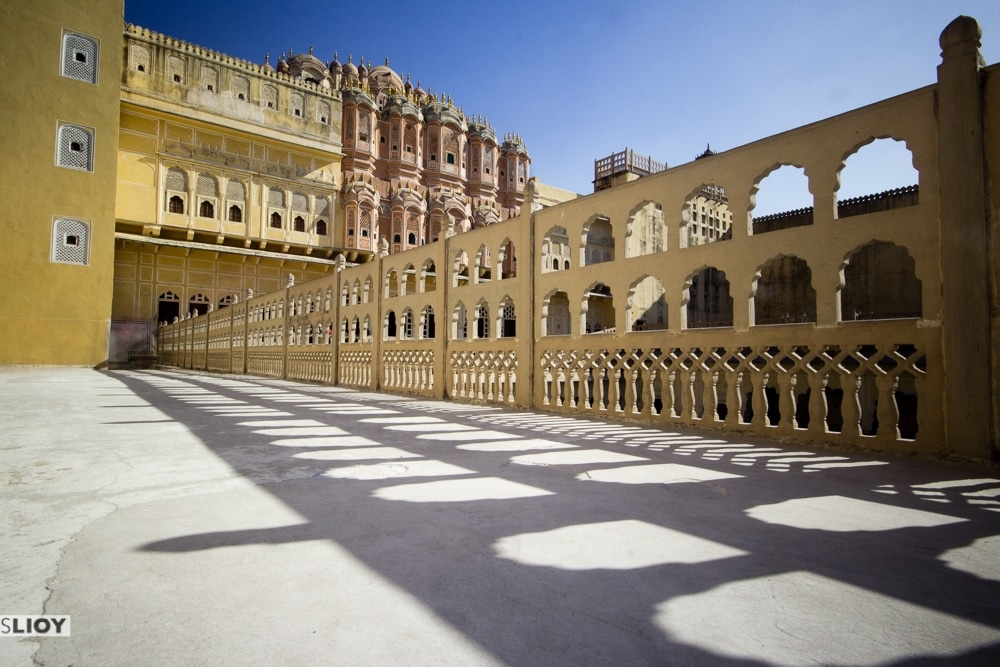 Hawa Mahal / Wind Palace
A number of people told me they thought the Hawa Mahal (Palace of Winds) was overrated, and for the non-photographer I can see how that could be the case. Most people seemed to walk through the busy main courtyard, up the busy staircase to the crowded top platform, and then leave. Give it some time and explore the many side corridors and courtyards, however, and it becomes a lot more enjoyable. In particular, there are tons of stained glass windows and carved balustrades that catch the light amazingly as the day goes on – for a dedicated photographer it would even be worth spending most of a day here just to watch this happen and see how it looks in different light from different angles. Sadly, I only had a few hours to spare before dusk so I just saw the afternoon version.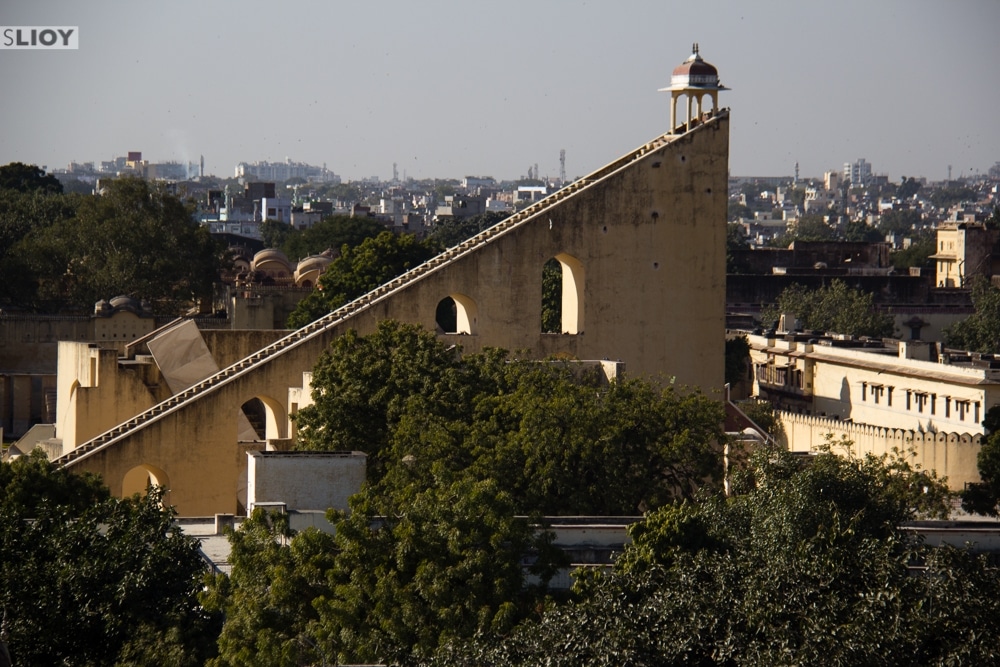 Jantar Mantar / Astrological Observatory
The history of the Jantar Mantar is extremely interesting, built during the Mughal period in the early 18th century by Jai Singh II and the largest of many such observatories built at the time in what is now India. This represents an admirable dedication to science and knowledge by the Mughal rulers and the melding of political, scientific, and religious needs into one unified expression. [I stole much of that sentence from UNESCO.] What it is NOT, however, is very interesting as a tourist site. It's just kind of… static. Like every major tourist site in India, it's full of people. Even worse, it's so cordoned off and staffed with whistle-wielding policemen that you can't even properly walked around and look for interesting angles. This is included on the Jaipur Combined Tourist Ticket, so visit if you have time to kill, but I wouldn't prioritize it.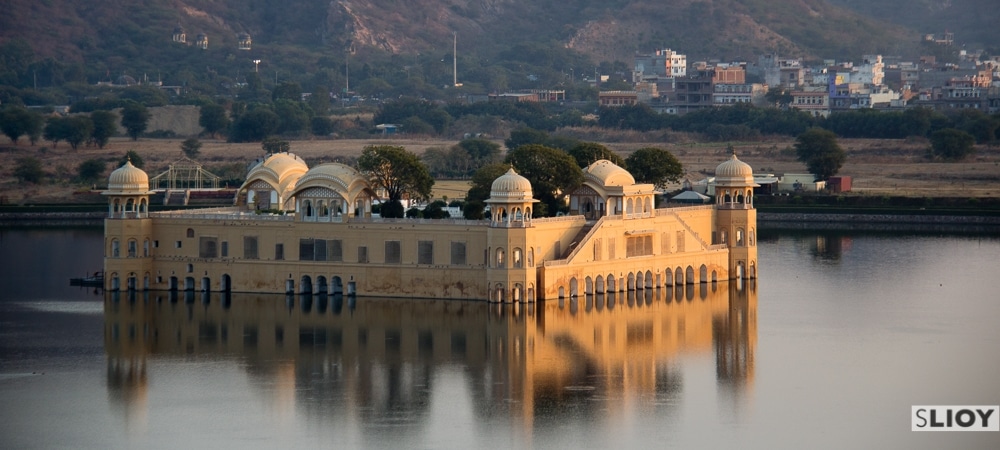 Jal Mahal / Water Palace
If you're on the road to Amber Fort or beyond, you'll be hard pressed not to notice the Water Palace. Amidst the noise and motion of the Amber Road, it sits still and quiet in the middle of Man Sagar lake. All around the edges, marshy muck hosts migratory birds  that were once the target of royal hunts by Mughal kings. The palace itself is closed to the public, so you'll have to be content with reflecting on it from afar and watching while it becomes increasingly beautiful as the sun fades from the sky and is replaced with lights in the palace itself. Just south of the palace is the road that leads to the royal Mughal cenotaphs and the Tiger Fort, so if you arrive long before sunset you could run over to either of those for a visit and then return at the end of the day.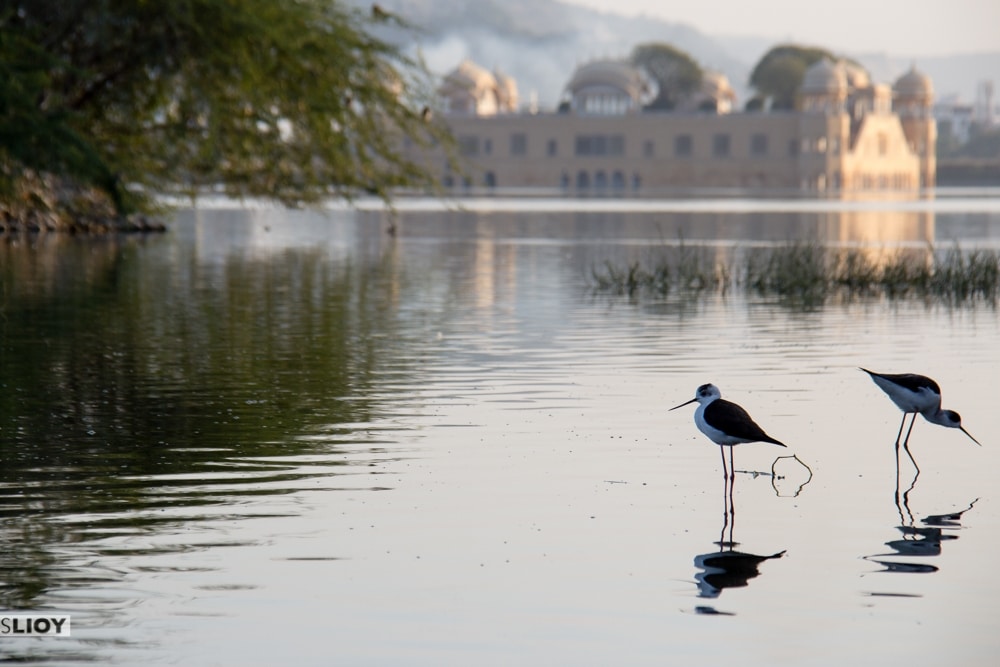 Nahargarh Fort / Tiger Fort
I actually didn't make it up to the Nahargarh Fort, though I had intended to. Pollution was a bit rough my last day in Jaipur, so instead of sunset at the hilltop Tiger Fort I opted for the reflections of the Jal Mahal instead. It's meant to be a nice spot with good views and a cool fort, however, and I would definitely try to get there if I visited Jaipur again.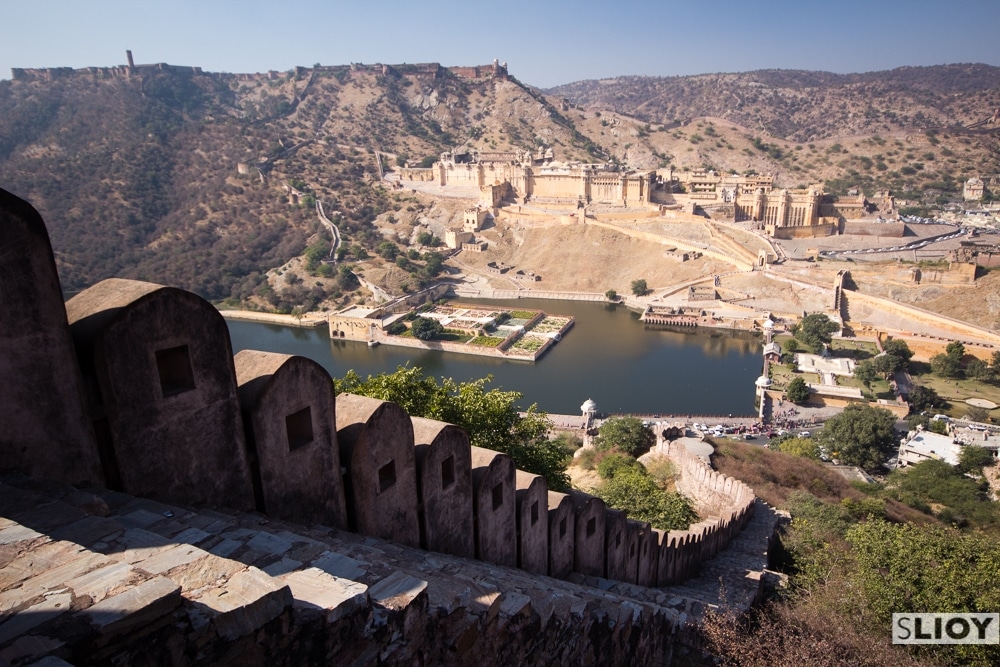 Amer Qila / Amber Fort
The Amber Fort was by far my favorite place in or around Jaipur. Not only is it beautiful, but as long as the security guards aren't watching you can climb up and over and around and on: one of my favorite pastimes!  If you arrive before midday you can ride an elephant from street level up to the entrance to the fort, but this doesn't much appeal to me (google elephant treatment in south asia at some point) so instead when I arrived I turned my back on the Amber Fort and walk up the steep stone staircase across the street. I was fortunate to stumble on a couple of kids from Jaipur celebrating a birthday (they gave me cake!), but even if nobody was there the view down towards the fortress and town is phenomenal and well worth the effort.
Afterwards, of course, I headed down into the palace itself. This suffers from the same problems as other popular tourist sites in India:  extremely crowded and too many restrictions on where you can walk (and too many security forces enforcing those restrictions) and (worst of the worst) you're not allowed to use any tripod anywhere. I climbed up on top of the highest wall of the fort (don't worry, it was very safe) to use it as a stable point from which to make a long-exposure of the main courtyard, and one of the security guards saw me and ran up three flights of stairs to blow his whistle at me and give me a stern talking to. [He ended up dragging me all the way to the entrance to the commander/supervisor, who dismissed me after a thirty second chat. The lesson, I suppose, being do what you want and plead ignorance after the fact?]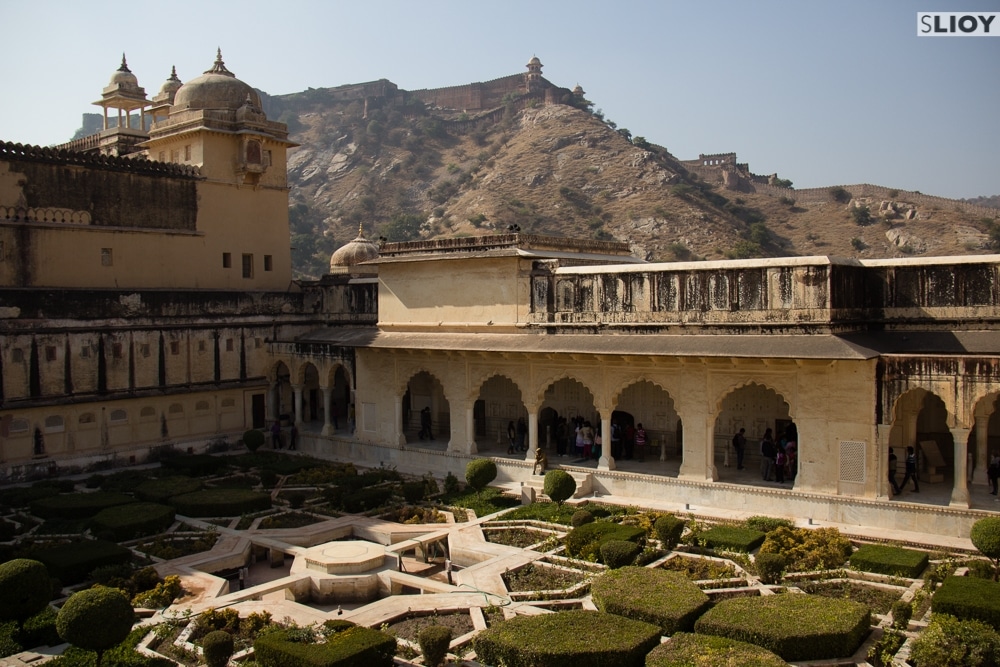 City Palace and Jaigarh Fort
There are ticketed together on a combined ticket separate from the main Jaipur Combined Ticket (more info in Essential Details below). I didn't have much interest in the City Palace, so elected to skip these both in favor of spending more time elsewhere. From Amber Fort, however, the Jaigarh Fort is the imposing structure just up the hill and if I'd been in Jaipur for another day I would have probably gone back to check it out. Note that if you really want to have a peek at the City Palace but don't want to go in for the whole tour, the Govind Devji temple just next door is part of the same complex and from the back gate you can peer in at the palace grounds the peacocks that live there. If you time your visit for one of the numerous daily religious ceremonies, the temple itself is an interesting experience as well.
 Cost: A combined ticket for Amber Fort, Hawa Mahal, and the Jantar Mantar (as well as Nahargarh Fort, Albert Hall Museum, and two gardens – all of which I didn't visit) is 400 Rupees, or roughly $6.32. The ticket is valid for two consecutive days, so you'll either have to visit quickly or make strategic choices.
Getting There: Many of these attractions are very walkable in Jaipur's Old Town. Notable exceptions are the Tiger Fort, Amber Fort, and Water Palace. (Also the monkey temple and several other religious sites as well as the royal cenotaphs [which sounded cool], if you want to add them in as well.) If you're in a hurry to see everything, I'd suggest haggling with an autorickshaw driver to get around town for a day for about 700 Rupees. If you want to take your time at each place, however, there is a public bus that leaves from the intersection just to the south of the city wall side of the Hawa Mahal. This goes to Amber Fort, and passes directly by the Jal Mahal en route. Cost was 10 Rs. and in theory it leaves every half hour or so. [You can ask for Amer Qila, there are several that head that way, but remember that the 'b' in Amber is silent.] For short trips in town, rickshaws exist in plague-like numbers. Bargain hard, never pay more than 100 Rs in town.
Where to Stay: We arrived super late after a train that was 9 hours delayed, so decided to stay near the station area. Two nights at the ChitChat Guesthouse (which was cheap and decent but not great) and two at the Park Inn Jaipur (which is a steal on Club Carlson points but would be a terrible value in cash). Were I to visit again, especially for more than just one or two nights, I'd either stay in the Old Town itself (to skip having to argue with rickshaws in the morning and evening) or on the road near the Jal Mahal (from which you could easily grab that aforementioned bus). [There's a Holiday Inn out there which would also be a good value on points at 10k/ night, and from which you could walk to the cenotaphs and Nahargarh Fort or the Jal Mahal.]
More Info: Hippie in Heels has a good list of places to visit in Jaipur as well, several of which I didn't make it to. Check her out if you feel like you need to know more, or if you want to read more about India travel generally.
How do you decide which popular tourist sites are worth your time? Anything else in Jaipur I should make sure to visit next time?