1001 Nights:
Istanbul Belly Dancing Dinner Show
An Istanbul Belly Dancing Dinner Show, I hear you asking? I was just as surprised as you are. Of all the cities I've worked as a photographer on these tour gigs, nowhere do I seem to end up exploring the 'nightlife' options as often as Istanbul. Istanbul by boat cruise, Istanbul dinner shows, and of course Istanbul dinner shows on a boat on the Bosphorus – there are agencies to organize it all and I've been sent out to take photos of most of them in their various mutations.
Of any of these various dance shows and Bosphorus cruises, easily the most memorable is the 1001 Nights Istanbul belly dancing show and dinner. I'd been to a belly dancing cruise in Istanbul before and a number of similar shows since, of course, but this time was somehow different. The crowd on this round was somehow WAY more into it, and to be fair the dancers were a lot more talented (ahem… and attractive) as well.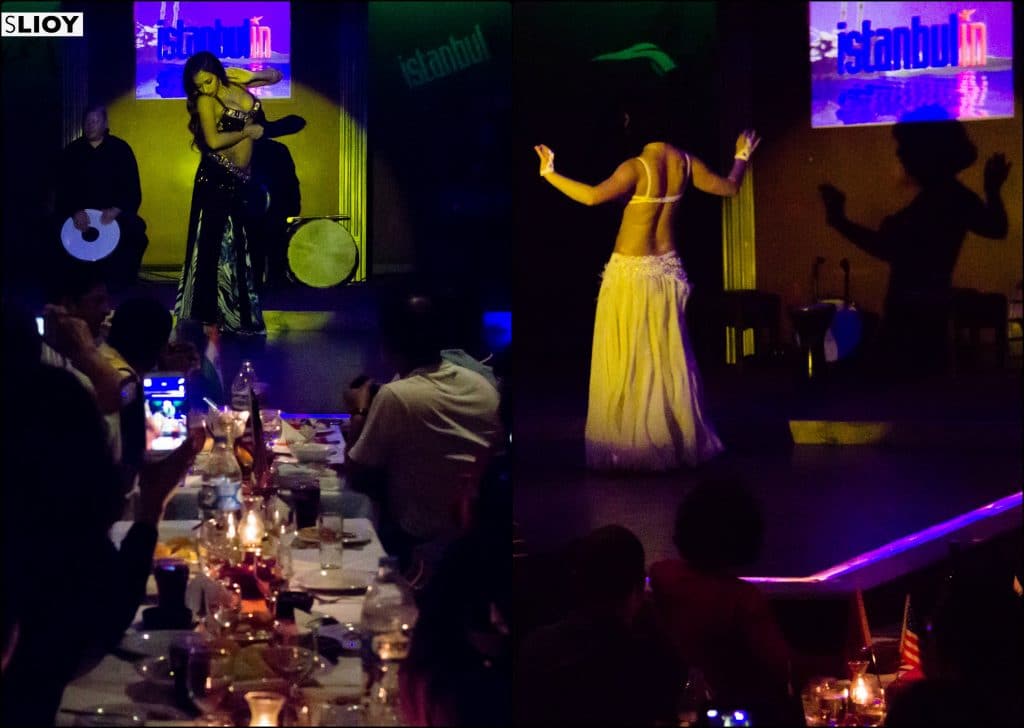 The 1001 Nights Istanbul belly dancing dinner show's building looks, to all outside appearances, abandoned and unused. Tucked just off of Cumhuriyet street a bit of a walk from Taksim Square,  the average traveler would probably wander right past on the search for some kind of cool bar or nargile joint to hang out at for the evening. (Or, perhaps more realistically, the average traveler wouldn't be doing much exploring in this area in the first place.) If you were to stop in for a look, though, you might be pleasantly surprised what you find inside.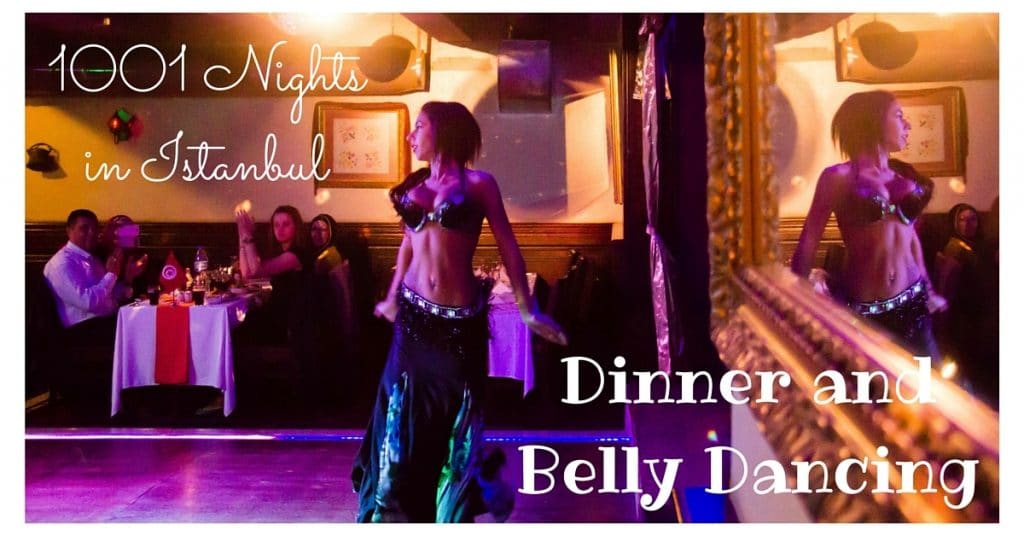 There is belly dancing, of course, but "belly dancing" too. A cultural show that, though quite removed from anything traditionally Turkish, still manages to put on an evening of entertainment that by all accounts delights the crowds. If I'm being entirely honest, they put on a pretty solid show. I was moving around more than most, trying to take enough photos over the course of the several hour dinner show to capture each part from some kind of unique angle. Most of the crowd, though? They were glued to their seats. We're talking rapt attention, and not even just during the belly dancing bits. There were Turkish 'cultural' dances and a 'traditional wedding ceremony' that pulled up two of the guests to act as principals and somewhere in there a decent rotation of appetizers and main courses and a bit of beer/wine too. Was it cheesy, at times? Well…
Even the food, while far from the best I've ever eaten in Istanbul, was tasty enough. A selection of meze small bites, the traditional starts of seemingly the entire Levantine world. Choice of a main dish that, while still not spiced to what I'd consider Turkish levels, definitely had more taste than what they serve at most of these shows. To wrap it up, of course, baklava and other sweets (but who has eyes for anything but baklava?) served alongside a token piece of fruit. Through it all, Efes beer and Yeni Raki that I, true to art and photography, didn't indulge much in because low-light handheld photography is already hard enough on its own!
After it all, the belly dancing and the dinner and desserts all gone, an old-school crooner in the style (if not the quality) of Frank Sinatra took the stage to belt out overdone classics for each country represented in the audience. As the sole representative of the US, I was the target of a rendition of "New York, New York" that grew progressively angrier as it went on – I think perhaps he didn't appreciate that I wasn't into it? As he progressed from Moroccan ballads to French favorites, however, it became apparent that I was very much in the minority on this account.
It was about this time that the tour groups (Chinese and Japanese, Indian and Arab, an astoundingly international mix that has me very impressed with the 1001 Nights marketing team) all bailed en masse and the evening devolved into a bunch of couples slow dancing on stage – which I took as my cue to leave as well. A weak finish, perhaps, but after a start so strong what else could they really do?
Click here to book the 1001 Nights Istanbul Belly Dancing Dinner show.
---
I was in Istanbul primarily to work as a photographer with GetYourGuide. My visit to the Istanbul 1001 Nights belly dancing dinner show was part of that work, but this post is my honest opinion on the experience. The food was decent and drinks were included, plus the show was various levels of entertaining. I realize this is not going to appeal to every type of traveler, and to be honest it isn't something I would have sought out on my own if it were not for my work with GetYourGuide. If you are looking for a touristy evening of belly dancing and booze in Istanbul, though, this is definitely not a bad place to do it.
Are you traveling through Istanbul soon? For hostels I recommend the Agora Guesthouse in the Sultanahmet area, as even though it may be a few more dollars per night than competitors the difference in quality of the facilities and the breakfast buffet is huge.
If you're looking slightly more upmarket there are plenty of hotels in Istanbul to choose from, with my personal recommendation being the Sultanahmet Park Hotel. Prices are reasonable and wifi is free, but most importantly the views out towards the Blue Mosque and Bosphorus are amazing. 
For something upmarket, the Doubletree by Hilton Istanbul Old Town is a few tram stops away from Sultanahmet and just nearby a handful of good restaurants and nargile spots. Plus, who doesn't like chocolate chip cookies?
Planning to catch an Istanbul belly dancing show on your trip to Turkey?
Share on social media and let the world know!