Lockhart BBQ:
A Glutton's Guide to The Best
Barbecue in Austin and Central Texas
I did a bad bad thing. A thing that no man should contemplate… much less drag along a poor unsuspecting aunt and sister for. We gorged, feasted, banqueted, and chowed. A day of downright culinary debauchery… and all because of barbecue. Lockhart BBQ, to be precise.
Lockhart, Tx is the best barbecue town in Texas and, therefore, the entire world. Stalwart Texas Monthly, the thumb on the pulse of Texas culture, has been debating since the '70s which of the small three smokehouses in town deserves the title of Texas' best.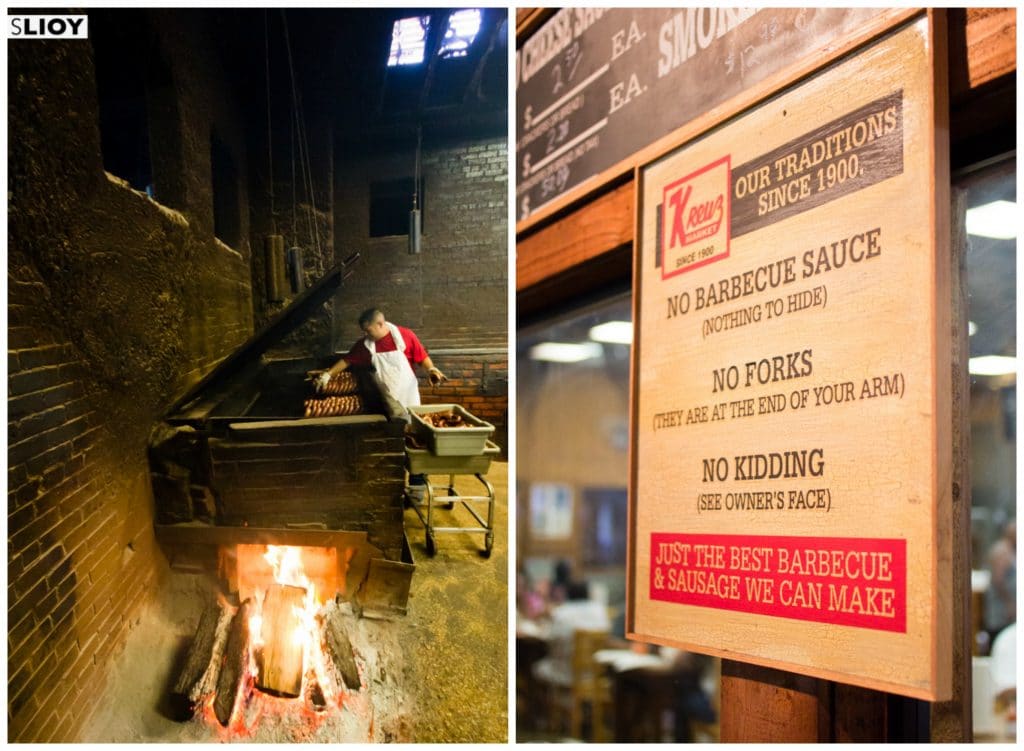 BBQ is a central part of Texas culture, and even arriving at the airport in Austin it's immediately in your face: there are barbecue restaurants and a BBQ Taco Bar before you make it to baggage claim. Less than an hour from downtown Austin, then, a trip to Lockhart is a pilgrimage of sorts; and having long neglected this side of Texas I devised an idea to make the trip a defining one:
The Lockhart BBQ Challenge:
One Day, Three Barbecue Joints, Absolutely No Side Dishes Allowed.
Would it be delicious? Of course. Is it far too much? For sure. Was it even possible as, after all, I am only one man with one stomach to give. Only time would tell. The challenge had been issued, however, and now pride would allow for no turning back: a one-day trip to take in three restaurants in little Lockhart, Tx (population 13,100) to try what is reputed to be the best BBQ anywhere out there. The rules, as such, are simple:
Visit each of the Lockhart BBQ joints: Smitty's Market, Black's Barbecue, and Kreuz Market. 
At each restaurant sample the brisket, ribs, and sausage to compare amongst the three.
Decide, once and for all, which is the best barbecue in Lockhart.
Read on for a ridiculous amount of food, a review of each restaurant, and a spoiler as to which of the three is my favorite and which are worth missing. Or, if you're planning your own Lockhart BBQ Challenge and want to make up your own mind, skip ahead to the Practical Details at the end.
Smitty's Market
Don't show up to Smitty's already full, or standing in line beside the heat-radiating smokers will make you feel like a cooked sausage yourself. Smitty's Market would dominate in any other town. In Lockhart, however, the competition is at a whole different level and Smitty's doesn't quite match it. I will say this: Smitty's has the best hot rings (sausage links) of any in Lockhart. The ribs are much to sweet for my liking. The brisket, while it would be quite good on a different day in a different city, to my taste is a bit tough and just doesn;t match the depth of flavor that both Kreuz Market and Black's Barbecue have on offer just down the road.
Verdict: If you're most interested in sausage, or if you're driving through and want to pack some links for the road or to eat at home, this is the place. Website here. Cash only.
Kreuz Market
Kreuz Market is where the Lockhart BBQ Challenge starts to get tough. This is our third and final stop for the day, and before we got out of the car in the massive parking lot there's a moment of pause where I really consider giving up and heading home in greasy-stomached defeat. What a mistake that would have been. (Though I'm not certain my doctor would agree?)
Kreuz Market is my second place spot in Lockhart, but not by a very long margin. The brisket is without a doubt the best in town – tender and succulent, the sort of food you briefly consider naming your firstborn for. Even having just eaten two full meals, the brisket at Kreuz is a moment of barbecue bliss to bite into. The ribs are well worth recommending as well, with more of a meaty flavor than those at Smitty's. The one area Kreuz Market really falls short on, and the reason that it moves into second place, is the sausage. After experiencing Black's and Smitty's sausage this is actually a bit of a disappointment – to the point that the sausage here is the only thing that actually went uneaten at the end of a meal.
Verdict: Brisket brisket brisket. The ribs are delicious as well, and they also offer beef ribs on weekends, but focus on the brisket and avoid the sausage. Website here.
(It's also worth noting that Kreuz seems built to handle far more traffic than the other two, so if you're on town on a busy weekend this would be your safest bet to get food and a seat quickly.)
Black's Barbecue
When I go back to Lockhart, it will be to Black's Barbecue. The ribs here are the best by far of any in town – it's as if they've somehow managed to distill the essence of hickory smoky into perfect tender meaty form. The brisket is fork-able and full of flavor, as any reputable brisket should be, and is only half a step behind that at Kreuz. Even the sausage is amazing, with a crisp snap to bite into and a mouth full of flavor that manages to avoid the too-greasy feel that can ruin an otherwise good link. Without a doubt the best ribs in Lockhart are at Black's, and one could make a subjective argument for their sausage and brisket as well.
This is actually the first of the three that we visit, chronologically, and my dear aunt makes the classic mistake of ordering sides. She's not a bad person, I promise, just misguided. If you're coming to Lockhart for a single meal at a single restaurant this is a very reasonable thing to do, but if you're here for a proper barbecue challenge I'd advise you to save the stomach space – your self-respect is taking enough of a hit already. If you're feeling particularly gluttonous, however, their dessert selection actually looked pretty tempting as well – next time, perhaps.
Verdict: The best ribs I had, hands down. If you're coming with a group that wants to try a little bit of everything, this is the best choice in Lockhart. Website here.
---
Practical Details
Getting There
Public transport is limited between towns in Texas (though fairly navigable within downtown Austin itself), so plan to drive yourself to Lockhart. Rather than the slightly faster Interstate 35, from downtown Austin drive a bit east out to Highway 183 which takes a straight line down to Lockhart and the Kreuz Market and continues on to within a block of Smitty's and Black's Barbecue.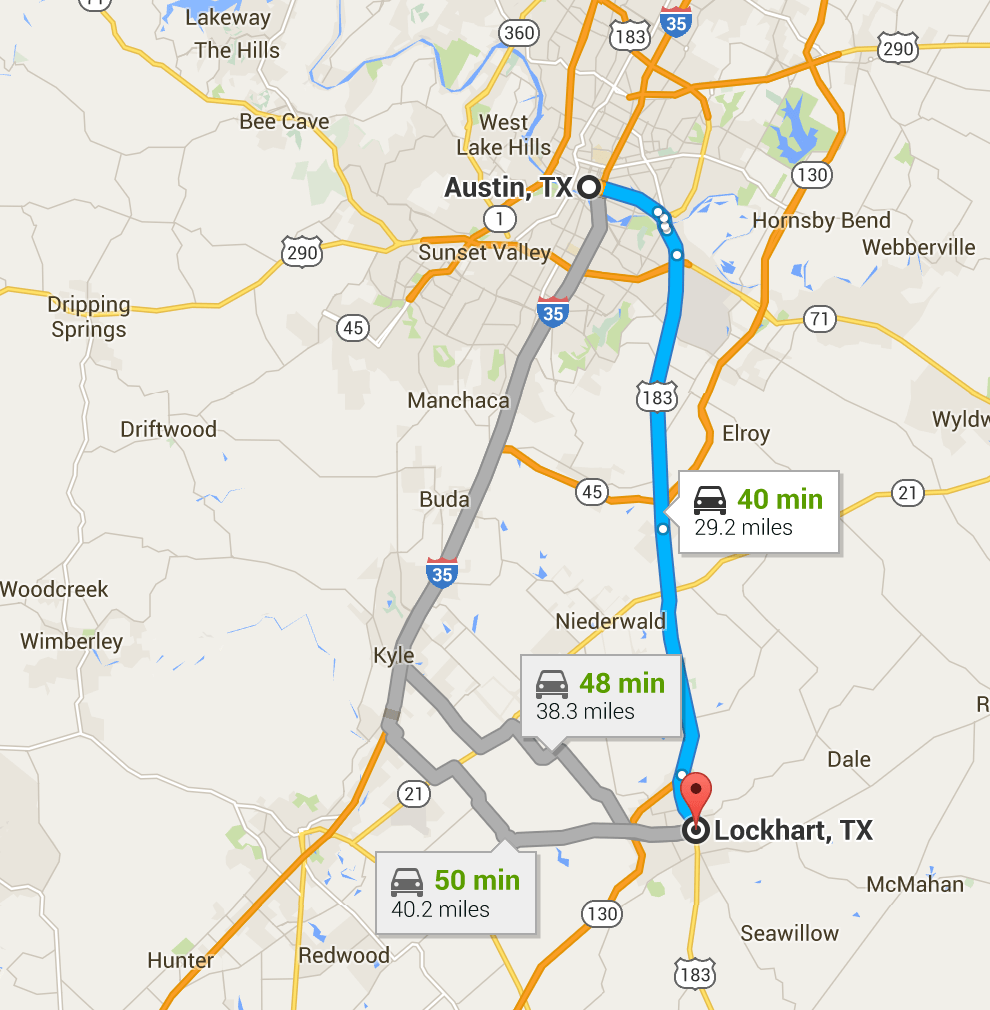 Where to Stay
Lockhart, Tx is under an hour from the city of Austin by car. Rather than staying in tiny Lockhart, I'd recommend basing yourself out of one of the many hotels in Austin and visiting Lockhart as a short trip from the city. One you're back home and the barbecue coma wears off this will also leave you well placed to visit the Texas State Capitol building in downtown Austin or, if you're feeling like you could use some exercise after all that BBQ excess, makes a good base for a visit to the beautiful Enchanted Rock State Natural Area in the Texas Hill Country.
Good to Know
Do remember that Smitty's doesn't accept credit cards, so take along a bit of cash if you're planning to stop through there. There's also an old historic courthouse just near Smitty's, if you can still walk after all that food and want a bit of history to justify your hedonistic trip.
Working on the Road
Enjoy a holiday in Texas with complete access to all your personal files and workstation on the move in any motel or restaurant. Use a cloud hosted windows 7 PC powered by Apps4Rent to get the job done at your convenience.
This post is created in partnership with GoGoBot, but as always all gluttonous opinions are my own.

Have you been to Lockhart, Texas' fantastic BBQ restaurants? What did you think? Are you up to the challenge? Let us know in the comments!