Playing with Penguins in Patagonia:
A Visit to Isla Magdalena
How to describe Isla Magdalena? Imagine that movie 'March of the Penguins', but instead of the remote and hostile shores of Antarctica it's a chilled out two-hour cruise up the Strait of Magellan from the port town of Punta Arenas. That's pretty much it. Penguins everywhere, unfathomable penguins, close enough to civilization for an afternoon visit.
A small island of about 210ac (or 85ha if we're talking metric), yet home to an estimated 58,000 breeding couples that migrate here each year to make sweet sweet penguin babies. That's a lot of birds. (That's also a lot of poo and feathers.)
The Magellan Straight's eastern-most islands (12ha/29ac Isla Marta sits just alongside) were once a popular stop for European explorers to fill up on eggs and meat. There are 120,000 birds hanging around after all, and that's penguin omelettes all the way to Tahiti! These days, the only thing eating the penguins is the sea lions (ahem). For human visitors Isla Magdalena is now the Penguins Natural Monument. And what a monument it is.
Every year from October to March, around 20,000 tourists board the Malinka ferry to make the 2hr trip from Punta Arenas to Magdalena Island. It's a fairly boring ride alongside the distant shoreline of the Strait of Magellan for 35km, to be quite honest, until slowly off on the horizon a small lighthouse appears. Standing on the deck of the ferry, peering off towards the islands in hopes of being the first to spot a frolicking Magellanic penguin, the excitement slowly builds.
"Don't touch the penguins. Please stay on the walkway at all times. Under no circumstances should you feed the animals. And please, no flash photography."
A few quick rules, a few last reminders, and then it is time. PENGUIN TIME!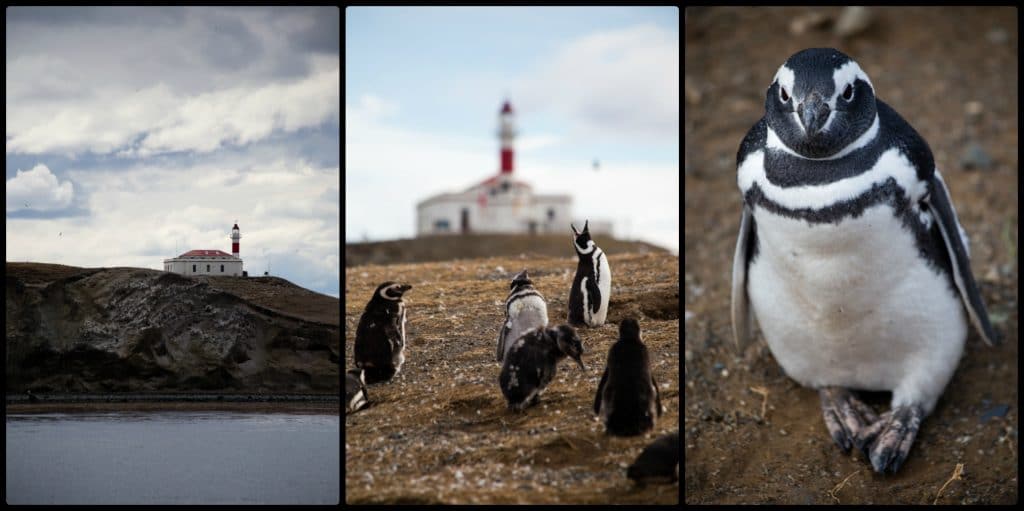 Make no mistake, though, a visit to Magdalena Island is a race. The time from boat landing to boat leaving is limited to one single hour, ostensibly for conservation purposes, and there are 120,000 penguins to hang out with in that time!
Some people make a beeline straight for the historic Isla Magdalena lighthouse, built in 1902 presumably to help adventurers collect those penguinchops and to scramble penguin eggs out of the wind. Others get so caught up in selfies that they lose track of the penguins around them and inevitably end up blocking the path and annoying other passengers. Not that I'm bitter.
As for me? I never quite made it to the lighthouse, unfortunately, but for two very good reasons.
The first: I was blessed with such good light that in the hour we were on the island I didn't quite make it all the way to the end of the 800m path from the dock to the lighthouse. Too many pictures to take, you know?
The second: These little dudes are not shy. Apparently they've forgotten the poaching of the past, because many of them wont hesitate to walk right up to or past tourists that are hanging out along the roped-off pathway. Several times I switched to a 35mm and just waited for one of them to waddle over (two results below). Which I guess is really the same reason as the first: too many photos to take and not enough time.
It's all right, apparently the inside of the Lighthouse is just an informative exhibit with the same stuff that's on the brochure you can get on the ferry. That's time much better spent hanging out with penguins, I think. Choose well, because about 45 minutes after landing the conservation staff begin actively herding people back towards the boat. And they do not care if you need just. one. more. photo.
I suppose it's worth mentioning that there are other birds on the island as well, including a huge colony of cormorants that would be an attraction anywhere else but which in the face of so many penguins just doesn't seem all that exciting. And there are seagulls. Thousands of seagulls, many of whom have been pecked to death in territorial disputes and consequently whose corpses litter the ground. It's like a seagull genocide out there, folks. It's not pretty.
Luckily once you get there you don't really care because, come on, 120,000 penguins! I would walk over a carpet of seagulls to hang out with all those penguins!
Ok, that's gross but you get the point. Luckily you don't have to walk the gulls, because the CONAF staff seem to do a pretty good job of keeping the roped-off pathway pretty clear – and with about two hundred visitors coming per day in high season they sort of have to make sure things run smoothly.
Yes, it's super touristy to go to Isla Magdalena. Yes, you're fighting selfie sticks and elbowing through crowds to get just that shot of a little preening baby penguin. But you know what? I did it, and I enjoyed it, and you'll do it too. Where else do you get to hang out with this many penguins?
---
Practical Details
Getting There
Most people will visit Isla Magdalena on the public ferry Malinka, which leaves during high season from Tuesday-Sunday and during shoulder season on Tuesday, Thursday, and Saturday. All departures leave at 15:00, and should return to port around 20:00.
The Tres Puentes ferry dock is about 7km from the Plaza del Armas, so you're probably gonna need a ride. Collectivo #15 runs from the harbor side of the Plaza for 800 CP, or a taxi should be able to take you for a few thousand. Tell the driver when you get there that you want 'Isla Magdalena' or 'Los Piguinos' and they'll show you where to go.
What Does It Cost?
Adult tickets for the Isla Magdalena ferry are 35,000 CP (~$50 USD) and children 17,500 CP (~$25 USD). While you can purchase tickets from travel agents around town, you may as well buy them straight from the COMAP office (permanent address 990 Magallanes just off the Plaza, temporarily at 1112 Lautaro Navarro a few blocks south). If you're visiting in high season it's worth checking into reservations, as they do regularly sell out. My first attempt to visit was a non-starter, for example, but luckily I was able to score tickets for the next day.
Where to Stay?
Puerto Natales! If you're hanging around Punta Arenas for a few days, there are a handful of options. Of the several backpacker joints I checked out, Hostal Al Fin Del Mundo was my favorite. A few blocks from the square, a few blocks from the supermarket, a few blocks from the sea; billiards table and kitchen and etc etc etc. There are plenty of proper hotels, but they mostly seemed overpriced and mediocre value. (I can say that the Tierra del Fuego's pub had the fastest internet I found anywhere in Patagonia.)
(Note that many of the above are affiliate links, which means that booking through them will help support this site at no extra cost to you. Thanks!)
Like what you see? Leave a comment below or let me know on social media!